A large industrial products component manufacturer was challenged to reduce supplier quality issues in response to changing market dynamics. The manufacturer faced increased competition in their core product segments and needed to reduce their overall costs and improve product quality to stay ahead. After a detailed analysis, the manufacturer identified supplier quality as one of the three key operational improvement opportunities.
The manufacturer had built a network of about 25 core suppliers and sourced 90% of their components from them. In order to identify opportunities for improving supplier quality, the manufacturer started evaluating their key supplier-facing product quality and delivery quality processes. The manufacturer discovered a number of issues from the analysis, including:
All-in-all, the manufacturer did not have appropriate systems to manage and improve supplier quality in a repeatable and predictable manner. Hence, their overall profits suffered due to two key issues - higher scrap costs and lower manufacturing throughput - both attributed to poor supplier quality. The manufacturer decided to implement an automated supplier quality management system to address the above mentioned issues. After an initial analysis, the manufacturer identified the following requirements for their quality management system:
Provide capability to track quality issues across all sites with all suppliers and implement closed loop corrective action programs
Provide a scoreboard mechanism to measure and communicate quality metrics with suppliers and use it as a basis to drive continuous improvement in supplier quality
Enable suppliers to easily access the system and integrate it into their operations for this customer. The suppliers should only be able to see the data about their own operations in the system.
Allow the organization to implement an end-to-end cost recovery process that includes:

Identifying supplier quality issues that need cost recovery
Ensuring material and non-material costs and supporting documents are included in the cost recovery records and
Providing a basis for chargeback communication and dispute resolution with suppliers.

Allow the manufacturer to configure the system easily for each site so that different quality processes can be deployed simultaneously at different sites to accommodate variance in process maturity levels
Ensure that the system can scale to multiple sites and dozens of key suppliers with a centralized data repository.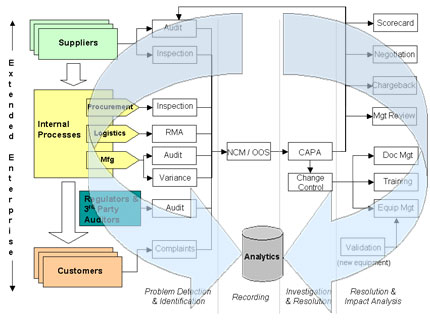 (Please click on image for enhanced version)
The manufacturer selected and implemented a web-based closed-loop quality management system that met the above requirements. The solution provided integrated inspection/audit, non-conformance tracking, corrective action, change control, document management, user certification and analytics/dashboard capabilities, with scalable extraprise architecture, so the manufacturer could implement an end-to-end solution to manage quality processes for its supply-base.
The manufacturer saw the following benefits within a quarter after the system went live.
The system provides a common repository across all plants to track issues, manage corrective actions and calculate metrics. The supplier scorecard with key metrics and detailed drilldown is now available to relevant stakeholders from the manufacturer and the suppliers and forms the basis for a close cooperation for improving quality.
The manufacturer has seen more issues go through the corrective action process due to an automated CAPA system, while keeping the same headcount. As a result, supplier quality issues have been addressed at a faster rate, resulting in accelerated improvement in the PPM metrics, increase in percentage of cost-of-poor-quality (COPQ) recovery from suppliers, decrease in warranty reserves needed, reduction in MRB inventory, a drop in rework-hours from supplier component quality issues and reduction in #RMA processes per month. In addition, the collaborative capabilities in the automated system have increased employee productivity, leading to a reduced issue resolution time.
 

 Operational Metrics improved from Supplier Quality System
PPM of Supplier Components
 
% of Actual COPQ Recovered from Suppliers
 
MRB Inventory Levels
 
# of Rework Hours due to Supplier Components
 
# RMAs Processed per month
 
Issue Resolution Time
 
# of Customer Complaints on Product Quality
 
Warranty Reserves

Non-conformance tracking process is now automated and all issues across all plants are tracked in the same system. As a result, one can quickly assess product quality issues from a supplier across all plants and product lines, as well as, their history over time and proactively drive appropriate actions.
The supplier quality system is integrated with other systems within the company. Hence, supplier product non-conformance can automatically trigger material containment, cost recovery and RMA process, making the entire process streamlined.
The cost recovery process itself is streamlined with an automated workflow for dispute resolution with the supplier. The system captures all relevant information for cost recovery at various levels of detail including total material and processing costs to be recovered, as well as detailed inspection data and documents that triggered the non-conformance. As a result, the cycle time for dispute resolution and for cost recovery collection has dramatically improved and a higher percentage of costs are recovered from the suppliers.
The quality system has enabled the manufacturer to standardize its quality processes and operating procedures with all suppliers across all sites. It provides the manufacturer with a platform for continuous improvement across their supplier-facing operations. It also enables the manufacturer to train new employees quickly.
By implementing a web-based quality management system, the manufacturer was able to reduce its costs and improve product quality and preserve its market share and its customer base in the rapidly changing market. As a result it increased its overall margins and built a stronger foundation for its future.