The need for enterprise quality management is amplified for companies in the technology industry. These companies have increasingly shifted manufacturing and assembly operations offshore to low cost countries or have outsourced these functions to a contract manufacturer. As a result, a large number of their deliveries to US based customers have become cross-border transactions and sometimes take weeks to be delivered to distribution sites within the United States, resulting in long supply chains. The long supply chain has created a new set of system requirements for quality processes within the extended enterprise.
It is very important for such organizations to gain visibility into quality issues within their offshore manufacturing sites, including those of the contract manufacturer, so that they can prevent any unacceptable quality products from entering the inbound supply chain. If these unacceptable quality products enter the supply chain, the rejection process can delay shipment by weeks. By rejecting a shipment at the point of destination, weeks after it was shipped from the manufacturing site, may cause shortages and disrupt fulfillment of customer orders - a very high opportunity cost. Carrying high inventory at distribution centers to buffer against a poor quality shipment is an expensive alternative, especially in an industry with short product life-cycles. The additional transportation and handling incurred due to poor quality products being rejected at the point of destination, instead of the point of manufacture, also leads to increased cost of inventory write-offs.
As a result, many technology organizations are seeking to minimize quality issues at outsourced and/or contract manufacturers' plants and are aggressively implementing enterprise class quality management systems to audit finished goods at offshore sites, collect that data, and then aggregate, analyze and report that information to key business process owners to give them visibility into potential quality problems. Using this information, the business process owners not only can prevent a poor quality shipment from entering the supply chain in a timely manner, they can also use that information to create appropriate corrective actions and systematically prevent such problems from occurring again. Industry data shows that companies can reduce the costs of inventory write-offs by 5-10% and increase revenues by 2-5% by reducing the risk of missed market opportunities from poor quality shipments within a long supply chain.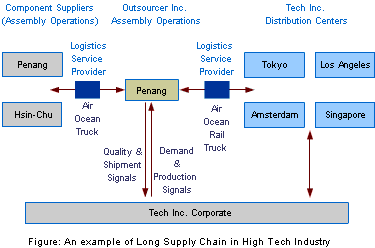 Many organizations find that their contract manufacturer may be using the same plant to manufacture products for multiple customers and hence, can not be forced to install different systems for different customers at the same plant to support their respective quality needs. As a result, the organization has to rely on process and product quality information from the contract manufacturer's quality system. That information usually does not integrate well with the organization's own systems and is frequently not available in a timely manner.
Hence, a new breed of quality management systems is needed to support long supply chains. These systems must be web-based, so an organization can extend its internal quality system to its contract manufacturer, where they can enter the required quality information for their customer's products. As a result, the organization gets instant access to quality information without requiring the contract manufacturer to install a dedicated system at their plant. These systems must also support an extraprise data and security model, so a contract manufacturer can not see the quality issues that the organization faces at a competing outsourcer or their internal plants. The organization should also be able to configure the system easily to allow them to simultaneously deploy different quality processes at different outsourced or offshore sites to accommodate varying process maturity levels at each of such sites. The system must also support an integrated inspection/audit, non-conformance tracking, corrective action, change control, document management, and user certification capabilities, so an organization can implement an end-to-end closed loop quality process for an outsourced supplier. A traditional point solution does not meet these requirements and increases a company's risk of high reject costs and disruption of supply of finished goods for their customer orders.