Dr. Anindo Banerjea is responsible for the development of MetricStream's GRC Platform, the AppStudio toolkit for rapid application development, and MetricStream's suite of GRC products. 
Prior to MetricStream, Anindo was the CTO at TBD Networks, a company specializing in network technology, virtualization, and data center automation. Previously, Anindo was a Research Professor at the Information Sciences Institute (ISI) at the University of Southern California, and Assistant Professor of Computer Science at the University of Toronto, where he conducted research and taught undergraduate and graduate level courses on networking and information technology. 
He has a Ph.D. in Computer Science from the University of California, Berkeley, and a B.Sc. from IIT, Delhi. 
Senior Vice President of Engineering
Executives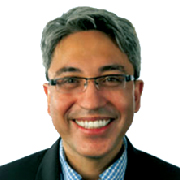 https://www.linkedin.com/in/anindo-banerjea-a98638