Enterprise Risk Management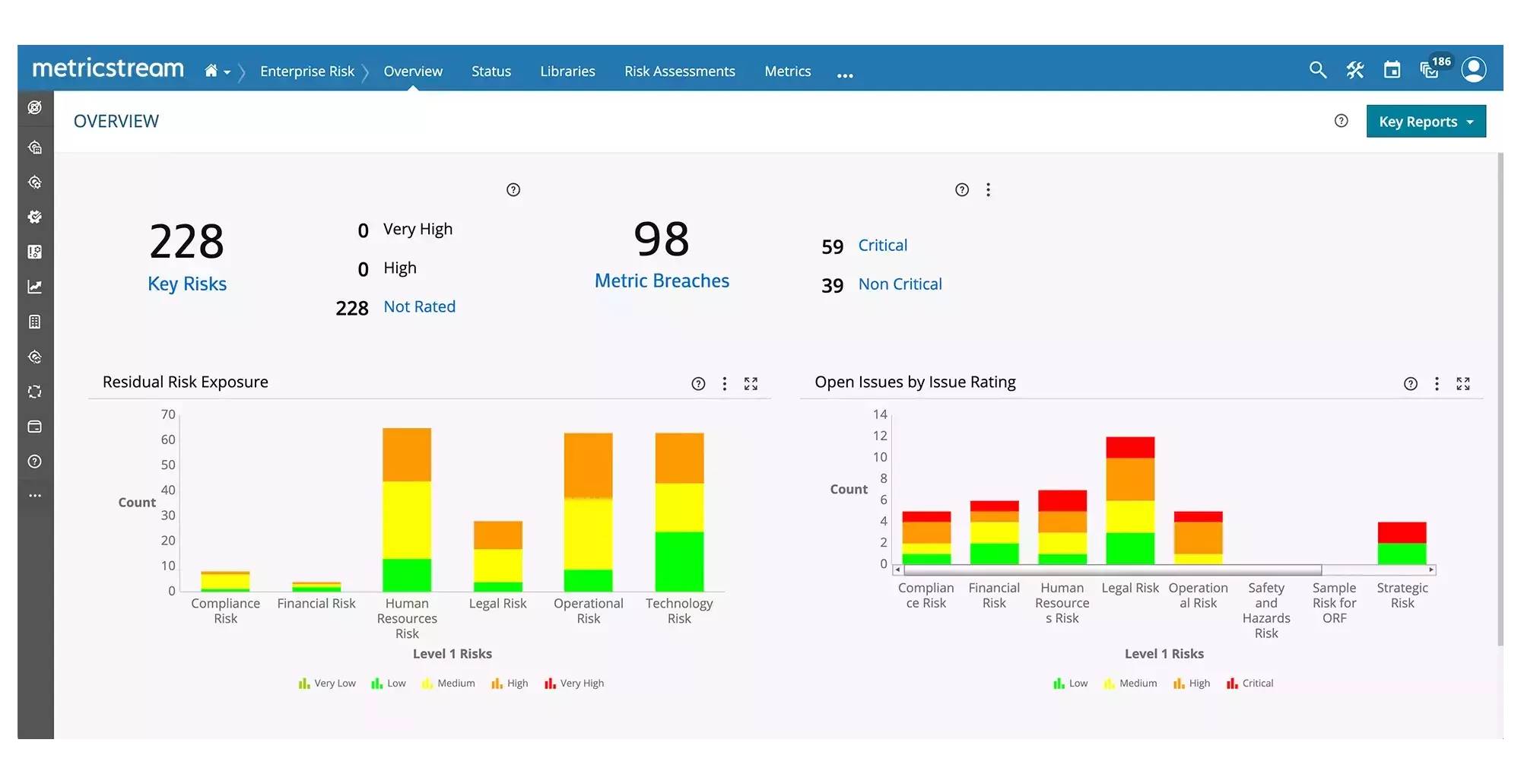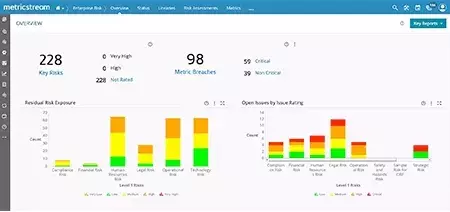 ---
Effectively Track and Manage Key Risk Indicators and Other Metrics
MetricStream Key Metrics Monitoring and Reporting provides comprehensive functionalities to define and manage key risk indicators (KRIs) and key control indicators (KCIs). Organizations can track these metrics, set up thresholds, and trigger automated notifications in case of a breach. The software allows risks at all levels of the organization to be mapped to key risk indicators (KRIs). Risks and controls can be mapped and measured against key performance goals. It also provides a configurable scoring and rating methodology, as well as algorithms for assessments. The results are compiled and represented on graphical dashboards in the form of charts, graphs, and heat maps with critical issues highlighted.
How Our Key Metrics Monitoring and Reporting Helps You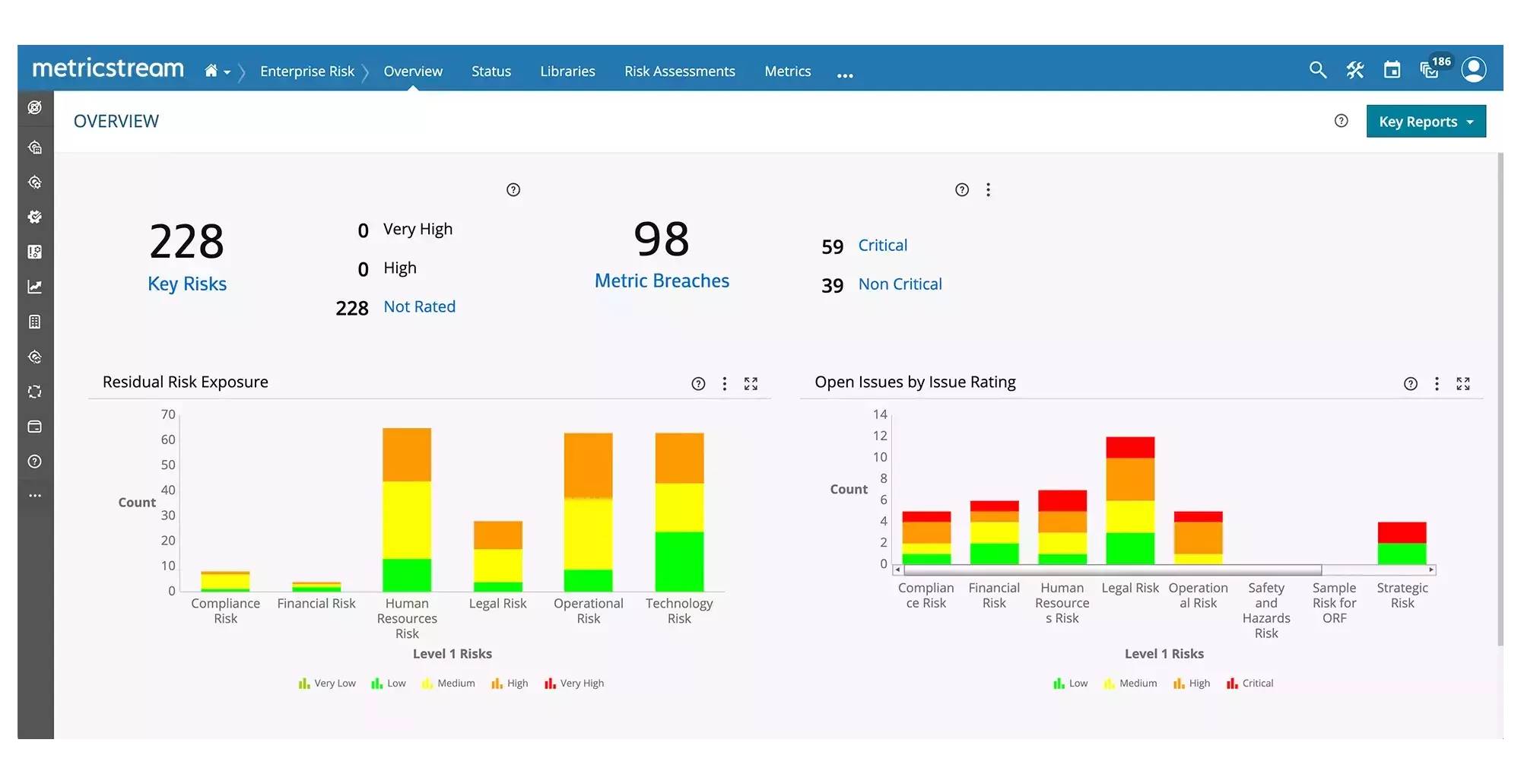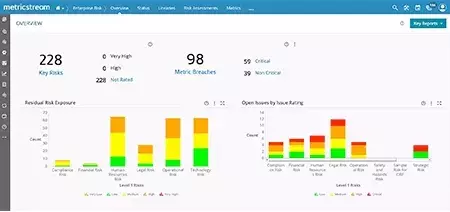 Simplified Assessment and Tracking of Key Metrics
Define and manage key indicators for risks (KRIs), controls (KCIs), and performance objectives (KPIs). Measure and track these metrics against set thresholds to identify potential threats which need to be mitigated proactively. If a threshold is breached, alerts and notifications are automatically sent to the relevant personnel based on predefined workflows.
Risk to Performance Mapping
Correlate enterprise risk metrics to performance goals and strategic initiatives, for example, assessing or tracking conduct risks via KPIs and linking it to incentives. Extend the KPIs to define and track the risk appetite, both at the business unit level and the organization level.
Dashboards and Reports
Leverage powerful dashboards and reports to gauge the performance of key metrics and analyze risk trends over a period of time to assess their performance and breach patterns. Gain real-time access to information on risk management across the enterprise. Through graphical charts, capture and track details on risk profiles, risk control self-assessments, control ownership, status of remediation, successes, failures, and trends. Report risks based on various dimensions such as the number of open issues for the risk, KRI trends, mitigating controls, and the number of risks falling within each risk level. Drill down to access the risk and control data at finer levels of detail.
How Our Key Metrics Monitoring and Reporting Benefits Your Business
Deliver forward-looking risk visibility with predictive risk metrics and indicators that help organizations anticipate and prevent adverse risk incidents
Improve business performance and growth by aligning risk metrics to performance indicators based on key strategic initiatives
Establish a unified approach to GRC with an integrated system to manage RCSAs, KRIs, KPIs, and losses, along with comprehensive risk libraries and content
Build confidence with regulators and executive management, as well as with partners and customers, by establishing strong risk data governance
Quickly assess risks and controls effectiveness against predefined metrics and make necessary changes to mitigate risks in an agile manner
BUSINESS VALUE CALCULATOR