MetricStream APIs
---
MetricStream APIs enable integrations with external systems to streamline, simplify, and accelerate data capture, integration, and processing. The API architecture supports a range of data sources and types, including big data, with options for exchanging information using various protocols and interfaces such as HTTP REST. Integration adaptors enable the M7 Integrated Risk Platform – intelligent by design, to employ an open architecture, integrate with other systems, and operate effectively in a heterogeneous IT environment. It is designed to extract implementation details from dependent product objects such as forms, reports, and workflows.
GET MORE DETAILS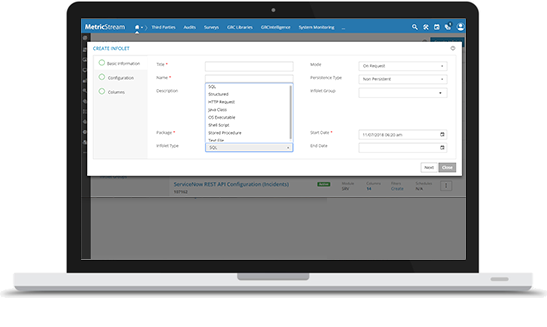 Flexible API architecture that allows integration with unlimited third party systems.
Business Value Delivered
---
Streamline, simplify and accelerate data capture, integration, and processing. Integrate with information sources and map information to the correct destination in the M7 Integrated Risk Platform. Monitor the frequency with which information is obtained, and filter information for end users.
Key Features
Data Integration
---
Integrate with diverse systems, enabling a holistic view across Compliance, Risk, Audit, and CyberSecurity programs.
Agent-Based Interfaces
---
Consolidate dynamic data from external systems through flat files, messaging interfaces, and Web Services APIs.
Scheduling Engine
---
Process batch or unattended background data with the sophisticated scheduling engine.
Pre-built Connectors
---
Benefit from pre-built APIs for Qualys, Nessus, Tenable, BMC Remedy, ServiceNow, Rapid7, and more.
Customer Experience
https://www.youtube.com/embed/5x2sUX6yBRc?rel=0
A lot of time may be spent on the design phase of a GRC program, but ultimately, it's about how the program is implemented. There needs to be a focus on engagement, communication, follow-up, and the sustainability of the GRC program.
Dr. Mark Hodgkinson
Operational Excellence Manager
Bahrain Petroleum Company
https://www.youtube.com/embed/vSZejEvmpzk?rel=0&showinfo=0
Dermot McCarthy, Head of Crisis Management, Standard Chartered Bank speaks with Michael Rasmussen, Chief GRC Pundit, GRC 2020 Research on the banks' approach to the new regulatory environment and how technology can assist in its management.
Dermot McCarthy
Head of Crisis Management
Standard Chartered Bank