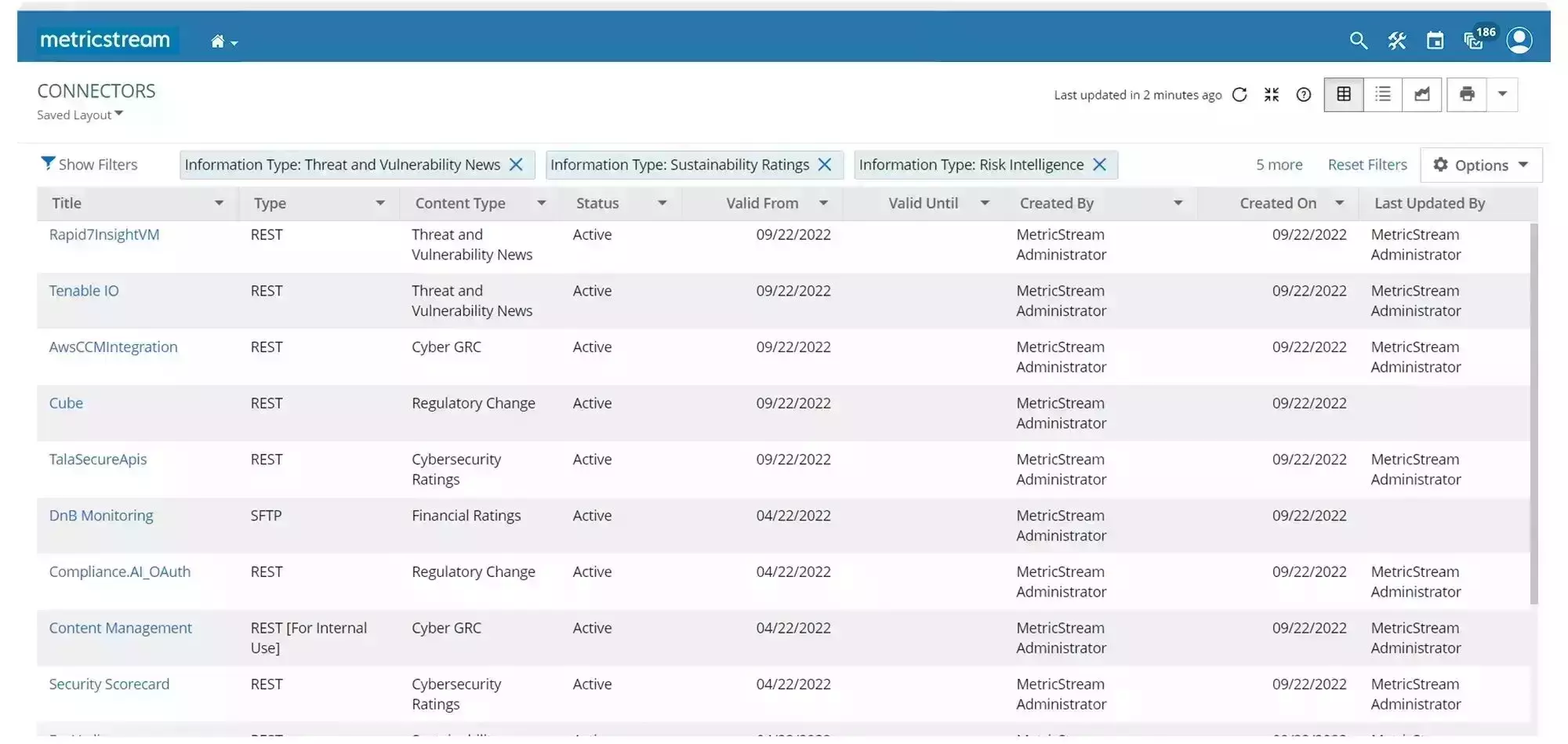 ---
Seamlessly Integrate with Any Existing System
The MetricStream Platform provides various data integration options that can be leveraged to provide contextual insights and actions, add significant value, and increase the effectiveness of the governance, risk, and compliance (GRC) program within the enterprise. MetricStream Connected GRC Insights enables organizations to leverage their existing systems with MetricStream connectors for CMDBs, security tools, vulnerability & threat scanners, regulatory content providers, ESG data, third-party risk intelligence, and many more. It simplifies linking imported content to organizational processes, assets, risks, controls, requirements, and entities within the MetricStream Platform. Organizations can also subscribe to various public and curated content sources such as RSS feeds, and other content owners in the compliance, regulations, risk, and vendor verticals.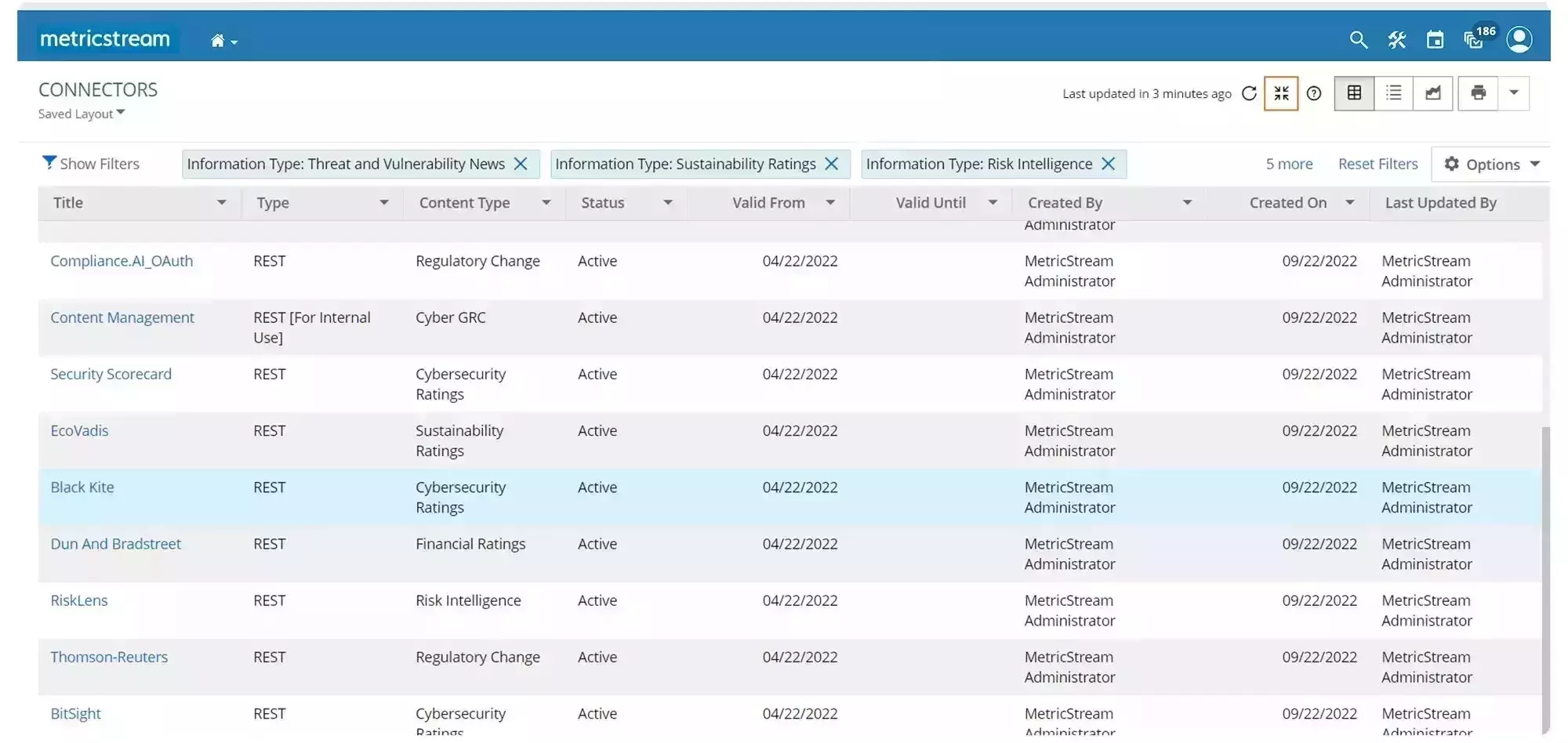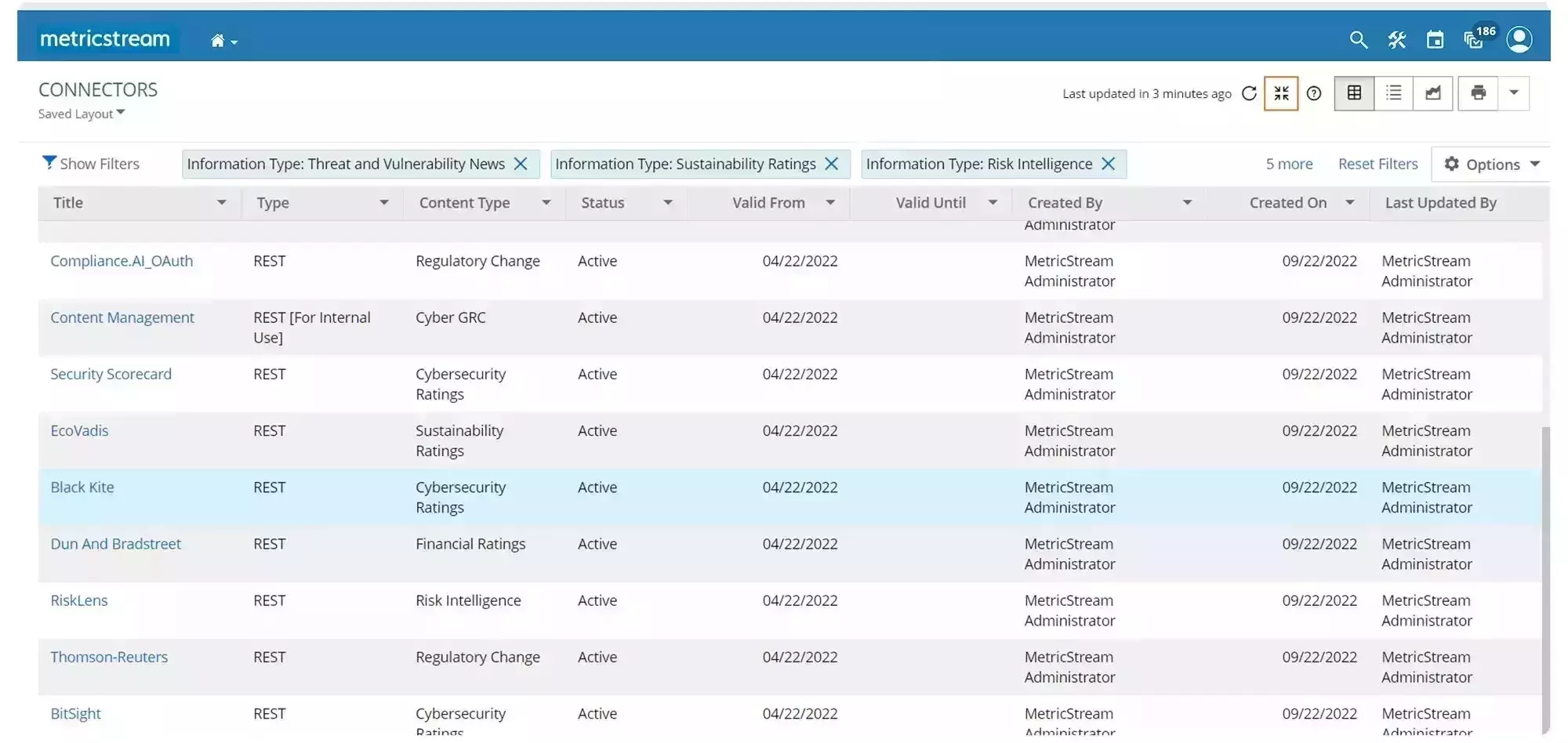 Out-of-the-Box Connectors
Leverage a comprehensive suite of ready-to-use connectors that provide seamless integrations between MetricStream and external systems and service providers within minutes. Easily link a variety of systems with MetricStream with zero coding effort for a variety of uses ranging from asset databases (CMDBs), regulatory compliance feed providers, threat & vulnerability scanners, ticketing systems, third-party monitoring systems, crisis communications systems, and more.
Rapidly Build Your Own Connectors
Create your own connectors with any third-party system by leveraging Connected GRC Insights capabilities. Easily integrate with any modern third-party system that supports standard REST connectors or Kafka-based connectors. Bridge the inbound data, transform/map, and then use 200+ built-in GRC APIs to populate and store data to respective entities. All the data gets stored in the central GRC libraries and mapped to relevant entities that can be used across products, reports, etc. Exceptions related to connections and data issues can be easily accessed through log reports. Connectors can be configured to run based on pre-defined schedules or on-demand.
GRC APIs
Effectively handle requests that originate from external systems coming into MetricStream with robust inbound integration capabilities of MetricStream GRC APIs. Leverage the in-built scheduler to systematically process bulk requests. The MetricStream Platform allows for bi-directional data exchanges with appropriate security and authentication wrappers and provides industry standard OpenAPI compliant REST APIs.
Content Integration Service
Leverage outbound integration capabilities to easily connect with external data sources and systems over REST with MetricStream Content Integration Service. You can either leverage pre-configured connectors or develop new connectors. Integrate risk, compliance, audit, security, policy, ESG, and third-party-related content from a variety of reliable and authoritative content providers and information sources. You can periodically pull information and bring that data into the MetricStream application for subsequent evaluation of evidence and analytics.
How Our APIs Benefit Your Business
Simplify integrations by implementing industry-standard methodologies based on business and system requirements 
Gain flexibility in scheduling of data exchange between diverse systems with built-in scheduler 
Enable smooth execution of agile integrations with APIs based on OpenAPI standard, and auto-generated validations
Seamlessly integrate with big data-based file systems
Implement with agility and lower cost of ownership by providing standards-based ready-to-use connectors
Trusted by Leading Brands
APIs