MetricStream Policy and Document Management  streamlines and simplifies the creation and communication of organizational policies, while providing a centralized policy portal to store and access the latest policies. It delivers a contextual view to policies by mapping policies to regulations, risks, and controls, thereby strengthening compliance while highlighting potential risks. Policy and Document Management brings policies to where you are—engaging the first line and increasing policy awareness. The product accelerates effective and proactive management, real-time monitoring, and easy adoption that empowers a culture of trust and integrity across the organization
Policy and Document Management
Policy and Document Management
---
MetricStream Policy and Document Management built on the M7 Integrated Risk Platform - intelligent by design, streamlines and simplifies the creation and communication of organizational policies, while providing a centralized policy portal to store and access the latest policies. It delivers a contextual view to policies by mapping policies to regulations, risks, and controls, thereby strengthening compliance while highlighting potential risks. Policy and Document Management brings policies to where you are—engaging the first line and increasing policy awareness.
GET MORE DETAILS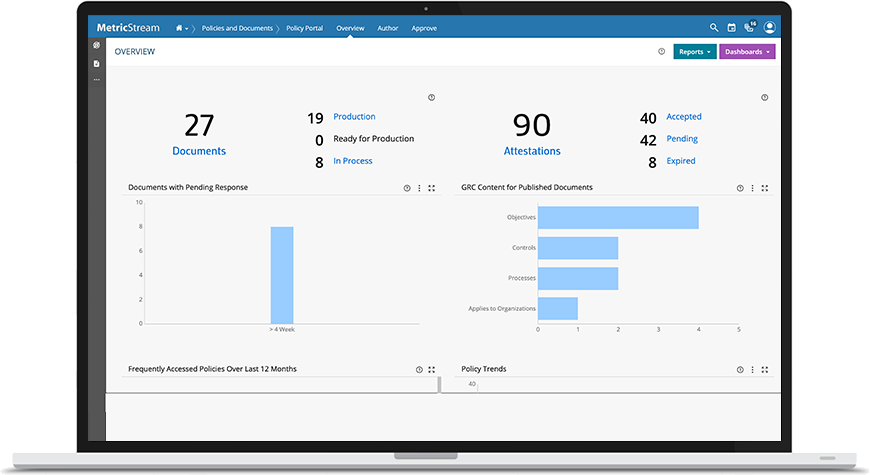 55%
reduction in time needed to create and update policies.
Business Value Delivered
---
Reduce cycle times for creating, refreshing, and aligning policies with evolving regulatory requirements. Engage employees with the latest applicable policies and gain assurance that the organization is compliant with regulatory requirements by simplifying the collection of evidence with attestations and the tracking of policy exceptions, thereby mitigating risk.
BUSINESS VALUE CALCULATOR
Key Features
Reports and Dashboards
---
Leverage powerful reports and graphical dashboards for real-time visibility into the policy management program.
Policy Portal
---
Access the latest policies and announcements, perform policy attestation, and request policy exceptions in the centralized portal.
Policy Creation
---
Upload policies directly from your system, modify existing policies, or create policies from scratch in collaboration with relevant stakeholders.
Policy Attestation
---
Facilitate policy attestations based on a chosen user or user group and track attestation details in reports.
Customer Experience
https://www.youtube.com/embed/FOAx6r6ilZs?rel=0&showinfo=0
Watch Aadila Hashim, COO - Risk Management, MMI Holdings, as she talks about her company's GRC journey and why they chose MetricStream as their GRC solution provider. Aadila also tells us the value she gained by attending the GRC Summit.
Aadila Hashim
COO - Risk Management
Momentum Metropolitan
Measurable Outcomes
Gain a contextual view by mapping policies to regulations, risks, and controls and simplify policy creation, communication, attestation, and employee engagement.
MetricStream Policy and Document Management cuts across enterprise siloes, integrating policies and documents into a centralized policy portal. Through intelligent search capabilities, the product scours through thousands of enterprise-wide policies and documents to find the information you need. It also streamlines policy and document workflows, enabling you to better manage policy communication, attestations, and exceptions—ultimately improving consistency and efficiency.