MetricStream Reporting and Analytics
---
MetricStream provides powerful reporting and analytics capabilities across all Risk, Compliance, Audit and CyberSecurity products, enabling business users to create rich analyses and derive deep insights for driving business decisions. Leveraging the centralized data model, MetricStream provides real-time data analytics and business intelligence with strong visualization and correlation capabilities. Powerful and flexible reporting and dashboard capabilities are also provided through an embedded analytics engine, reporting wizard, and charting and graphing tool, and through API-based integrations to third-party analytics products.
GET MORE DETAILS Product Description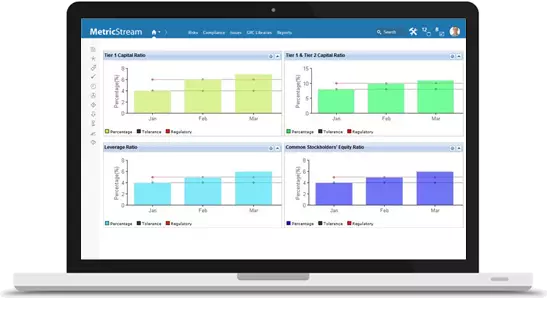 We empower organizations to transform risk into a strategic advantage
Business Value Delivered
---
Benefit from flexible report output options and gain comprehensive charting capabilities for an extensive array of chart types.
Accelerate reporting by embedding dynamic content into reports intuitively, while seamlessly integrating with other third-party reporting solutions for expanded reporting options.
Key Features
Report Wizard
---
Enable users to create custom reports without any coding. 
Production Reports
---
Design reports and charts based on available data via our content library and reporting engine.
Visualizations
---
Build an extensive array of dashboards and reports and leverage flexible report output options.  
Advanced Analytics
---
Leverage Tableau, Power BI and other analytics tools for advanced reporting and analytics.
Analytics