MetricStream Regulatory Change Management simplifies the process of capturing and managing regulatory change. It provides a centralized framework with regulatory taxonomies and metadata to aggregate regulatory content from multiple trusted sources, including both subscription and publicly available data sources. Regulatory Change Management enables you to proactively identify regulatory changes and assess their impact on business processes, policies, risks, and controls. You can also initiate and track regulatory change management tasks.
Regulatory Change Management
Regulatory Change Management
Measure Your Program Outcomes

90%

reduction in compliance costs

60%

faster response time to regulatory changes
Source: Based on MetricStream customer responses and GRC Journey Business Value Calculator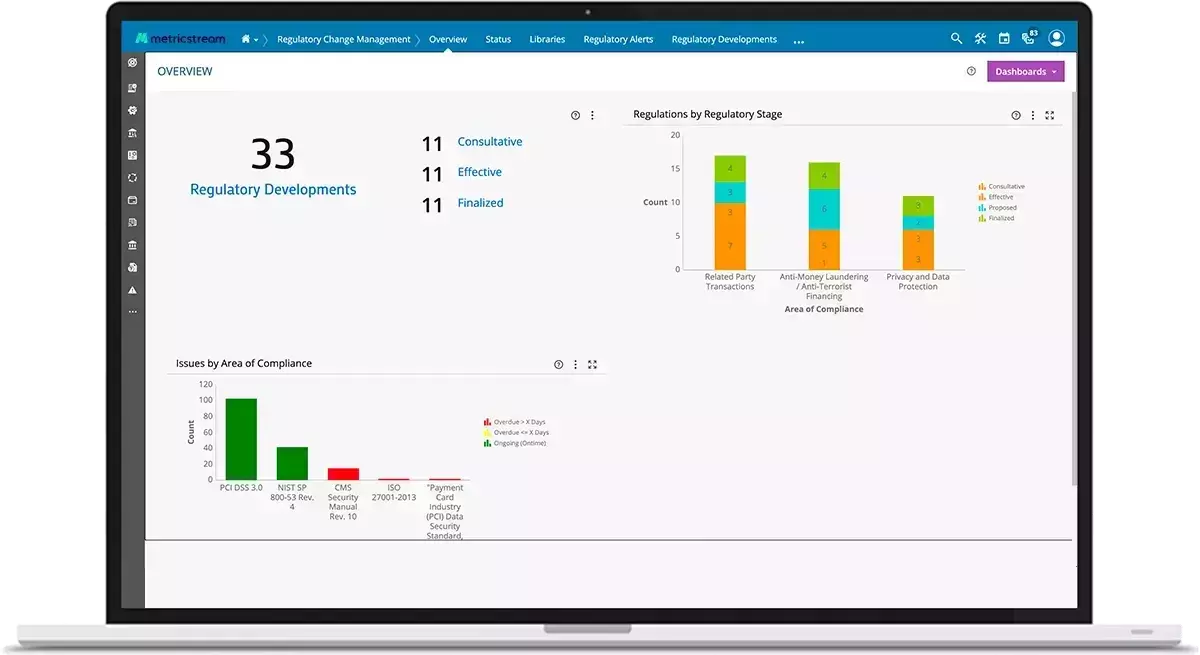 ---
Effectively Navigate Regulatory Change to Accelerate Business Performance
MetricStream's Regulatory Change Management software simplifies the process of capturing curating, identifying, extracting, and managing regulatory changes. It provides a centralized framework to consolidate regulatory content sourced from multiple trusted providers, including both subscription and publicly available data sources. The Regulatory Change Management product enables customers to automate the identification, curation, and extraction of applicable regulatory changes and obligations. Mapping obligations to policies, risks, and controls allows organizations to streamline critical processes and save significant time and resources while processing an increasing volume of regulations and regulatory changes.
How Our Regulatory Change Management Software Helps You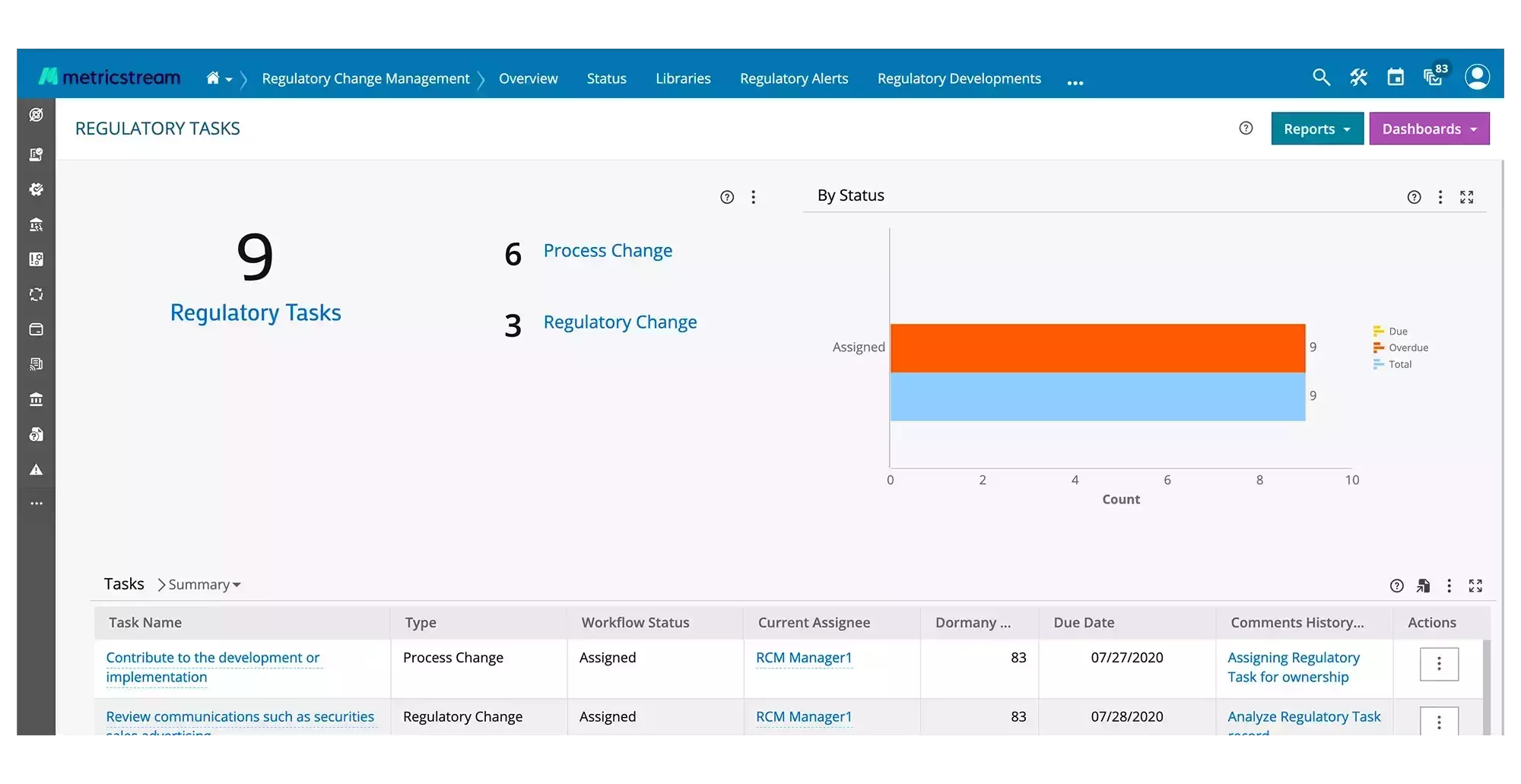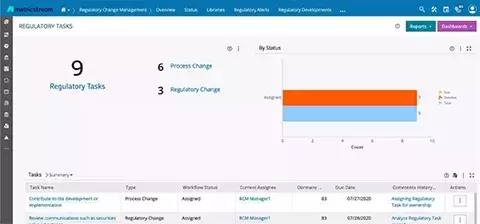 Regulatory Change Monitoring
Effectively track regulatory updates from more than 750 legislative and regulatory authorities worldwide for a proactive approach to compliance. Curate and process only those regulations that apply to your business and its risk profile, segregate by jurisdiction, existing, updated, and upcoming regulations and regulatory enforcement.
Effective Regulatory Change Triaging
Define business rules to automatically filter, curate, and distribute regulatory change feeds as alerts to relevant internal stakeholders. Route alerts to a centralized triage team for initial assessment and enable mapping alerts to relevant processes, risks, controls, and business units. Classify all relevant alerts based on their attributes (e.g. circular, publication, news, or guideline), obligations, and requirements.
Efficient Regulatory Impact Analysis
Assess the impact of various regulatory changes on the organization through simple or advanced methodologies. Identify relevant updates and obligations within regulations that apply to your distinct regulatory compliance profile, conduct impact analyses of applicable regulatory changes, and ensure your organization is compliant, no matter the volume, complexity, and regulatory timelines.
Quicker Issue Identification and Tracking
Create and manage tasks related to regulatory developments and track anomalies. Assign tasks to the appropriate owners who can document response notes. Log any issues or findings. Leverage AI/ML to quickly identify alike regulations, policies, and controls to streamline integration, adaptation, and compliance.
Comprehensive Visibility into the Regulatory Landscape
Gain clear visibility into the regulatory landscape and enhance the organization's ability to adapt to and align to applicable regulatory changes. Effectively monitor the regulatory change management process through dynamic dashboards and reports. Slice and dice data to identify critical risk patterns and trends.
How Our Regulatory Change Management Software Benefits Your Business
Gain agility by identifying regulatory changes in real time and streamlining the regulatory change management process
Build confidence with the stakeholders by creating a structured and standardized process to identify and track multiple complex regulatory changes
Ensure comprehensive coverage of regulatory changes through the use of AI and automation to source, curate, review, identify, extract, and map applicable regulations to your distinct regulatory environment
Deliver assurance to regulators and key stakeholders with evidence and reports from the first to fourth lines of the business
BUSINESS VALUE CALCULATOR
Trusted by Leading Brands
Frequently Asked Questions
MetricStream Regulatory Change Management software integrates with reliable and authoritative content sources from commercial providers (Thomson Reuters, CUBE, and Compliance.ai) as well as government agencies (Regulations and Guidance, International, Federal, and State Regulators). The software tool can automatically capture, fully access, and import the regulations/rules texts from content sources.
The product has a comprehensive impact assessment and analysis module that identifies business functions, risks, policies, controls, training, tests, assessments, and reports impacted by regulatory change and decides if an action plan is required. The inherent workflow capabilities in the system will route each update to the right subject matter experts to identify related elements that need to be reviewed and potentially revised in the context of the change.
The software tool supports creating dynamic action plans for a specific regulatory change. The built-in workflow engine ensures proper management of assessments including assigning action plans, executing tasks, and providing notes. Track accountability on task allocation, establish priorities, and determine the appropriate course of action.
You can explore the MetricStream Regulatory Compliance software tools that enable organizations to stay primed on the complex web of regulatory obligations governing the business while also implementing measures, processes, and policies to sustain compliance. To request a personalized product tour, click here.
Also, you can visit our Learn section to dive deeper into the GRC universe and the Insight section to explore our customer stories, webinars, thought leadership, and more.