Measure Your Program Outcomes
Source: Based on MetricStream customer responses and GRC Journey Business Value Calculator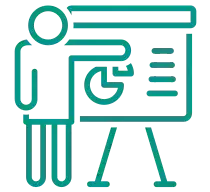 0
improvement in risk reporting visibility and efficiency for the executive management and board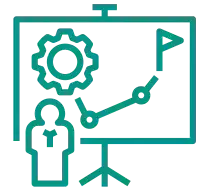 0
improvement in risk and control framework related operational efficiency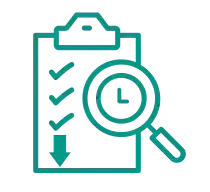 0
reduction in the time and costs required to complete third-party risk assessments and identify risks
Navigate the Digital Risk Landscape with 20/20 Vision
---
The MetricStream Digital Operational Resilience solution enables organizations to proactively identify, withstand, respond to, and recover from Information Communication Technologies (ICT)-related disruptions. It is purpose-built to help financial sector organizations ensure compliance with regulations like the European Union (EU) Digital Operational Resilience Act (DORA). Built on the MetricStream Platform, the solution helps to identify critical processes and understand their impact on overall operations so that organizations can stay resilient when faced with ICT-related threats and disruptions. The solution improves visibility into all the ICT risks associated with technology, digital business operations, cyber risk, threats and vulnerabilities, and critical third parties in one platform. It simplifies the management of organizational risks related to digitization by providing contextual risk insights, with consistent risk taxonomies. Organizations are better equipped to drive innovation, easily adapt, and stay competitive in the fast-evolving digital environment.
READ MORE Product Description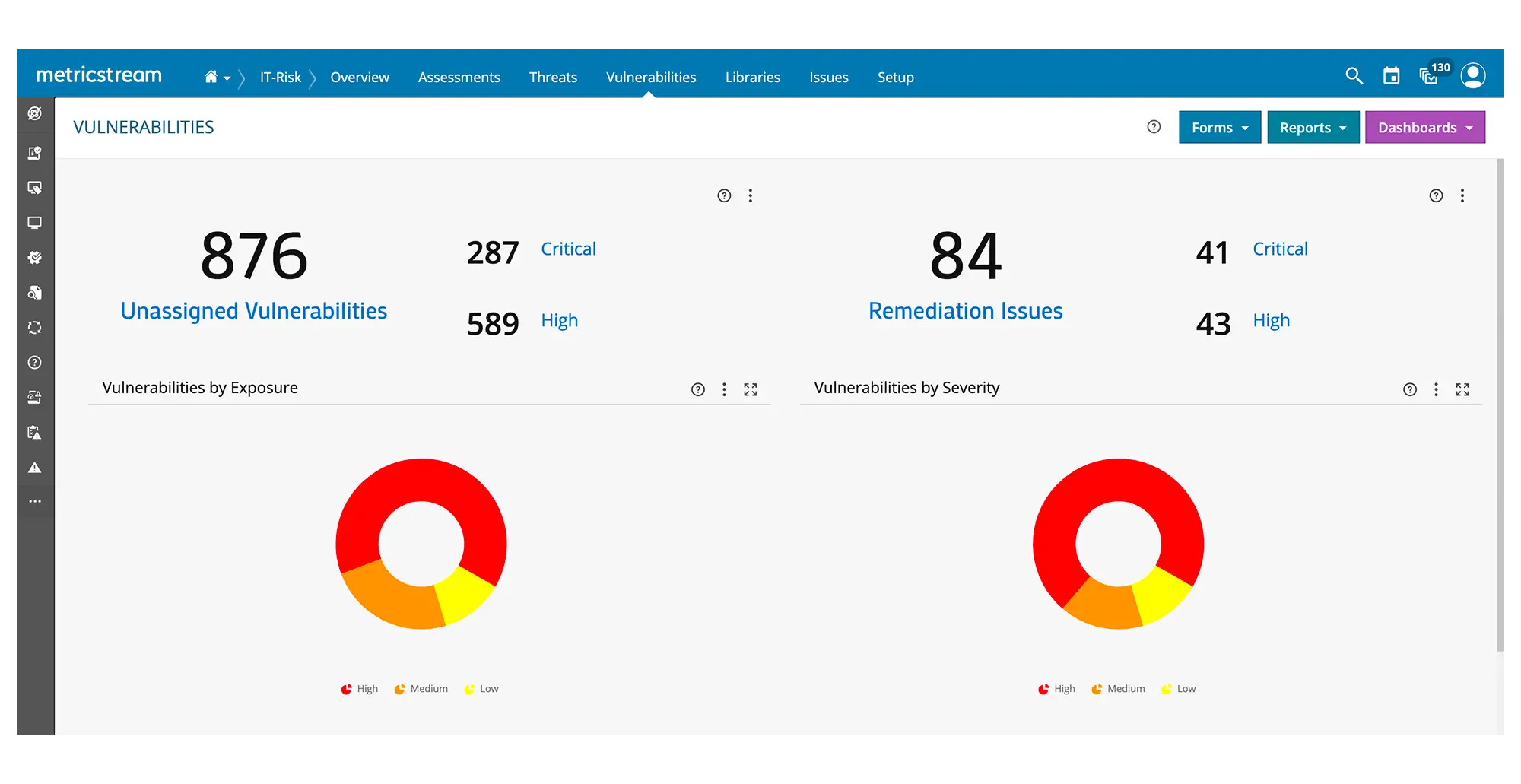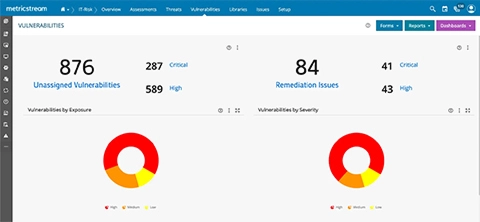 How Our Digital Operational Resilience Software Solution Helps You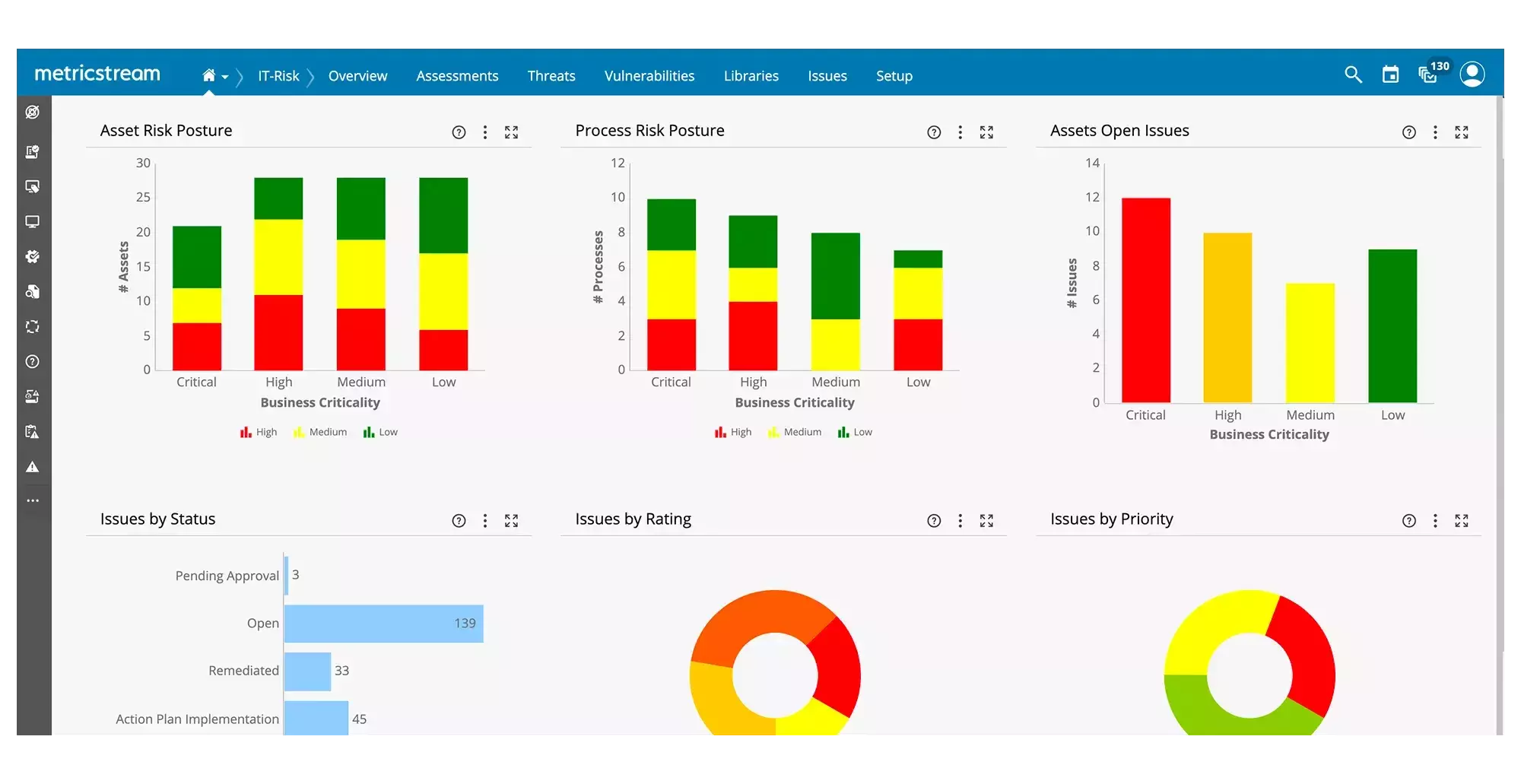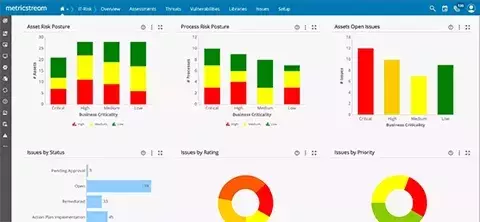 Comprehensive Visibility into ICT Risks
Define and maintain a centralized repository of all ICT risks, assets, threats, vulnerabilities, processes, and controls. Gain 360-degree visibility into ICT risks by easily linking IT and digital assets to risks, threats, vulnerabilities, and associated details including description, category, ownership, visibility, and validity.
Robust IT Control Environment and Testing
Establish and maintain effective IT controls and map them to processes, products, risks, regulations, and audits. Harmonize and standardize control sets across multiple IT regulations and standards including ISO 27001, NIST SP 800-53, and SOC2 to eliminate duplication. Use predefined criteria and checklists to schedule automatic assessments. Conduct control tests, attach evidence of findings, and score and report the results.
Well-Defined Incident Management
Efficiently and systematically manage all incidents across the organization by establishing and maintaining a single source of truth. Directly report an incident in the solution or capture it from multiple sources and relate them to other incidents, policies, regulations, processes, and controls. Classify incidents based on pre-defined criteria, including severity levels.
Systematic Business Continuity Planning
Create, maintain, and execute business continuity plans from templates and link these plans to related business processes, critical resources, functions, IT assets, key contacts, and locations. Test business continuity plans to assess if the activities outlined are effective and up-to-date. Streamline the management of course corrections with well-defined workflows.
Proactive IT Vendor and Third-Party Risk Management
Efficiently evaluate, monitor, and manage risks from critical IT vendors and third parties. Accelerate registration and onboarding processes of IT vendors, conduct risk assessments, continuous vendor monitoring, and risk mitigation by leverage automated workflows. Use pre-defined questionnaires to assess vendor risks. Centralize and manage contractual information for ICT third-party risk to ensure transparency and compliance across the firm and vendor ecosystem.
Integration of Global Trusted Content Sources
Capture and leverage relevant, authoritative intelligence from external sources for improved ICT risk assessment of third and fourth parties. Deepen visibility into third-party ICT risk by incorporating relevant, authoritative intelligence from trusted sources such as Dow Jones, Shared Assessments, BitSight, Security Scorecard, and more.
AI-Powered Intelligent Issue Management
Leverage the solution's AI capabilities to quickly identify issues based on relation and recommend issue classification. Identify and systematically document issues related to ICT risk assessments, IT controls, and compliance. Initiate streamlined processes for investigation, root cause analysis, and remediation.
Actionable Insights with Intuitive Dashboards and Reports
Gain real-time insights into ICT risks through built-in dashboards, user-configurable reports, heat maps, and role-based views. Advanced visualization of key metrics enables faster and more comprehensive understanding of evolving risk profiles. Drill down into finer levels of data and information on reports for in-depth visibility and analysis.
How Our Digital Operational Resilience Software Solution Benefits Your Business
Gain real-time visibility into ICT risks and mitigation measures through contextual risk information across processes and assets
Improve efficiency by linking vulnerabilities to ICT assets and prioritizing remediation efforts based on the areas of highest criticality
Establish a proactive approach to identifying, monitoring, managing, and mitigating ICT risks management with automated workflows and continuous control monitoring capabilities
Build confidence with executive management, the board, and regulators by demonstrating a robust, enterprise-level approach to ICT risk management
BUSINESS VALUE CALCULATOR
Frequently Asked Questions
The Digital Operational Resilience Act (DORA) is an EU legislation adopted in November 2022 and published in the Official Journal in January 2023. The legislation complements existing laws like the Network and Information Security Directive (NISD) and the General Data Protection Regulation (GDPR). Financial entities in the EU and their critical ICT providers must be ready to comply with DORA by January 17, 2025.
The right technology can help your resilience strategy by providing a single solution to meet regulatory requirements and the tools to embed risk management practices. Technology can support you by:
Ensuring that all aspects of an operational resilience framework are easily accessible to view in a single, connected platform simplifying the tracking and managing of the risk
Enabling data harmonization across teams, business units, and functions
Providing automation capabilities for risk assessments, control testing, continuous control monitoring, third-party due diligence, etc.
Ensuring a common federated taxonomy in a central risk library
Generating powerful reporting and analytics capabilities enabling organizations to create rich analysis and derive deep insights for driving business decisions
For over 20 years MetricStream has been a leader in Governance, Risk, and Compliance (GRC), supporting businesses to take a proactive risk-based approach to compliance, cyber, and third-party risk management and enabling them to manage, coordinate, and track multiple organizations risks across business siloes.
MetricStream brings together aspects of various regulatory frameworks into a single unified system enabling organizations to view and track regulation across various frameworks such as PRA, IDW PS 340 n.F, and DORA. The solution seamlessly embeds risk management practices into compliance, cybersecurity, vendor risk management, and business continuity planning to prepare for and prevent potential disruptions. MetricStream also shares best practices and key learnings with organizations, supporting future growth and helping build resilience strategies.
Trusted by Leading Brands
---
Digital Risk