Get Ready for GRC Summit 2021. Learn How You Can Power What's Next
GRC
| 3 Min Read |28 September 21|by Shampa Mani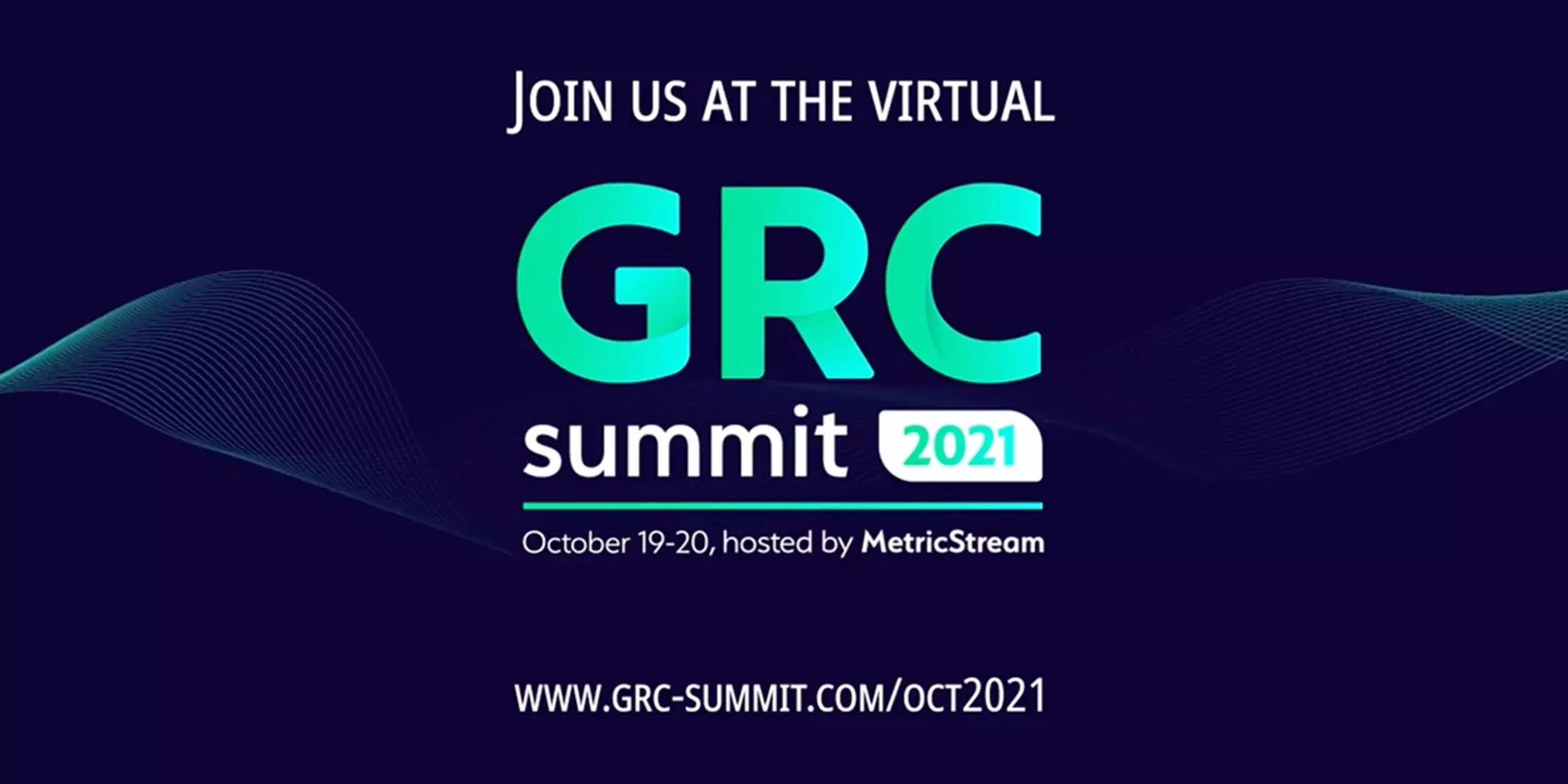 On the heels of our immensely successful GRC Summit in June, our flagship event is back to bring you the latest happenings in the GRC universe.
Now in its ninth year, the GRC Summit, hosted by MetricStream, is the biggest and the most awaited event in the GRC space. It brings together risk, compliance, audit, and cybersecurity professionals from across industries and geographies to share their experience, expertise, and strategies for building better governed, more risk-aware, compliant, and resilient enterprises that can power through what's next.
The last edition of the virtual GRC Summit had over 2600 delegates from over 1100 organizations. The next edition, with the theme "Power What's Next," will be conducted in a hybrid format, comprising of the two-day virtual event on October 19 and 20, and in-person networking sessions (invite-only) in a peer-to-peer roundtable format conducted in three cities across Europe.

Okay. But Why Should I Attend?
The pandemic has changed the way businesses operate in an unprecedented manner – from the accelerated pace of digitization to new ways of working, new regulations, new risks, and beyond. Organizations today need to explore ways in which they can not only manage these disruptive risks but also embrace and thrive on risk.
In our State of Risk Management Survey 2021, more than half of the organizations (52.63%) that had deployed an integrated risk solution said that they did not make any changes to risk programs and strategies due to the pandemic.
In the upcoming summit, hear it directly from these trailblazers and forward thinkers on the key strategies that helped them tackle the unknown unknowns and navigate this new terrain. Gain valuable insights from powerful keynotes, engaging panel discussions, customer case studies, and expert talks to understand:
The key risks faced by organizations post-pandemic
How to stay one step ahead of risks
Industry best practices for risk, compliance, and resilience management
What's now in GRC innovation and what's next
Some of the key speakers at the upcoming GRC Summit are:
Lene Birk Enøe Christensen, Chief Operating Officer, Group Risk & Compliance, Nordea
Brett Hudson, Global Head Ethics, Risk & Compliance - Strategy, Innovation, & Corporate Functions, Novartis
Carlos Pereira, Head of Governance & Policy - Global Security, Facebook
Edgar Biro, Senior Operational Risk Manager, Banque Centrale Du Luxembourg
Ronni Richard Luck, Head of Data, Analytics & Systems, Group Non-Financial Risk, Danske Bank
Gilles Kerouanton, Group Head of Operational Risk, Pictet Group
Scott Mackinlay, Head of Enterprise Risk Management, Almarai

What to Expect?
The two-day event will cover four major tracks:
In June, MetricStream CEO Bruce Dahlgren coined the term "ESGRC", adding environmental and social aspects to GRC. Building on the announcement, we've recently launched a new product that will help you meet all Environmental, Social, Governance, Risk, and Compliance requirements in a structured and streamlined manner. Learn more about this product, its features, and the ESG wave that is set to sweep organizations around the world in a Fireside Chat and a Product Launch session.
Explore how you can thrive on risk in the current digital-first and highly unsettled business and operational environment. Hear it from the best in the industry on how to turn risk into a strategic advantage that can add business value and provide a competitive edge in the market.
Understand the importance of managing regulatory change and leveraging technology for addressing regulatory uncertainty. Delve into the rapidly evolving regulatory landscape and learn how you can contend with the changing regulations and stay ahead by being alert, agile, and innovative.
Learn how the risk landscape has changed after Brexit and the associated governance, risk, and compliance implications for organizations. Panelists will also discuss the challenges and opportunities that lie ahead for GRC in 2021 and beyond.
Register Now to join the most influential Governance, Risk, and Compliance Summit of 2021 and become a part of the proliferating GRC ecosystem.
---
Comments
Related Articles
Subscribe for Latest Updates
Ready to get started?
Speak to our experts