September 2022 GRC Recap – What's New in the GRC Universe?
GRC
| 6 Min Read |04 October 22|by Mabel M Jesudian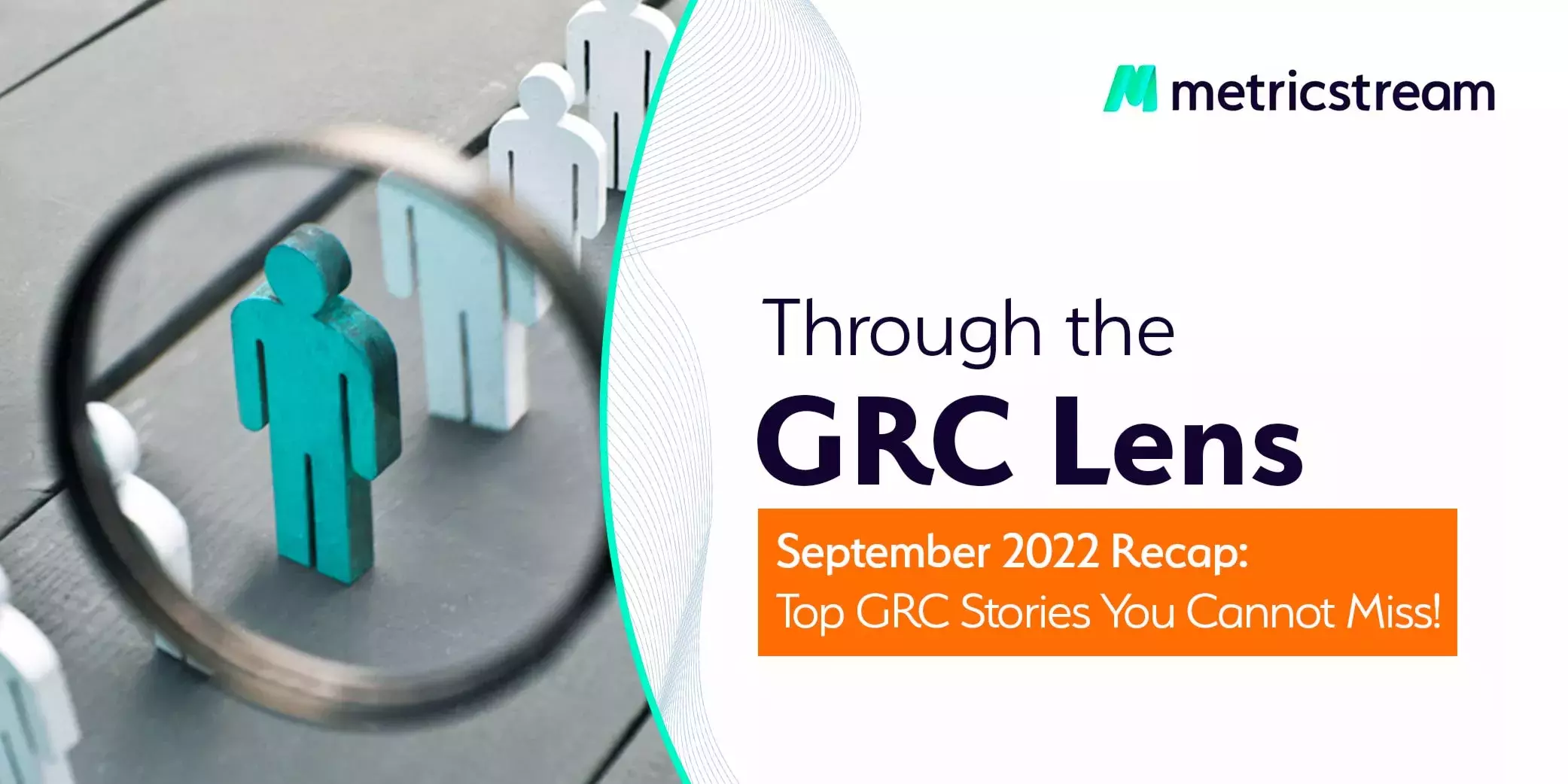 Increased regulatory activity on operational risk management and cybersecurity. A growing focus on the 'S' or social in Environmental, Social, and Governance (ESG). An urgency to tackle third-party cyber risk.
The top GRC news in September 2022 boiled down to a handful of significant and common themes. And with good reason: As we enter the second half of the fiscal year, shrinking global GDP accompanied by inflation and tight labor markets, as well as evolving energy uncertainties stemming from the ongoing geopolitical crisis in Europe, has made resilience a top priority for businesses, politicians, and regulators. Other top priorities for businesses include staying focused on developing effective mitigation strategies to manage the interconnectedness of risks, especially emerging cyber, ESG, and third-party risks, and striving to build robust compliance resiliency initiatives to cope with the unprecedented levels of regulatory change.
We also want to take a moment to thank you for your continuous support. MetricStream won two industry awards—the Bronze Stevie® Award for its Environmental, Social, Governance, Risk, and Compliance (ESGRC) product and the Operational Risk Management Solution of the Year award, at the Risk.Net Asia Risk Awards 2022 for the second year in a row! You can read more about this at the end of the blog.
Several other risk and compliance stories made it to the headlines last month. Scroll down to read a curated account of the latest news in the GRC Universe from around the globe.

What's New in Risk, Regulation, and Resilience?
What's New in IT and Cyber Risk?
What's New in ESG?
Gaurav Kapoor, co-CEO and co-founder of MetricStream, shared key steps for leaders seeking to engage their boards for ESG initiatives.
A commentary published by DBRS Morningstar focusing on women's representation at the board and executive levels of European Banks found that while gender diversity was improving at board level, it was lagging behind in executive leadership roles. In a sample of 43 European Banks (2021) women represented 37% of board member seats, but only 26% on executive management teams.
An EY survey of 300 European and UK-based fund managers found that German finance boards are the least gender-diverse in Europe. Only 29% of financial services board members in Germany are women in comparison to the European average of 37%.
The Office of the Superintendent of Financial Institutions (OSFI), Canada, issued draft Guideline B-15: Climate Risk Management in response to the risks posed by the ever-growing threat of climate change to the Canadian financial system. The guidance will aid efforts by Federally regulated financial institutions (FRFIs) to develop resilience against such risks.
According to Bloomberg, more than half of FTSE 100 companies now have ESG committees, with oil, gas and mining companies leading the way.
A report by strategic communications firm Luminous, found the introduction of mandatory TCFD reporting is helping to boost awareness of climate-related risk and driving ESG integration in annual reports.

What's New at MetricStream?

MetricStream Wins Awards for ORM and ESGRC Products
MetricStream was crowned the winner at the Asia Risk Awards 2022 for its Operational Risk Management product for the second year in a row. The panel of judges highlighted MetricStream's commitment to fine-tuning its product and the product's ability to help businesses generate a deeper understanding of business risks in an increasingly interconnected risk environment.
MetricStream was awarded the Bronze Stevie® Award for its Environmental, Social, Governance, Risk and Compliance (ESGRC) SaaS in the New Product Awards category as part of the 19th Annual International Business Awards®. The award is an industry recognition of the business value that MetricStream's ESGRC can bring to organizations seeking to embed advanced environmental and social initiatives.

Just 42 days until the GRC Summit in London!
Now in the 10th year, the GRC Summit 2022 will feature keynotes from industry leaders, product innovation sessions, MetricStream customer success stories and practitioner-led case studies, deep-dive workshops, GRC journey awards, and more!
---
Comments
Related Articles