Internal Audit Management
Internal Audit and Financial Controls
Measure Your Program Outcomes

90%

decrease in audit review time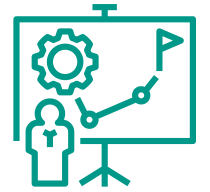 58%

decrease in audit issue resolution time

60%

reduction in the time taken for control testing and SOX certification
Source: Based on MetricStream customer responses and GRC Journey Business Value Calculator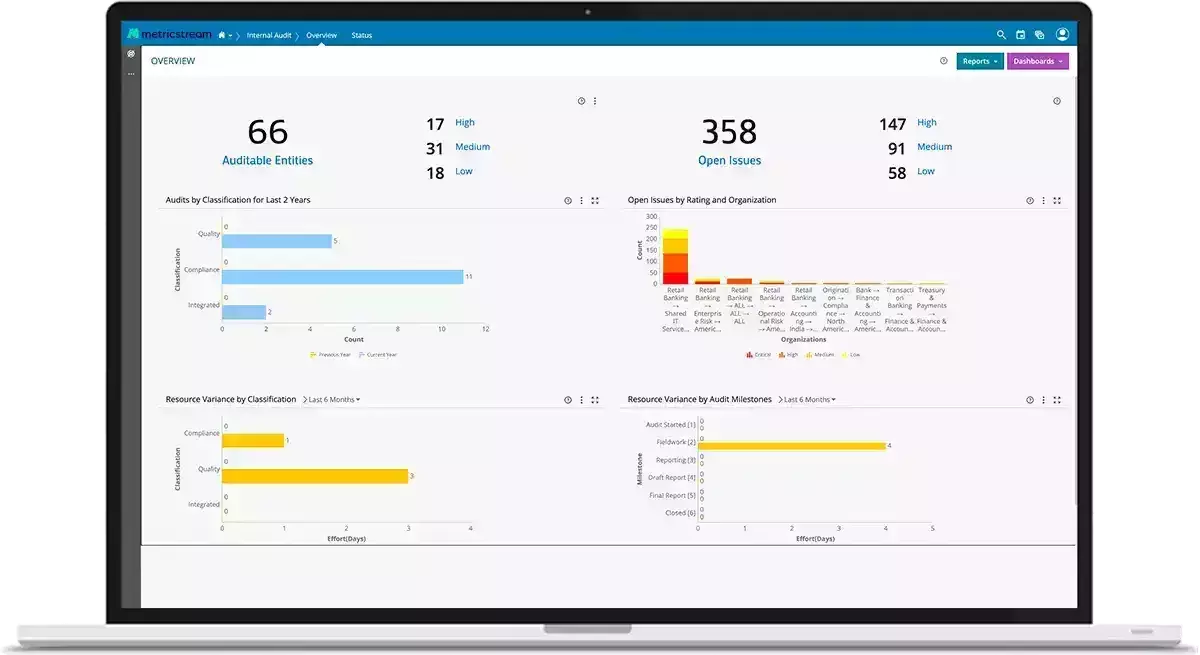 ---
Enable a Mature Approach to Internal Audit and Financial Controls Management
MetricStream Internal Audit and Financial Controls Management products help drive an agile and risk-based internal audit and financial controls management program that is aligned with your overarching risk management framework and business strategy. The products allow you to seamlessly adopt established industry standards, frameworks, and best practices to simplify associated processes, enhance productivity, and facilitate better collaboration across teams. You can streamline the processes for end-to-end audit management – from audit planning to execution, review, and analysis of audit findings, creation of the final audit report, and more, as well as SOX surveys and certifications. Powerful analytics and reporting tools and graphical dashboards provide real-time insights into audit findings, the status of controls, and SOX compliance, helping you make informed decisions and protecting your organization from risks.
How Our Internal Audit and Financial Controls Management Products Help You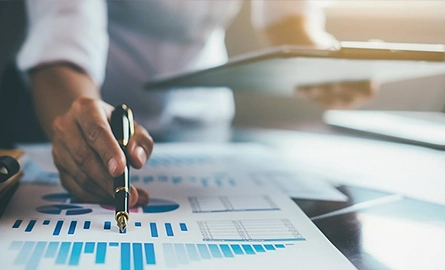 Execute, Manage, and Track Internal Audits with Ease
Through a risk-based approach to internal audit, prioritize audit tasks and resources based on risk criticality. Simplify audit task management, improve auditor productivity, and enable better collaboration across audit teams. Leverage AI capabilities to quickly sift through data to mine insights. Proactively identify issues and provide recommendations for remediation. Generate audit reports with ease in addition to real-time access to audit data through graphical dashboards.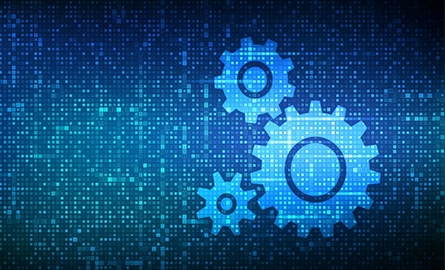 Ensure SOX Compliance with Automation
Comply with the US and UK SOX requirements and automate and standardize control testing and remediation workflows, thereby minimizing inconsistencies and compliance costs. Prioritize and rationalize controls that are mapped to high-risk areas or that have a greater material impact than others. Reduce the number of controls and associated testing costs. Gain in-depth visibility into the status of financial controls and SOX compliance across the enterprise to proactively identify areas of concern or improvement.
How Our Internal Audit and Financial Controls Management Products Benefit Your Business
Enhance agility and collaboration across teams to optimize audit productivity and allocation of organizational resources
Save time and cost of audits with streamlined and automated workflows
Reduce compliance efforts and associated costs by rationalizing controls through a risk-based approach
Build trust and credibility with stakeholders through assured compliance and timely reporting
BUSINESS VALUE CALCULATOR
Trusted by Leading Brands