GRC Summit, London, 2023: Meet the Speakers
GRC
| 5 Min Read |13 September 23|by Aanya Sharan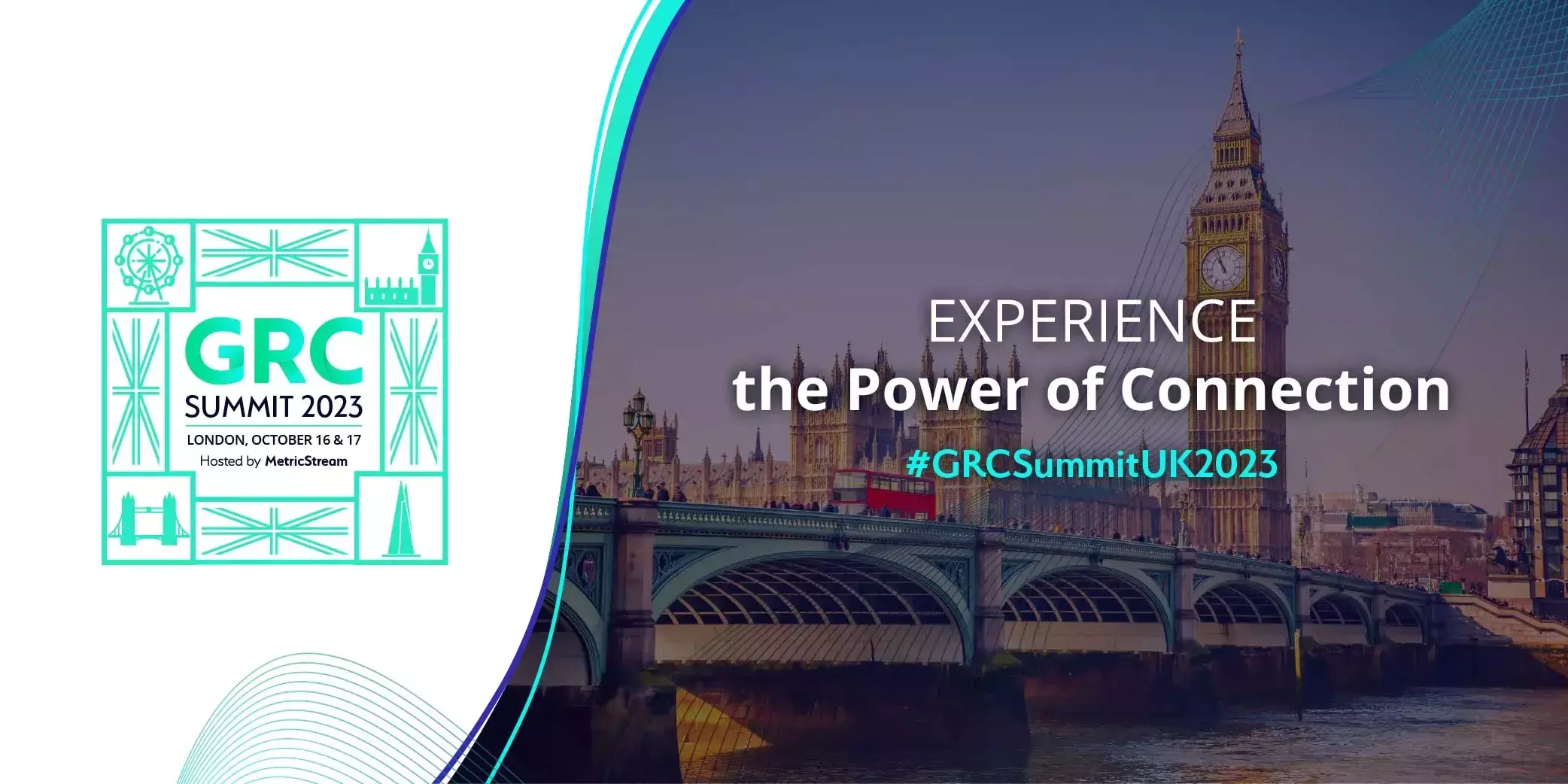 We are closing in on the big day! Just four weeks to go until the 2023 GRC Summit, to be held on the 16th and 17th of October at the Royal Garden Hotel in London.
During the past decade, MetricStream's flagship event, the GRC Summit, has consistently provided opportunities for the GRC community to connect, share insights, exchange best practices, and, most importantly, set the stage for what's next in GRC. Whether it's an emerging technology, a new process, or a regulation that's going to impact the way you do business, you'll learn about it here.
Now in our 11th year, and after an exciting edition of the GRC Summit in Miami this June, we will now be in London. The two-day event will bring together the most influential risk leaders to discuss the latest trends and best practices in Connected GRC and the risks and opportunities of artificial intelligence (AI). Our theme is "Experience the Power of Connection," empowering you to achieve more as you continue to thrive on risk!
Explore our Agenda.
Get to Know Our Esteemed Speakers
As the foremost thought-leadership event in the GRC space, the GRC Summit consistently showcases some of the most brilliant minds in the fields of risk assessment, compliance management, cyber risk, audit, and environmental, social, and governance (ESG). In the upcoming edition of the summit, we are thrilled to present a lineup of over 30 seasoned experts who will grace our stage to deliver compelling keynote addresses, offer invaluable insights, share best practices, and, most importantly, recount their own enriching GRC journeys.
Scroll down to explore the profiles of a few of our esteemed speakers and gain a deeper understanding of their areas of expertise.
Chandrra Sekhaar, Chief Audit Executive (EMEA) - SMF 5, Mizuho, is a Senior Audit Leader and pacesetter who initiates action and excitement in the controlled compliance and risk-driven environment and removes skepticism and obstacles to advance the business and capture excellence. A firm believer in strategic control impact and a transformational leader and coach, he promotes team values, builds collaboration, and secures buy-in for change.
Jacob Holmehave, Head of Group Risk Office, Nordea, is a former external consultant and keynote speaker within change management and transformation. Today, Jacob is the business owner of the development of Nordea's new Integrated Risk Management Application (IRMA) – a large digital and cultural transformation that will change the way Nordea works with risk management and compliance within all three lines of defense.
Dorothea Liebl, Head of Internal Control Governance, Siemens Energy AG, has been with Siemens since 1999. She has also served as the Head of Risk and Internal Control at Siemens Global Services and Siemens Real Estate.
David Storey, Vice President - Health, Safety & Environment, dnata, is responsible for the development and implementation of dnata's global HSE strategy as part of the global management team. With over 20+ years of experience in airline, ground operations and safety, David has worked for more than two decades in the Middle East region for large international airlines. David holds an MSc in Aviation Safety and is a member of the Royal Aeronautical Society (MRAeS).
Phil Crook is Head of Compliance, Nationwide Building Society, whose current responsibilities include being the Accountable Executive for the implementation of their first Regulatory Change Management Tool, leading a business-as-usual team that focuses on Risk Insight, Regulatory Developments, Data Analytics, Prudential Compliance and Wholesale Conduct. He joined Nationwide in 2021 following 11 years at Lloyds Banking Group across the three lines of defense, with expertise across Regulatory Compliance, Operational Risk, Retail banking products and Wealth management.
Dr. Jenny J. Birdi, Head of Operational Risk and Risk Strategy UK, HSBC, has been with HSBC for over 25 years. She is currently the Head of Operational Risk and Risk Strategy for the UK ring-fenced bank, having been appointed to this double-hatted role in April 2018.  She was previously the Head of Three Lines of Defense Execution for Operational Risk.
Philipp Herrmann, Head, Risk Management, Operations Department, Abu Dhabi Investment Authority (ADIA), is responsible for leading the Operational Risk Management practice for the Department and co-leading Enterprise Risk Management efforts. Joining ADIA in January 2016, Philipp plays a key role in shaping ADIA's risk landscape, including the development of Risk Policies, advancement of Risk Culture, and oversight of the MetricStream application.
Ivan Martinez, Chief Audit Executive, Banco Santander London Branch, is the Head of Internal Audit Santander CIB UK, and is responsible for designing and developing the annual audit plan covering all risks of the investment banking activities in the UK.
Peter Funck, as Head of GRC, Swedish Road Administration, helps the Swedish Transport Administration strengthen the GRC areas by developing and implementing a new department responsible for the management and coordination of the second-line activities as well as general governance and risk frameworks.
Brian Sorensen, Chief Execution Leader - Group Risk Change Management, Nordea, has 25+ years of experience within the banking industry, with a majority spent within project and program management and application implementation and the latest 8 years within non-financial risk management.
Sarah Harman, Leader - Operational Risk Framework and Systems, Nationwide Building Society, has over 20 years of financial services experience. Her responsibilities include being accountable for the setting of the Enterprise Risk Management framework and owning, developing, and maintaining the Societies' Risk system.
Sophie Dupre-Echeverria, Chief Risk & Compliance Officer, GIB Asset Management, Former – Schroders, is responsible for driving an effective risk culture throughout the company, designing the risk and compliance frameworks, and overseeing risk management and regulatory compliance practices. Sophie joined GIB (UK) with extensive experience in the field, having previously served as Executive Director for Compliance and Operational Risk Control at UBS Asset Management.
Despina Andreadou, Chief Audit Executive, Eurobank S.A., is for the last 25 years the Group Chief Audit Executive of Eurobank S.A, a European banking organization offering universal banking across four countries. Being one of the four Systemic banks in Greece, Eurobank has a strong presence in Bulgaria, Romania, and Cyprus and offers Wealth Management services in Luxembourg and London.
Excited to hear and interact with our speakers? Register now.
Delve into our full lineup of speakers and explore their profiles.
Keynotes from our Co-CEOs
MetricStream leaders Gaurav Kapoor, Co-Founder and Co-CEO, and Prasad Sabbineni, Co-CEO, will also be sharing their insights at the London summit.
If you're excited about attending – get your ticket now! Register now.
Watch this space for updated information on the speakers, workshops, agenda, and other key highlights of the London GRC Summit.
---
Comments
Related Articles