New in Danube Release: Dun & Bradstreet Integration for Third-Party Financial Health Assessment
Third-Party Risk Management
| 3 Min Read |18 May 22|by Kaul Siddharth
In today's world, many organizations are dependent on their third parties for a wide range of business services. Outsourcing business processes to vendors has helped organizations optimize the cost of their operations. Businesses also gain additional advantages from these relationships, including the ability to provide better services to their customers, improving efficiencies, and overall performance, and in many cases, gaining a competitive edge. However, dependencies on and the complexity of third-party relationships also brings a certain level of risk, which if not handled properly, may result in operational, reputational or financial loss, or even damage to the organization's brand value.

With the onset of the COVID-19 pandemic, several new risks have emerged. Because of their production or services specialization, many third parties have faced distinct challenges during the pandemic. Lockdowns, increased safety requirements, and a rapidly changing workforce have created an environment where some third parties are unable to deliver required products or services to the organization as reliably as they had in the past. In some cases, third parties have faced financial struggles, that have further resulted in a disrupted supply chain and value chain.

From the organization's perspective, it has become increasingly important to assess the financial stability of its third parties and extended enterprise. Firstly, during the onboarding of a new third party or relationship – to ensure that it onboards only those third parties that are financially strong, and secondly, to continuously monitor for any changes in the financial health posture of the third parties. The initial onboarding review and continuous monitoring can provide the organization with confidence in the third party's financial position. Or, alternatively, enable it to define substitute options should the third-party struggle or fail.

With MetricStream's Danube Software Release, it's now possible to determine third party financial risks during onboarding due diligence and to continuously monitor the financial health of vendors and third-party suppliers, creating an additional level of review and insight, and more informed decision making.

Learn more about the Danube software release. Read What's New in Danube Software Release.
Leverage MetricStream's Dun & Bradstreet (D&B) Integration for Third-Party Financial Health Assessment

Using Dun & Bradstreet data cloud, an organization can leverage trusted source financial records to better vet and validate third parties throughout the engagement.

MetricStream's Third-Party Risk Management product seamlessly integrates with the D&B data cloud to help risk managers make informed decisions while onboarding a third party. And, because the data may be updated at any time, it also allows for continuous monitoring of any changes in the financial health of an existing third party.

The D&B integration also automates the updating of third-party profile content using data maintained in the D&B data cloud, thus eliminating the need for any manual data entry in the D&B DUNS system.

With MetricStream's Dun & Bradstreet Integration, your organization gains the ability to: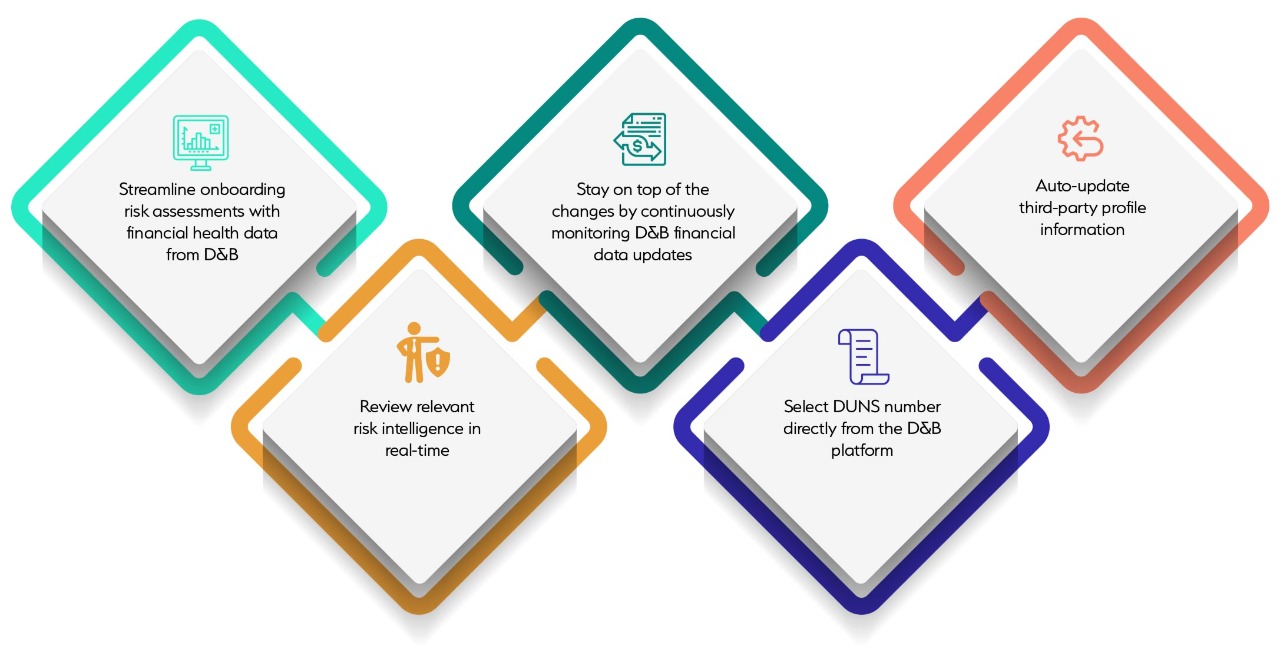 Power What's Next in Third-Party Risk Management with MetricStream
As organizations continue to embrace the extended ecosystem, driven by the many benefits it brings, risks within supply chains, third party engagements, and cyber vendors will continue to accelerate. To manage and mitigate emerging and evolving third-party risk, your organization requires a connected, integrated, and proactive approach.

MetricStream's ConnectedGRC, built to meet the emerging needs modern businesses, enables your organization to power what's next with an integrated approach to risk management. Streamline the identification, assessment, management, and mitigation risk across the enterprise, including IT and cyber risks, third-party risks, compliance risks, and ESG risks.

Effectively manage third-party risk and IT vendor risk with: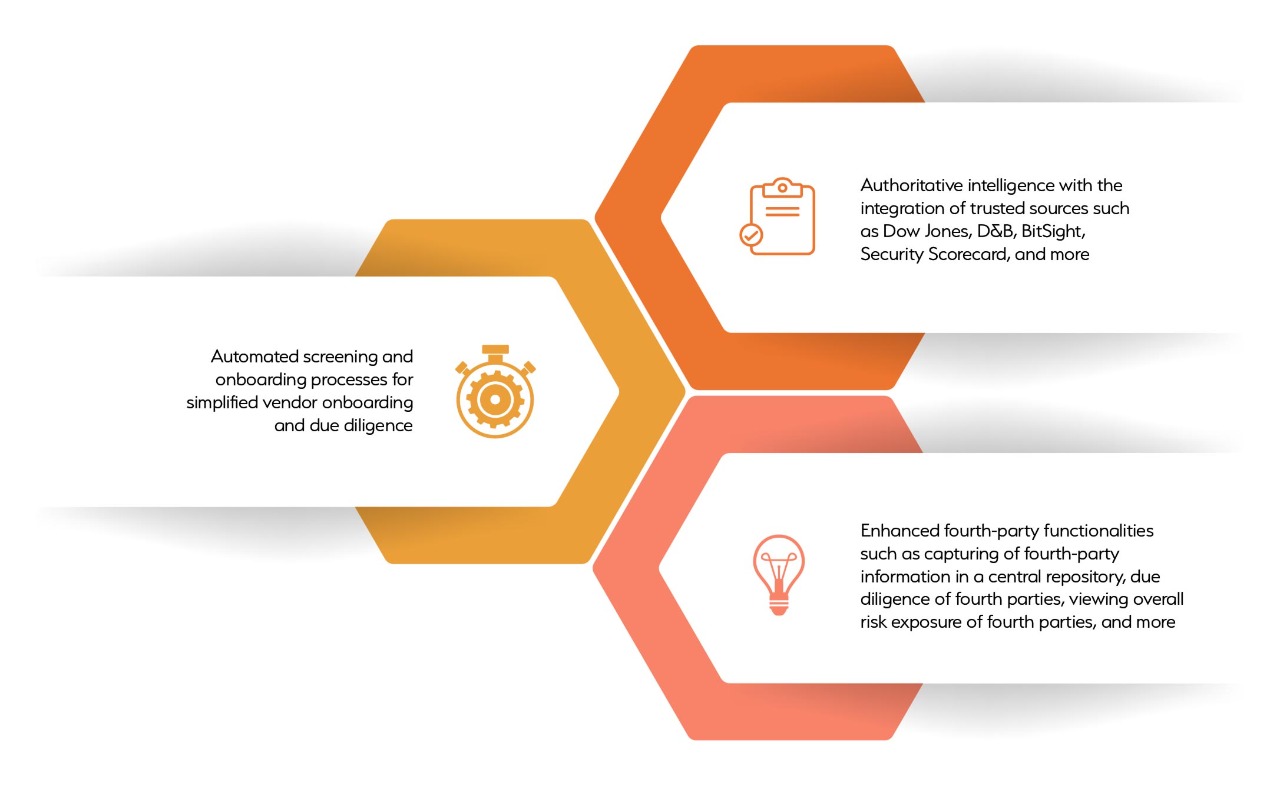 Want to learn more about how our third-party risk management software can help you? Request a demo now.
You may also want to read:

Third-Party Risk: A Turbulent Outlook Survey Report 2022

The Ripple of Effects of Log4J: How You Can Stay Prepared and Resilient

Building An Enterprise ESG Program? Here's How Technology Can Help You Succeed
---
Comments
Related Articles