Colorado
---
Quantify, manage and mitigate risk with MetricStream's latest Colorado release, covering MetricStream's deep domain products for IT & Cyber Security, Risk Management, Regulatory Compliance, Third Party Management, Audit & Financial Controls, ESG and the MetricStream Platform. Empower your organization to analyze and address accelerating risks and regulations with cyber-risk quantification, simplified risk assessments and enhanced regulatory change, compliance risk and third-party risk features.
The Colorado release sets a new standard for cyber-risk quantification, along with added intelligence, visibility, and an ongoing commitment to new, simpler ways to aggregate risk across the enterprise.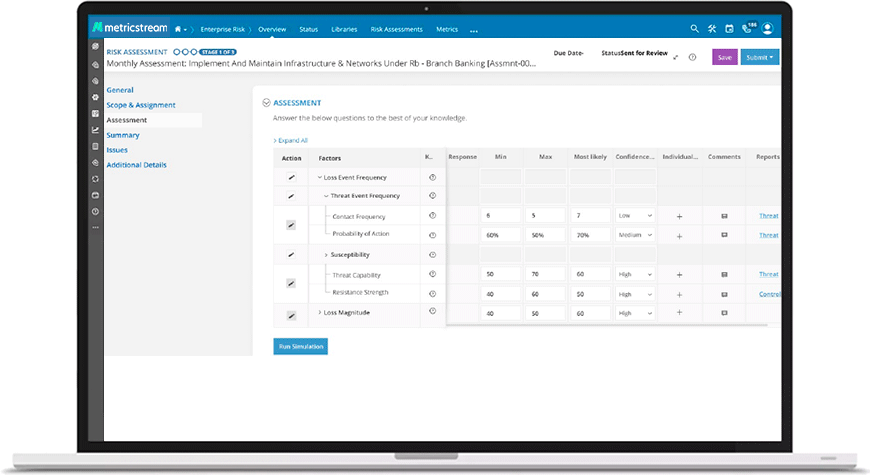 Setting a New Standard for Cyber Risk Quantification
---
Measure your cyber risk with MetricStream's Advanced Cyber Risk Quantification and Simulation. Powerful mathematical models enable you to quantify cyber risk in actual currency, as opposed to imprecise red, yellow, and green ratings.
Equipped with precise cyber risk quantification, CISOs, Chief Risk Officers, and boards can understand, analyze, and act on cyber risk. Using trusted simulation techniques like Monte Carlo, risk scenarios can also be run to prioritize action plans and investments.
Assess Risk Simply
and Intuitively
---
Quickly manage risks with new intuitive risk assessment for agile collaboration and shared visibility across the first and second lines of defense
Get Details
Manage Regulatory Change
& Compliance Risk
---
Easily track what changes are required for policies, risks and controls based on regulatory changes and perform compliance risk assessments
Get Details
Expand Visibility into Third and
Fourth Party Risk
---
Get an aggregated view of risk exposure across third and fourth parties across your third-party ecosystem
Get Details