Control Testing
---
MetricStream's Control Testing enables a plan- based approach to test controls and provides a framework and taxonomy for an organization to systematically document their control library. It also allows to test and report on the performance of controls at the business hierarchy and business process level.  It enables to document control deficiencies as issues and define remediation plans. Intuitive reports and dashboards provide visibility into the status of control tests and issues.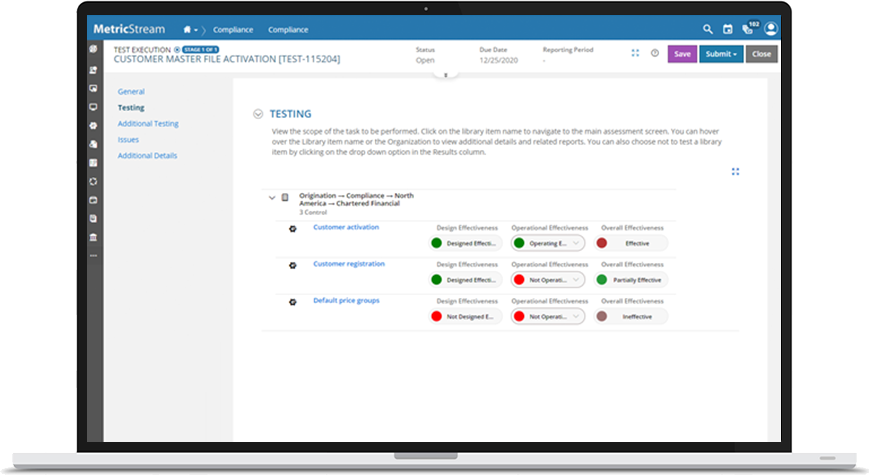 60%
reduction in the time taken for control testing.
Business Value Delivered
---
Gain complete visibility into control test process, with automated reports and dashboards, which provide comprehensive and accurate results. Reduce effort and time with harmonized controls, which leverages a set of controls identified  to fulfill multiple requirements across organization. Mitigate or minimize risk impact through well planned control tests that are conducted on basis of pre-defined checklists and questionnaires. Sustain effective regulatory compliance with well-defined workflows to implement the testing process, and controls mapped to different regulations. Optimizes operations by creating a plan, allocating responsibility and verifying controls at regular intervals.
Key Features
Intuitive Dashboards and Reports
---
Monitor status of control design, test results, using graphical charts and reports.
Centralized Control Library
---
Create  library of controls and map them to processes, risks and regulations.
Self-Assessment and Testing
---
Plan  and  design  self-assessments and control  tests with pre-defined questionnaires/ surveys.
Issue Remediation and Closure
---
Identify and document control deficiencies, and track them to closure.
Customer Experience
https://www.youtube.com/embed/5x2sUX6yBRc?rel=0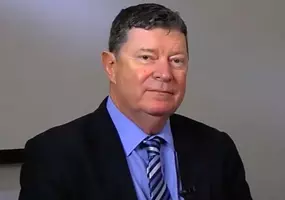 A lot of time may be spent on the design phase of a GRC program, but ultimately, it's about how the program is implemented. There needs to be a focus on engagement, communication, follow-up, and the sustainability of the GRC program.
Dr. Mark Hodgkinson
Operational Excellence Manager
Bahrain Petroleum Company
https://www.youtube.com/embed/Ldp4X3oa9EM?rel=0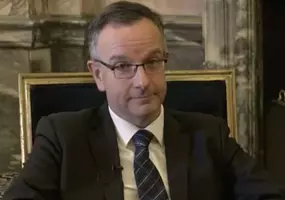 What drove us to go down the MetricStream route. We had 3 main drivers for change. The first of those was efficiency. The manual system was effective but it was very labor intensive, it was time consuming. There was a lot of people involved in moving a lot of paper around the organization and evidencing that we could do all the things that we needed to do.
Dermot McCarthy
Head of Crisis Management
Standard Chartered Bank