Accelerate sustainable growth, make risk-aware decisions and enable resilience with the industry first integrated risk platform that is intelligent by design.

MetricStream's M7 Integrated Risk Platform latest innovations will enable organizations to adopt a proactive approach to gather intelligence from the frontline, quantify cyber risks, and enable predictive intelligence with AI and Machine learning.

Adopt simple, agile and intelligent approaches to proactively address the changing workforce, risk, regulatory, and cybersecurity landscapes.
LEARN MORE Product Description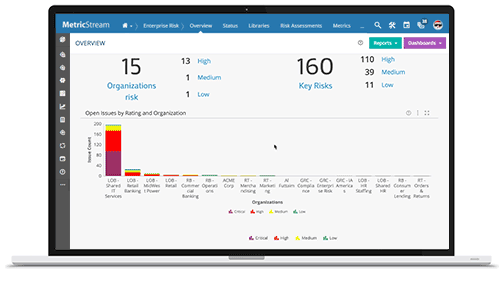 ENABLE FRONTLINE ENGAGEMENT
Proactively eliminate risks with intelligence from the frontline.
INTEGRATED RISK PLATFORM - INTELLIGENT BY DESIGN
---
Enable Risk-Aware Decisions with Predictive Intelligence

Enhance Risk, Compliance, Audit, and Cybersecurity programs with AI and Machine learning. Automatically identify recurring issues, patterns, and trends to prioritize actions.
Get Details
CYBER RISK
QUANTIFICATION
---
Quantify Cyber Risks and Align Cybersecurity with Business Objectives

Identify cyber risk exposure in monetary terms. Give business stakeholders a reason to trust and prioritize investments and proactively meet regulatory requirements.
Get Details
INTELLIGENT
CONTENT LIBRARY
---
Proactively Manage Regulatory Changes with Real-Time Intelligence

Improve responsiveness to regulatory changes with our intelligent content library that leverages AI-driven classification and curation across 750+ regulatory sources.
Get Details