M7 Integrated Risk Platform
---
The MetricStream M7 Integrated Risk Platform is intelligent by design. It is a simple, purpose-built platform proven with over a million global users and designed to meet Integrated Risk, Compliance, Audits and CyberSecurity needs across industries. The platform is powered by deep domain expertise, embedded content, rich context, integrated data, and explainable AI that provides a scalable foundation and the building blocks for the present and future needs of organizations. An intuitive user experience accelerates adoption across the organization by harnessing frontline intelligence and enabling stakeholders to make real-time, risk-aware business decisions.
GET MORE DETAILS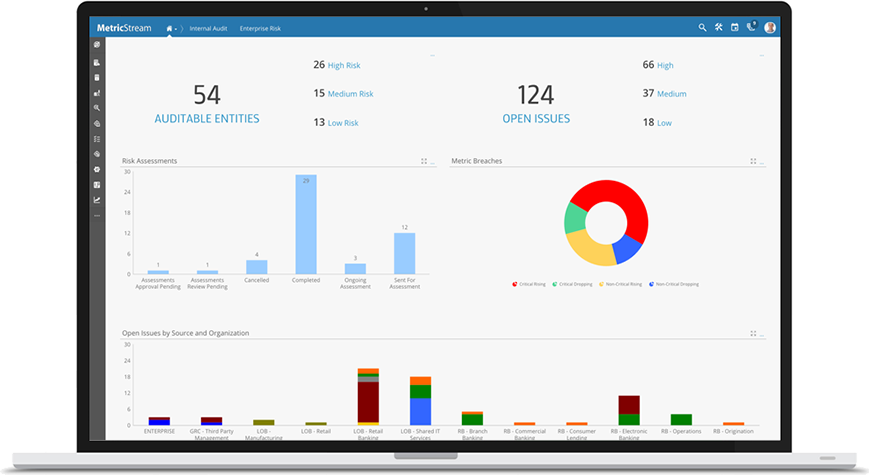 1M+
users across the globe deriving integrated risks insights.
Business Value Delivered
---
The M7 Integrated Risk Platform - intelligent by design, empowers organizations to address evolving business and market needs and accelerate decision making with contextual, real-time intelligence delivered through advanced reports and analytics. A single, integrated, interconnected data model unites data, removes friction between functional silos, and serves as a single source of truth for real-time, risk-aware decision making. The unique AppStudio provides the capability to simplify configuration and extension of products to meet changing business requirements.
Key Features
Federated Data Model
---
Leverage a centralized federated data model with pre-defined relationships across risks, regulations, assets, controls, organizational entities, processes, issues, and more.
AppStudio
---
Accelerates the creation, extension, and configuration of products on the Integrated Risk Platform, empowering you to adopt an extensible architecture.
APIs
---
Easily integrate multiple third party systems with out-of-the-box Business APIs; configure new APIs that are OpenAPI compliant using standard interfaces.
Artificial Intelligence
---
Leverage predictive intelligence and semantic search to make your risk, compliance, audit, and cybersecurity programs more intelligent.
Continuous Control Monitoring
---
Automate evidence collection at scale, and gain total coverage against limited sampling in manual assessments.
Intuitive Reports and Analytics
---
Leverage built-in analytical dashboards & reports with rich visualizations for real-time insights, or leverage your existing BI tools.
Multi-dimensional Org Structure
---
Easily map your corporate hierarchy, geographies, and business units or divisions to your risk and compliance information.
Internationalization and Localization
---
Support for multiple languages, currencies, timezones helps adoption across geographies.
Customer Experience
https://www.youtube.com/embed/VJaqbVHM05k?rel=0
The standardization and driving through common platform and common reporting was probably the biggest transformation across the organization.
Len Sinclair
Head of Operational Risk
Barclays
https://www.youtube.com/embed/ewRMFyiVvG8?rel=0
MDOS offers a lot of new exciting features. MDOS introduces changes to most screens, primarily for fields with Organization and or User picklist as well as changing the Security setup and report filtering, Having additional dimensions offers more
Erik Pittock
Senior Business Systems Analyst
Canada Life
https://www.youtube.com/embed/R-x4NgboLHg?rel=0
When we have our process risk controls and taxonomies and organization all inside MetricStream, when audit goes to audit now, that data will be there. So immediately your auditor will  be happier because they don't have to spend 20 30 40
Peter Bannister
Vice President, GRC
Fannie Mae
https://www.youtube.com/embed/5x2sUX6yBRc?rel=0
A lot of time may be spent on the design phase of a GRC program, but ultimately, it's about how the program is implemented. There needs to be a focus on engagement, communication, follow-up, and the sustainability of the GRC program.
Dr. Mark Hodgkinson
Operational Excellence Manager
Bahrain Petroleum Company
https://www.youtube.com/embed/QkeIZ4VEmp4?rel=0
Today we have implemented about 6 modules in production. We started off with Case, PDMS, we went with Issue Management enterprise wide. We have about 2000 users.
Sridevi Mullapudi
Senior Director
Fannie Mae
https://www.youtube.com/embed/fdt7VV8GiYI?rel=0
The MetricStream M7 platform which we rolled out earlier this year is really going to help us improve efficiency and help us streamline our data model.
Jinny Lung
Director, Security Governance, Risk, and Compliance
Salesforce
https://www.youtube.com/embed/T9Dw-0LFagI?rel=0
What can be done to promote high user adoption? Managing perception and User observation.
Knute Ohman
VP - GRC Program Manager
TCF Bank
https://grc-summit.wistia.com/medias/eorstwgici
One of the highlights of our GRC implementation is the successful use of the survey module as a global first level assurance activity. In the last 6 months alone, we've completed close to 10,000 first line assurance verification. This is
Amal Muralidharan
GRC Platform Owner
Dnata
Integrated Risk Platform