CyberGRC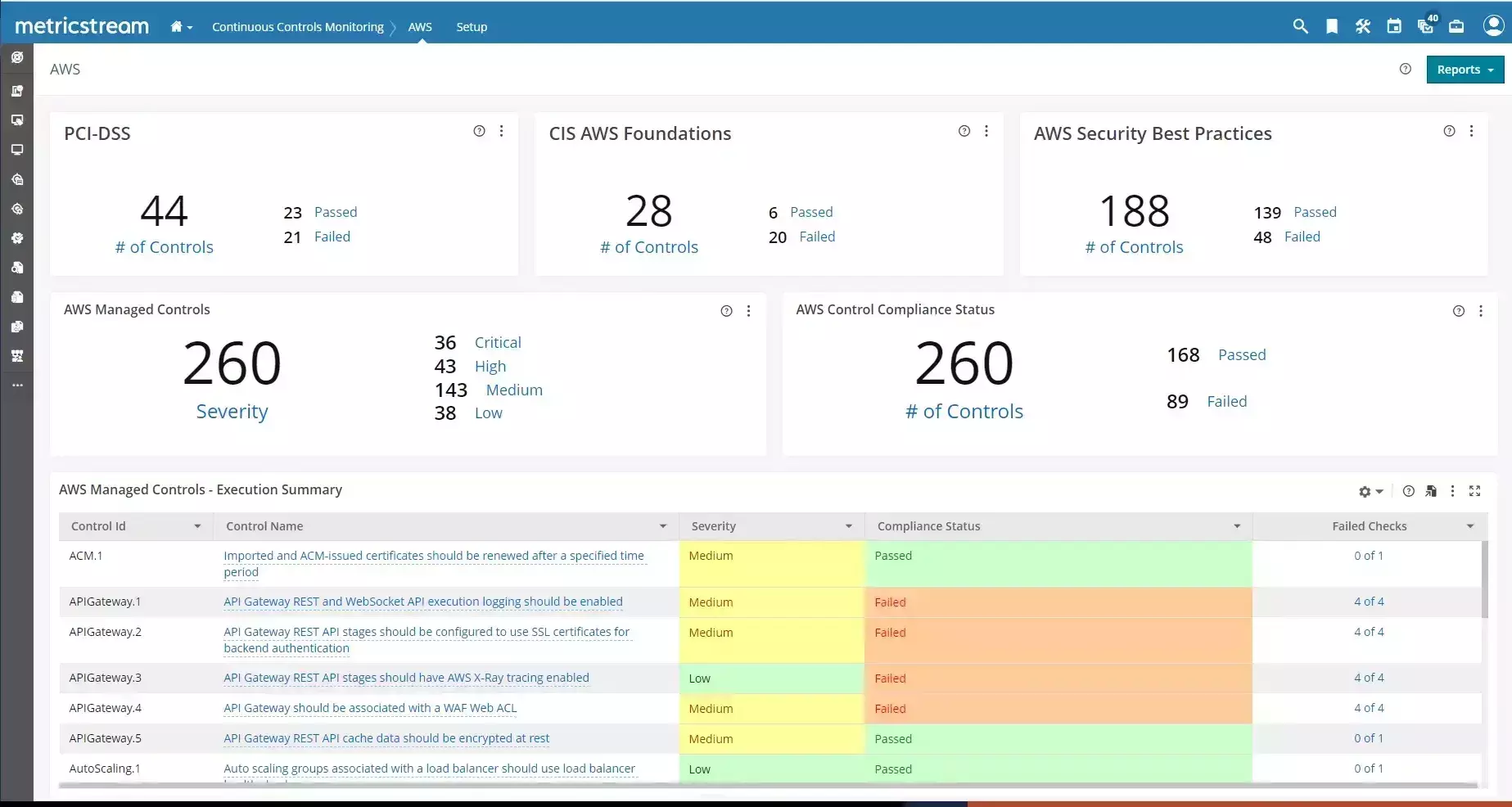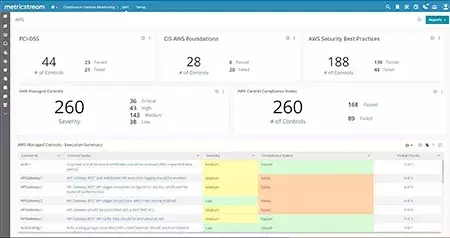 ---
Proactively Mitigate Cloud Security Risks and Strengthen Compliance
MetricStream Continuous Control Monitoring enables automated testing and monitoring of your cloud security controls so that you don't have to manually test controls and gather evidence. It also allows you to map cloud security controls with your internal controls that are aligned to compliance standards – such as NIST CSF, PCI, ISO 27001, and HIPAA – making the compliance process automated, fast and effective. Replace inefficient and reactive approaches like sample-based testing with a proactive, more complete testing approach to stay secure, agile, and alert. Automated and continuous testing and monitoring of cloud security controls, along with the constant gathering of evidence, enables organizations to proactively identify vulnerabilities, improve cloud security and compliance posture, and reduce audit costs.
How Our Continuous Control Monitoring Helps You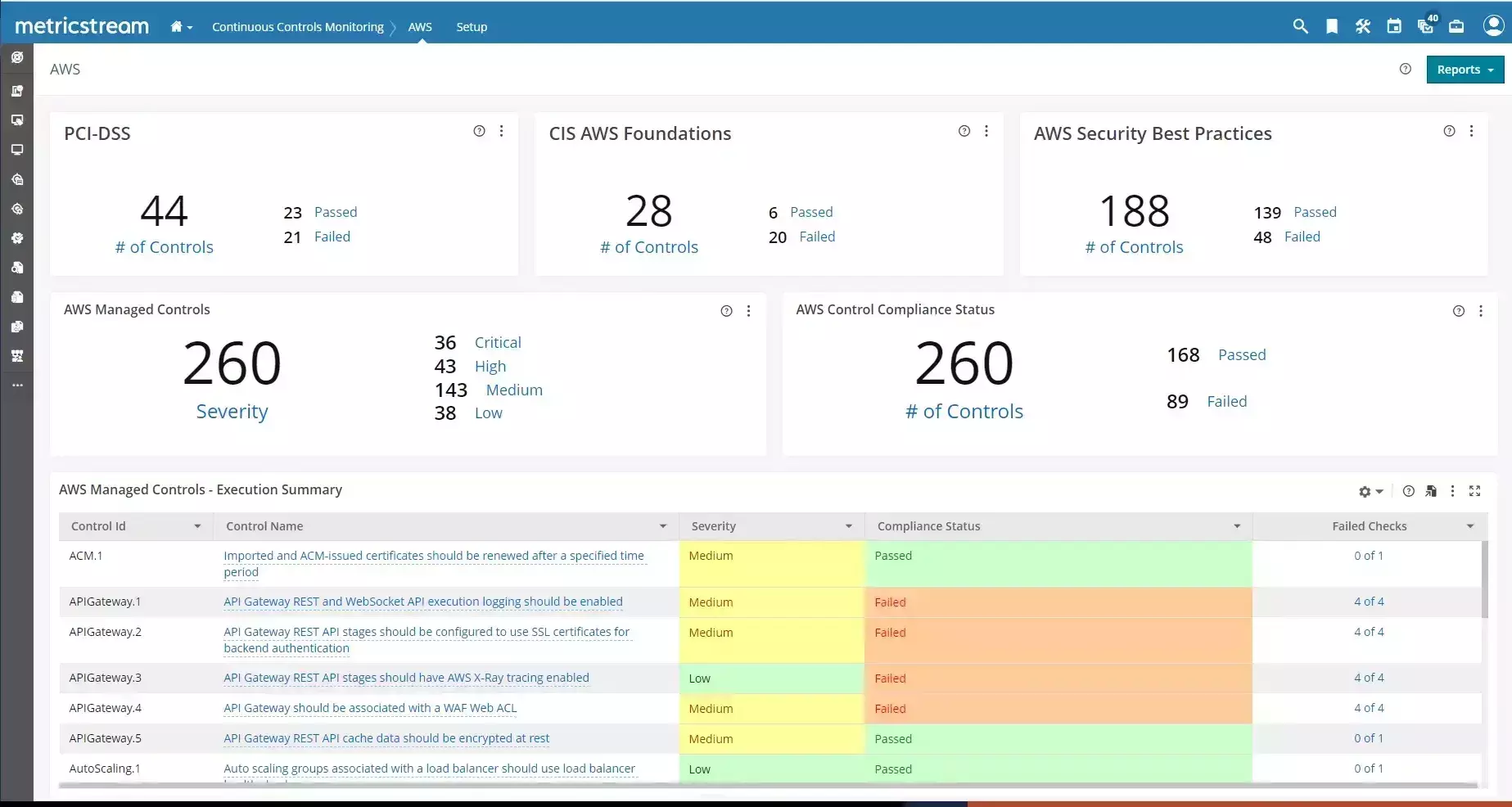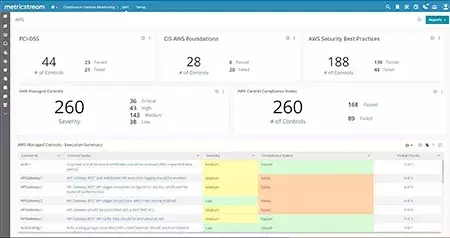 Automated Control Testing and Monitoring
Ensure effectiveness of cloud security controls with improved accuracy in identifying anomalies by leveraging complete, automated testing and monitoring instead of individual, manual testing. Automatically capture the results of each test and drill down to identify issues for immediate action.
Improved Cloud Security with AWS Integration 
Autonomously monitor and quickly identify cloud compliance issues that require real-time attention with AWS Security Hub's integration with MetricStream CyberGRC. Proactively respond to vulnerabilities before a security event or compliance violation occurs, effectively reducing risk, improving security, and lowering costs.
Simplified Compliance Management 
Strengthen IT and cyber compliance by mapping controls to various regulations and standards, including NIST CSF, PCI, ISO 27001, and HIPAA. Get the true status of the cloud compliance posture through a transparent, up-to-date view of cloud security controls. 
Autonomous Evidence Gathering
Leverage autonomous evidence collection capabilities to quickly and accurately identify compliance issues for efficient remediation, eliminating subjective decision-making. Effectively reduce risks with automated notifications to control owners as the exceptions occur. Gain comprehensive visibility into control test results and associated evidence. 
Powerful Dashboards and Reports
Gain in-depth and near real-time visibility into the status of cloud security control tests and issues with powerful dashboards and reports. Drill down to unlock insights into control testing data at finer levels of detail.  
How Our Continuous Control Monitoring Benefits Your Business
Gain comprehensive coverage and visibility into the performance and effectiveness of controls 
Achieve higher degree of accuracy by testing against the entire population and moving away from sample-based testing  
Automatically validate whether your cloud environment (e.g., AWS) is in line with required cyber standards and frameworks 
Autonomously gather evidence of control pass/failure, enabling users to remediate and resolve issues faster, improve compliance, and reduce audit costs 
BUSINESS VALUE CALCULATOR
Trusted by Leading Brands