Intelligent Issue and Remediation
---
MetricStream Issue and Remediation Management built on the MetricStream Platform provides a structured and integrated approach to manage risk, compliance, cyber and third-party risk management issues across the organization. By adopting an integrated approach and deploying a single system for enterprise-wide issue and remediation management initiatives, organizations can improve the effectiveness of assurance programs. MetricStream's intelligent issue management capability leverages AI/ML to automatically classify issues based on historical data. It also helps identify related issues using semantic similarity. Powerful analytics along with issue tracking and reporting functionality with graphical dashboards gives real-time visibility into issues.
GET MORE DETAILS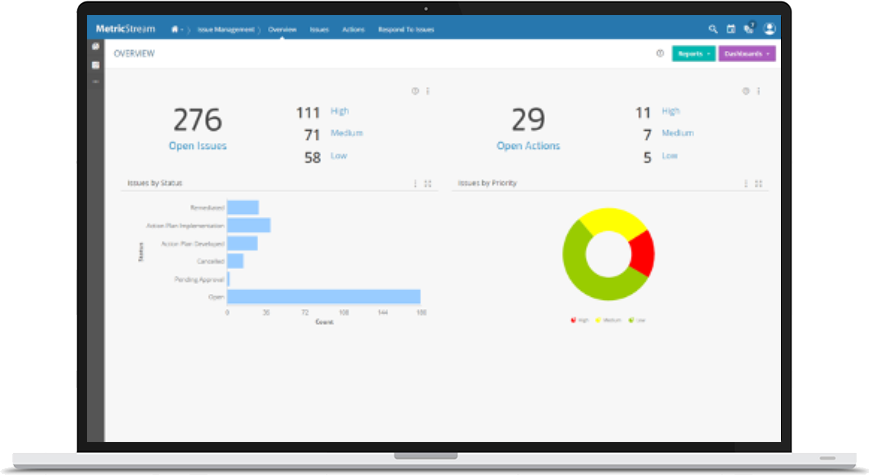 Business Value Delivered
58%
reduction in issue resolution time
Centrally manage issues across multiple programs including audit, risk, compliance, cyber and third-party risk management. Create single version of truth, reduce duplicate issues by leveraging a common taxonomy across all programs. Accelerate issue remediation, with intelligent classification and automatically routing it for immediate actions. Enables collaborative approach to issue remediation across departments and functions. Delivers enterprise-wide visibility into issue and remediation actions.
Key Features
Intuitive Dashboards and Reports
---
Gain comprehensive visibility into issue remediation management processes through graphical dashboards.
Capture and Classify Issues
---
Document details of issues, leverage AI/ML for intelligent issue classification and relate to similar issues.
Review Issue and Remedial Actions
---
Manage the issues by creating action plans and actions owners for issue remediation and send it for approval.
Implement Remedial Actions
---
Capture the details of the recommended remedial actions performed and track them to closure.