Third-Party Risk Management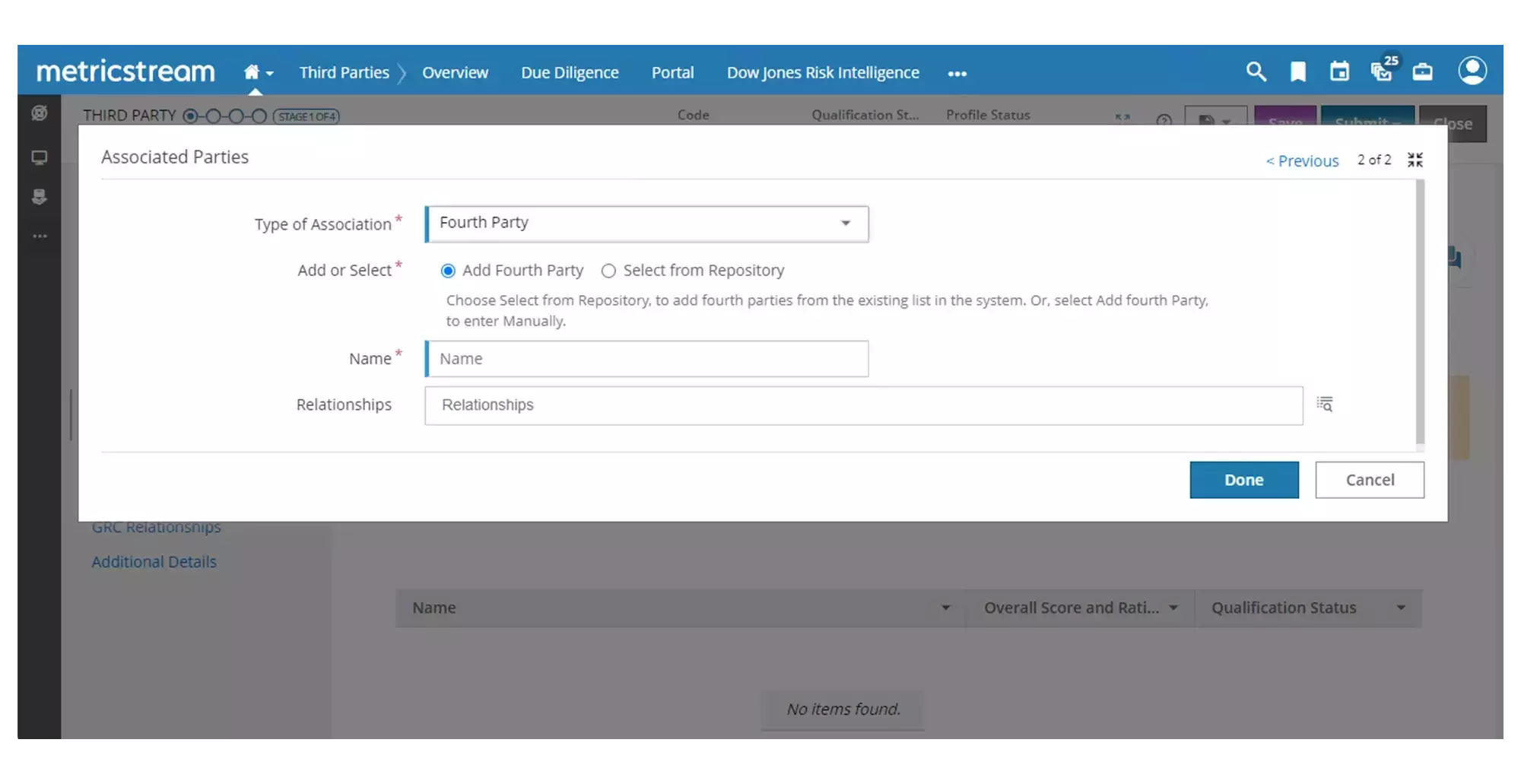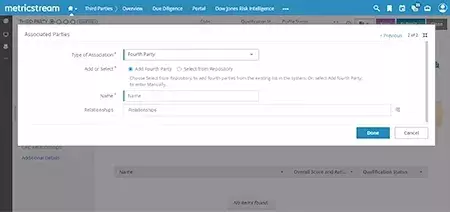 ---
Make Better-Informed Sourcing Decisions to Drive Growth and Protect Your Enterprise
MetricStream Fourth-Party Risk Management enables organizations to effectively assess the critical fourth-party risks to strengthen the extended ecosystem. Risk teams can capture fourth-party information as part of due diligence in a central repository and associate each fourth party with a specific product/service or third party. By providing an aggregated view of risk exposure across third and fourth parties – as well as deeper insights on ransomware, security, financial health, and ESG ratings – MetricStream Fourth-Party Management enables organizations to determine their overall risk exposure. Powerful reports and analytics provide valuable insights into third and fourth-party risk exposure.
How Our Fourth-Party Risk Management Helps You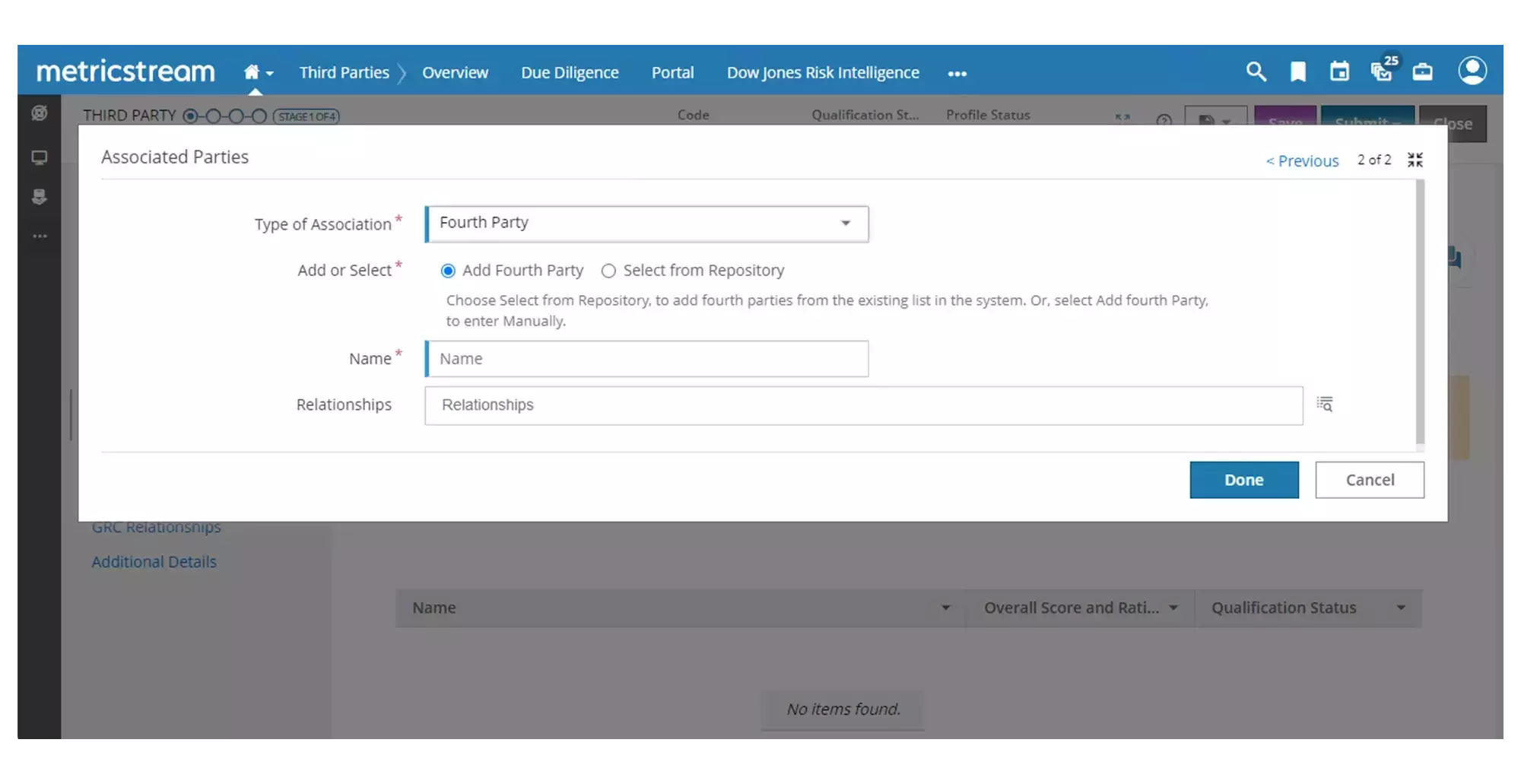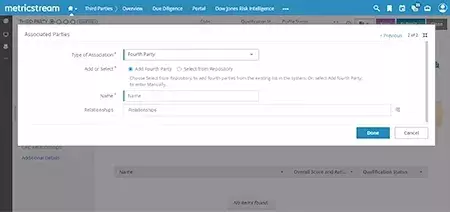 Centralized Risk Repository
Easily capture information related to fourth parties, including consultants, resellers, agents, facilitators, service providers, sub-contractors, etc., and attach it to your third-party profile. Maintain all data and information in a single, comprehensive repository to improve data consistency, update records and ratings, and eliminate redundancies.
Easy Aggregation of Fourth-Party Risk Exposure
Assess risks and control effectiveness related to the extended enterprise that includes third and fourth parties. Leverage risk aggregation reporting to gain comprehensive visibility into your overall risk exposure for third and fourth parties. Easily navigate risk assessment processes through predefined workflows.
Segmentation of Fourth Parties
Understand the third and fourth-party risk landscape in a single glance as the software automatically segments third and fourth parties into low, moderate, high maintenance categories based on critical parameters such as type of business, dependencies, locations, access to critical assets and systems, level of risk exposure, potential impact of a risk event, etc. Accordingly define the appropriate level of due diligence activities.
Simplified Risk Assessments and Monitoring
Based on a fourth-party's category, define the appropriate type of risk assessment required. Trigger risk assessment surveys to determine if each fourth party has established appropriate controls. Quickly spot areas of concern and initiate appropriate action based on aggregated vendor responses. Identify the fourth parties that require an onsite review or additional due diligence and manage the results through issue management capabilities.
Continuous Monitoring of Fourth Parties
Constantly and continuously monitor third and fourth parties for specific fraud, corruption, non-compliance risks, etc. Leverage globally sourced content on various associated risks to automatically validate fourth-party details and identify "red flags". Trigger automated alerts and notifications to critical fourth parties for completing risk assessments and furnishing additional details.
Panoramic and Timely Risk Insights
Gain comprehensive insights into the risk exposure of the fourth-party ecosystem through powerful reports and graphical dashboards. In-built risk heat maps help categorize fourth parties by risk likelihood and impact, thereby simplifying determining the percentage of high-risk fourth parties. Automatic workflows for review and escalation can be triggered based on predefined business rules.
How Our Fourth-Party Risk Management Benefits Your Business
Improve visibility into the risks of fourth parties by automating fourth-party due diligence and risk assessment
Continuously monitor fourth parties for potential risks they pose to your business and implement controls effectively to proactively mitigate them
Save time in performing risk assessments with automatic segmentation of fourth parties
Streamline risk assessment process with automatic distribution of questionnaires and population
Accelerate risk response with actionable and timely fourth-party risk insights