MetricStream's latest Arno Release of its Platform and suite of products for Audit, Risk, Compliance, Cyber, and Third Party provides a common taxonomy, centralized library, best practice workflows, and advanced security for organizations to 'Thrive on Risk'.
The enhancements in this release enable organizations to get visibility into interconnected risks, stay on top of emerging risks, engage frontline, promote collaboration across risk, compliance, and audit professionals and navigate the risk, regulatory, and cyber security landscape
LEARN MORE Product Description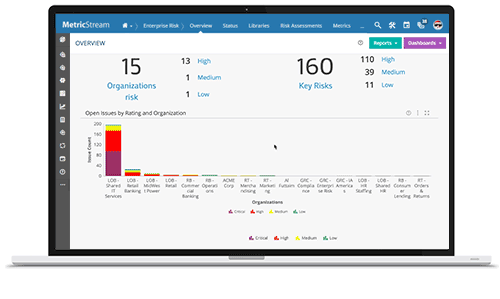 Enhanced User Experience
---
Simple, fresh user experience with optimized form layouts, fields that allow users to access information easily. Improved mobile capabilities to work on tasks offline, attest policies and record observations.
Get Details
Real-time Collaboration
---
Enables effective cross functional collaboration between different teams to create and update policies. Auditors from different teams can work together on audit projects.
Get Details
AI Powered Recommendations
---
Enhances Risk and Compliance programs with AI powered recommendations to automatically categorize and classify observations as cases, incidents, loss events, or issues.
Get Details