Elevate Your Experience: 2023 GRC Summit, London, Unwrapped
GRC
| 4 Min Read |27 September 23|by Aanya Sharan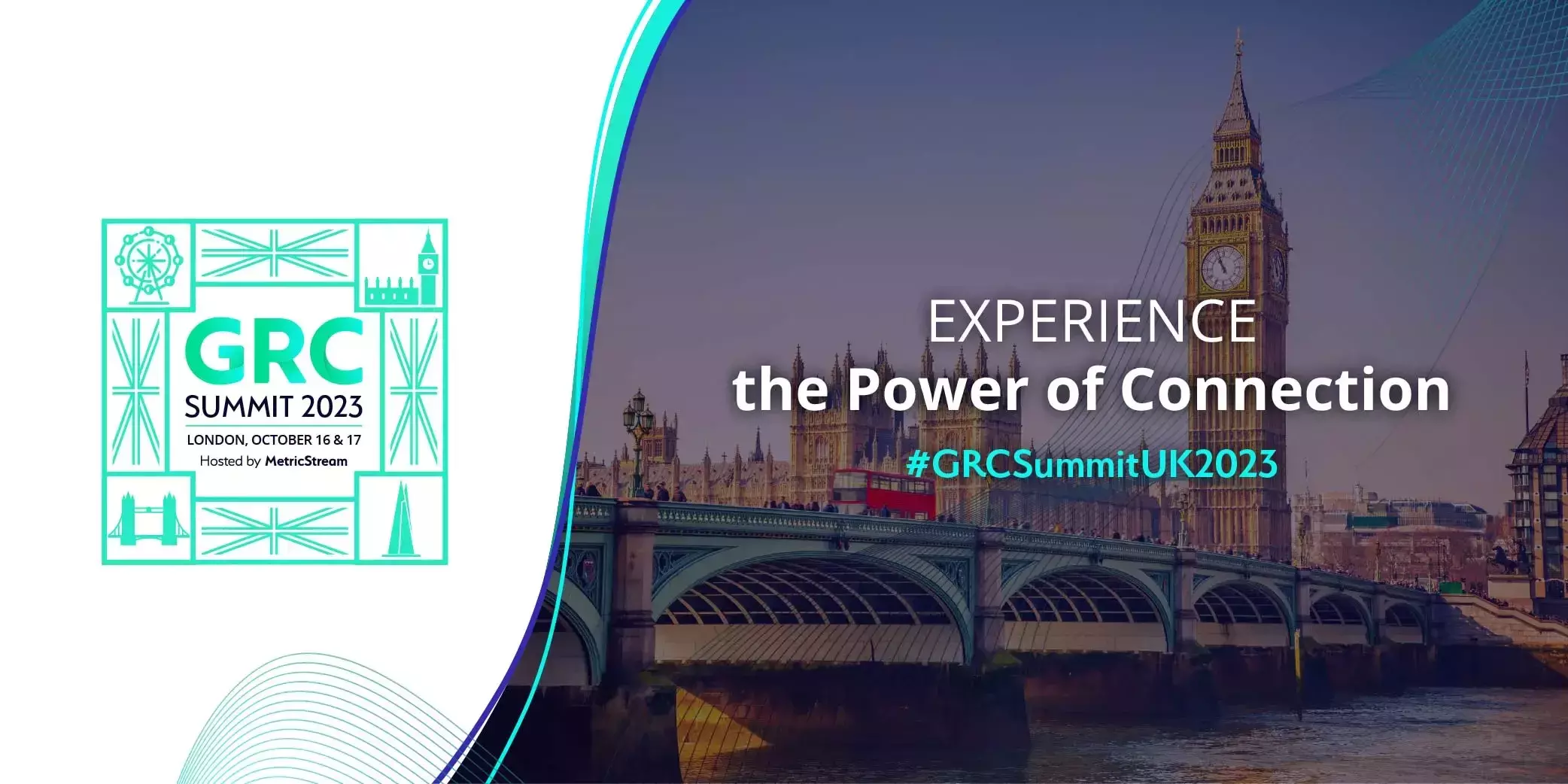 The London edition of the 2023 GRC Summit is all set to take place on October 16th and 17th at the prestigious Royal Garden Hotel. Following the remarkable success of our 2023 Miami edition, where GRC industry experts and thought leaders convened to exchange knowledge and forge valuable connections, we are delighted now to offer you the same experience in London.
Now in its 11th year, the GRC Summit has been the cornerstone of the GRC community, serving as a platform for networking, knowledge-sharing, and the sharing of best practices. It continues to set the standard for the future of GRC. With the compelling theme, "Experience the Power of Connection," this year's Summit will discuss the latest trends and best practices in Connected GRC and the risks and opportunities of artificial intelligence (AI). Prepare to engage with a distinguished global community of risk, compliance, audit, cyber, and ESG professionals for an unmatched experience.
Here's How to Amplify Your GRC Summit Experience
As we countdown to the Summit, we want to ensure that you have a truly extraordinary experience by providing you with invaluable insights on how to optimize your time. Here is the comprehensive Agenda for the Summit, along with a lineup of our esteemed Speakers. Additionally, we've handpicked a selection of must-attend sessions that promise to be both enlightening and transformative. Don't miss out on these exceptional opportunities.
Keynotes from Our Co-CEOs
The keynote speeches have consistently been a highlight of the past GRC Summits, and this year will be no different.

Gaurav Kapoor, Co-Founder and Co-CEO, will share the opening keynote on Experience the Power of Connection, where he will dive deep into how ConnectedGRC is powering agility and resilience through connected, cognitive, and cloud-based risk management.

Prasad Sabbineni, Co-CEO, will share the Product Keynote on Cognitive, Continuous, and Cloud: The Future of GRC. Find out how automated workflows, AI-driven insights, and cloud adoption are revolutionizing decision-making, operational efficiency, adaptive compliance, and more.

Expert Panels
We have multiple expert panels lined up, specifically tailored to tackle GRC challenges in today's increasingly interconnected risk landscape. Don't miss out on:

Driving Operational Resilience through Governance, Risk, Compliance, Cyber and Audit, with Chandrra Sekhaar, Chief Audit Executive (EMEA) - SMF 5, Mizuho, Nor Harliza Baharom, General Counsel, Compliance Strategy & Planning, Petroliam Nasional Berhad (PETRONAS) and Jacqui McDonald, CIO Group Finance, RFT Technology, Barclays.

The Changing Role of Internal Audit, with Brandon Wright, Head of Books & Records Audit, Bilfinger SE, Ivan Martinez, Chief Audit Executive, Banco Santander London Branch, and Despina Andreadou, Chief Audit Executive, Eurobank S.A.

The Three Cs of Modern Compliance: Connection, Collaboration, and Culture, with Peter Funck, Head of GRC, Swedish Road Administration, Sophie Dupre-Echeverria, Chief Risk & Compliance Officer, GIB Asset Management, Former – Schroders, Phil Crook, Head of Compliance, Nationwide Building Society, and Nael Kamil Nor Hisham, Senior Manager, Compliance Strategy & Planning, Petroliam Nasional Berhad (PETRONAS).

Ensuring Collaboration Across the Lines of Defense to Strengthen Internal Controls with Fazal Mohammed, Head of ORM - Asset Management, Phoenix Group, Dorothea Liebl, Head of Internal Control Governance, Siemens Energy AG, and Benjamin Rowsell, Head of Enterprise and Operational Risk, Nationwide Building Society.

Innovation and Risk: Encouraging a Risk-Taking Mindset for Business Growth with Philipp Herrmann, Head of Risk Management, Operations Department, Abu Dhabi Investment Authority, Petr Brezina, Head of Company Risk, KBC Asset Management and Sahil Bhardwaj, Group Head of Internal Audit & Risk, British Standards Institution.

Customer Case Studies
Presented by our customers, these real-life success stories provide deep insights into how organizations have successfully navigated the complex landscape of GRC challenges and offer a wealth of knowledge and motivation to propel your own GRC initiatives forward. Make sure to add the following sessions to your schedule.

Customer Case Study: Nordea
Brian F. Sørensen, Chief Execution Leader - Group Risk Change Management, Nordea
Jacob Holmehave, Head of Group Risk Office, Nordea

Customer Case Study: Siemens Energy
Michael Gropp, IT Program Manager GRC, Siemens Energy

Customer Case Study: Nationwide Building Society
Phil Crook, Head of Compliance, Nationwide Building Society
Sarah Harman, Leader - Operational Risk Framework and Systems, Nationwide Building Society

Product Sessions
Interested to learn more about the functionalities and benefits of MetricStream's GRC products? Our product-focused sessions will provide comprehensive insights, empowering you to fully understand the capabilities and business benefits of our offerings. Be sure to be there for the following sessions:

Power What's Next in Enterprise & Operational Risk Management

Power What's Next IT & Cyber Risk, Compliance Management

Digital Transformation and Operational Resilience: Adapting to New Technologies and Workflows

Digital Operational Resilience: Building Robust Strategies to Safeguard Business Continuity in the Face of Disruptions

Low Code No Code

Workshop on Enterprise GRC by Design: Blueprint for an Effective, Efficient & Agile Enterprise GRC Management Program
Enterprise GRC is an integral part of an organization's operational framework. When implemented effectively, GRC permeates through every facet of the business, ensuring the consistent attainment of objectives, the management of uncertainties, and the adherence to ethical standards. This necessitates a comprehensive understanding of GRC within the broader context of the enterprise's strategy, objectives, architecture, and processes.

Attend this workshop on 16th October 2023 for comprehensive insights into taking an architectural approach to building your Enterprise GRC program.
Celebrate and Network with Your Peers
Whether it's at the specially designated peer-to-peer sessions or during the networking breaks, the Summit gives you the opportunity to mingle with your peers and GRC industry experts. On 17th October 2023, join us as we recognize the key achievements of customers and partners in the field of governance, risk, and compliance management as we celebrate the GRC Journey Awards.
See you in London!
The highlighted list above offers just a glimpse of what awaits you. Check out our Agenda to know more. Delve deeper into the expertise of our esteemed speakers. Read: GRC Summit, London, 2023: Meet the Speakers.
If you haven't registered yet, don't miss out—secure your spot now! Register here.
---
Comments
Related Articles