5 Days to Go for the GRC Summit 2021. Here's a Look at our Stellar Speaker Line-Up
GRC
| 2 Min Read |14 October 21|by Shampa Mani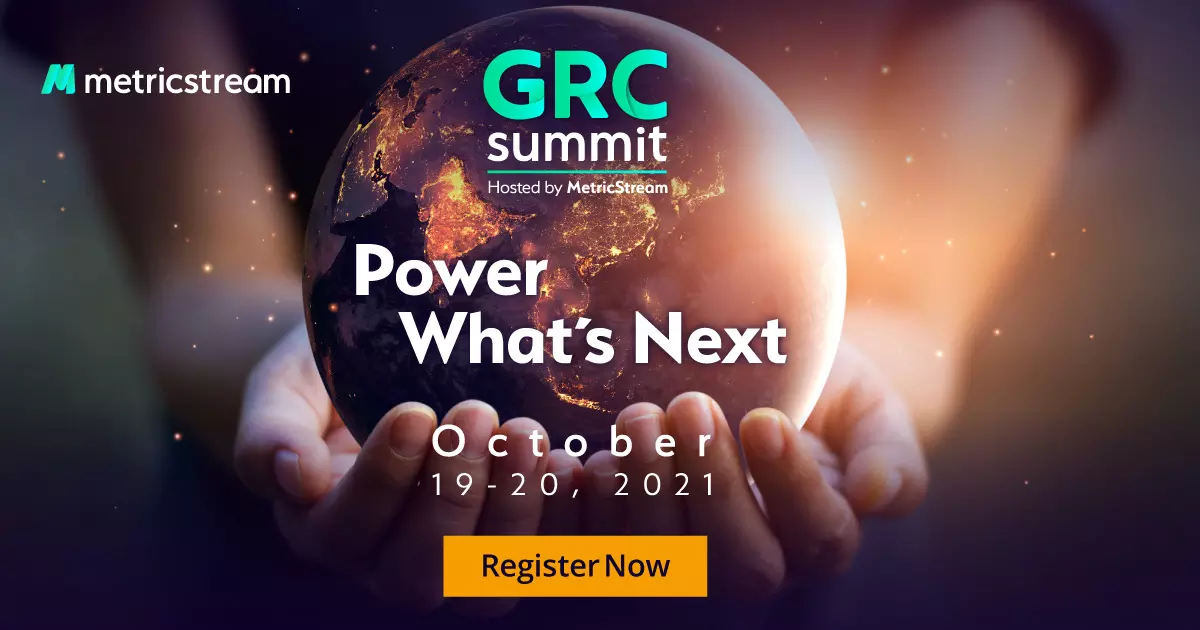 The countdown to the most influential gathering of GRC professionals from across the world has begun. The GRC Summit 2021, hosted by MetricStream, will kick off next week on Tuesday, October 19. The upcoming edition will be conducted in a hybrid format, comprising of a two-day virtual event as well as in-person networking sessions (invite-only) in a peer-to-peer roundtable format conducted in London, Copenhagen, and Zurich.

The theme for the summit is "Power What's Next", which is aligned to our core belief that organizations today must be ready for whatever unknown unknowns might come their way going forward.

2 Days, around 20 Tracks, and 45+ Speakers to Discuss What's Now and What's Next in GRC
We have an exciting line-up of prominent speakers from across industries and geographies, including:
Santosh Gon, Chief Information Officer, Aviva Singlife
Rani Selvarajoo Urbas, Head of Enterprise Trust, Google Cloud
Michael Rasmussen, GRC Analyst & Pundit, GRC 20/20 Research LLC
Dominik Henn, Executive Director, Julius Baer
Lene Birk Enøe Christensen, Chief Operating Officer - Group Risk & Compliance, Nordea
Ken Kaberia, Head of Enterprise Risk, Safaricom PLC
Harvey Bootland, Group Head of Controls, Shell
Elena Mocchio, Head of Innovation & Development, UNI (the Italian National Standards Agency)
Gavin A. Grounds, Executive Director - Governance, Risk & Compliance, Verizon
Tami Dokken, Chief Data Privacy Officer, World Bank
Fabien Robichon, Head of Analytics and Innovation - Group Compliance, Zurich Insurance Company Ltd.
The roster also includes speakers from various organizations including Julius Baer, Almarai, Nationwide, Department for Works & Pensions UK, Banque Centrale du Luxembourg, TikTok, Danske Bank, Google, and many more.

The thought leaders and industry experts will share their valuable insights on the most pressing issues being faced by organizations in areas of environmental, social, and governance (ESG), risk, compliance, cybersecurity, and more. They will also discuss how organizations can turn risk into a strategic advantage and enhance business resilience and performance.

From fireside chats to engaging panel discussions, product innovation sessions, customer case studies, and expert talks, the two-day virtual event will revolve around:

To view the complete agenda for the upcoming summit, click here. Register now and join the forward-looking and thought-provoking GRC conversations as organizations worldwide adjust to the new normal.
GRC innovation with next-gen technologies
Rani Selvarajoo Urbas, Head of Enterprise Trust, Google Cloud
Industry best practices and critical business strategies to stay one step ahead of risks
---
Comments
Related Articles