GRC News Digest November 2022 – Top Stories in Governance, Risk, and Compliance
GRC
| 8 Min Read |01 December 22|by Mabel M Jesudian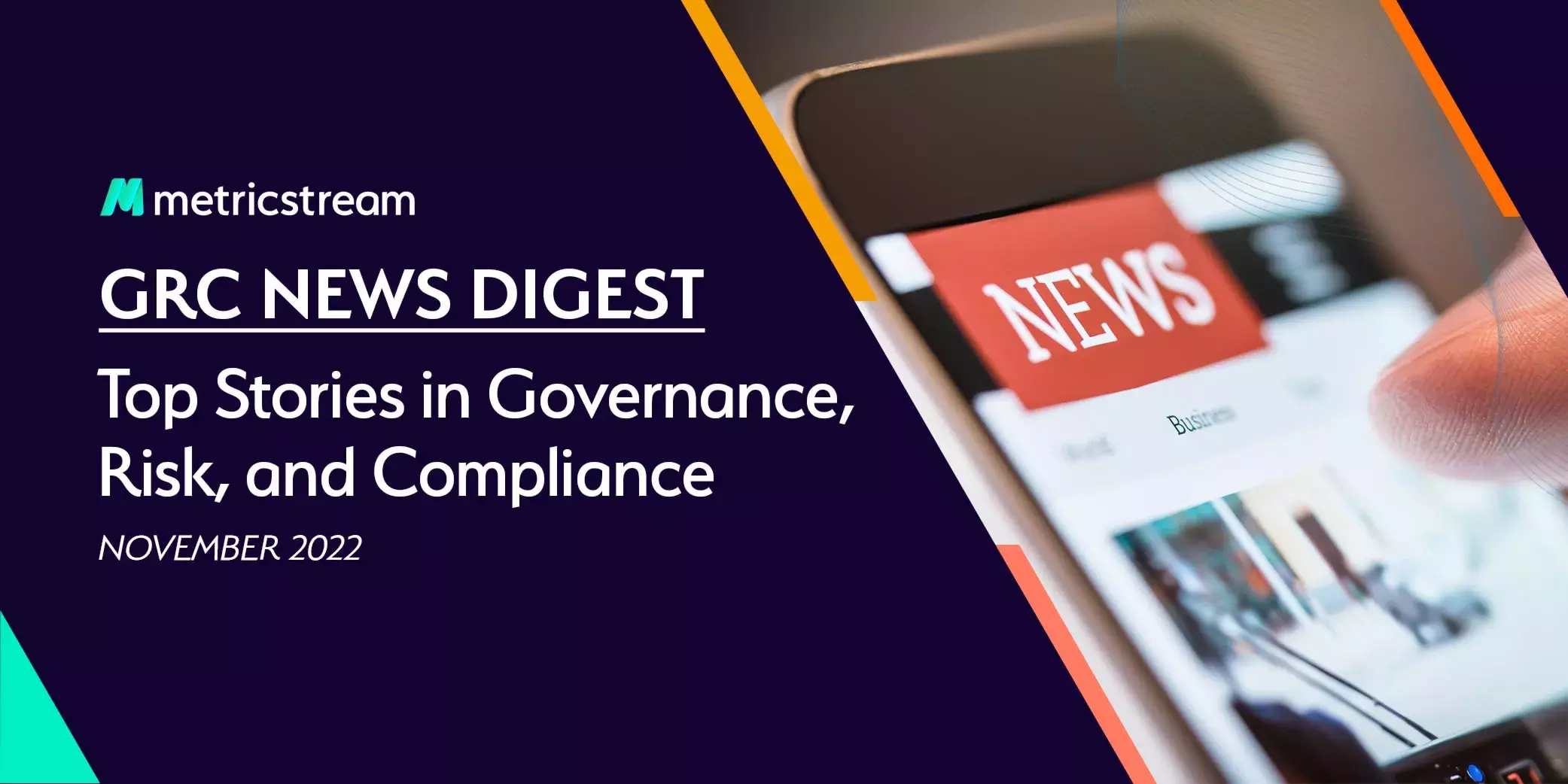 Strengthening operational resilience, enhancing self-reporting and disclosure mechanisms, seeking greater fourth-party verification, and a renewed focus on the G in ESG made it to the top GRC news stories in the month of November 2022. In the background, the magnitude, velocity, and complexity of risks continued to evolve. Ransomware still remains the top cyber risk confronting companies today, with third-party risks and automated threats also becoming an important cause for concern. In addition, the Ukraine crisis has heightened concerns about full-scale cyber warfare, with the Gartner 2023 Annual Audit Plan Hot Spots Report warning against "new geopolitical conflicts and the heightened prospect of state-sponsored attacks."
At the recently held MetricStream GRC Summit 2022 in London—our 10th anniversary event— we saw GRC thought leaders, visionaries, and industry experts highlight the most significant trends and best practices in GRC, compliance, cyber risk, and environmental, social, and governance (ESG). Here are three top insights identified by our leaders.
"It's time to reimagine what's possible in GRC and pivot from uncertainty to clarity and focus." Gaurav Kapoor, Co-CEO and Co-Founder, MetricStream
"Enterprises need to look at GRC holistically and not in isolation." Prasad Sabbineni, Co-CEO and Chief Technology Officer, MetricStream
"Talent risk is a top threat to the enterprises—ahead of many other risks." Gunjan Sinha, Co-Founder and Executive Chairman.
What other challenges must GRC practitioners be aware of, and what are some emerging best practices in the industry? Scroll down to read our monthly roundup.

In the World of Enterprise and Operational Risk, Regulation, and Resilience
Operational resilience has emerged as a global and industry-wide priority. The Operational Resilience Framework (ORF), along with NIST and ISO, has been developed by the Business Resilience Council after nearly a year of consultation. It ensures critical services run during a crisis. In KPMG's first UK Regulatory Barometer, operational resilience ranked in joint third place, alongside 'Regulating digital finance' and behind 'Maintaining financial resilience' and the top regulatory theme was 'Delivering ESG and sustainable finance.' The Federal Reserve also emphasized the need for a supervisory approach to operational resilience at the US Senate Committee on Banking, Housing, and Urban Affairs.
In the World of Cyber GRC
As the world races toward greater digitalization, organizations are likely to be more vulnerable to cyberattacks. Since 2019, three of four large firms have been impacted by some form of cyberattack. Ransomware remains the top cyber risk, but automated threats are becoming increasingly common, especially among e-commerce players.
Organizations are seeking ways to fight back. In the EU, financial firms have been pushing for standardized cybersecurity laws. The rules empowering EU countries to meet stricter supervisory and enforcement measures and harmonize their sanctions were approved by MEPs. Introducing cyber insurance, building a national cybersecurity strategy, and boosting cyber resilience can help combat the dangers of the dynamic threat landscape.
In the World of ESG Regulations and Risks
Reporting and disclosure are vital to keeping abreast of evolving ESG trends and building climate resilience. Across the world, companies face pressure to incorporate Environmental, Social, and Governance (ESG) measures into their core business strategies, take accountability for public statements, and follow concerted ESG initiatives.
The EBRD put out its third annual report based on the framework for voluntary reporting set up by the Task Force on Climate-Related Financial Disclosures (TCFD). TCFD reporting can deliver significant business benefits beyond compliance. As disclosure standards become more comprehensive and consistent, companies will have a solid base from which to measure their ESG impacts and outcomes and compare themselves to their peers.
However, while transparency in the ESG journey has been steadily increasing, the EY Global Corporate Reporting and Institutional Investor Survey found a significant reporting disconnect with investors on ESG disclosures. Stakeholders pointed out that their expectations for transparency still needed to be met.
What's Next @MetricStream
Don't forget to register for the following webinars:
MetricStream Partner Forum Glimpse of Euphrates: Day in the Life of a Partner Developer, Part II Dec 01, 2022 7.30 pm PST | 03:30 pm GMT
A UK and European Roadmap to Compliance and Regulation Dec 15, 2022 3.00 pm UK Time | 4:00 am CET
Missing out on top GRC stories? Subscribe to our blog and newsletter.
---
Comments
Related Articles