GRC Summit 2023, Miami: Meet Our Speakers – Part 1
GRC
| 5 Min Read |04 May 23|by Aanya Sharan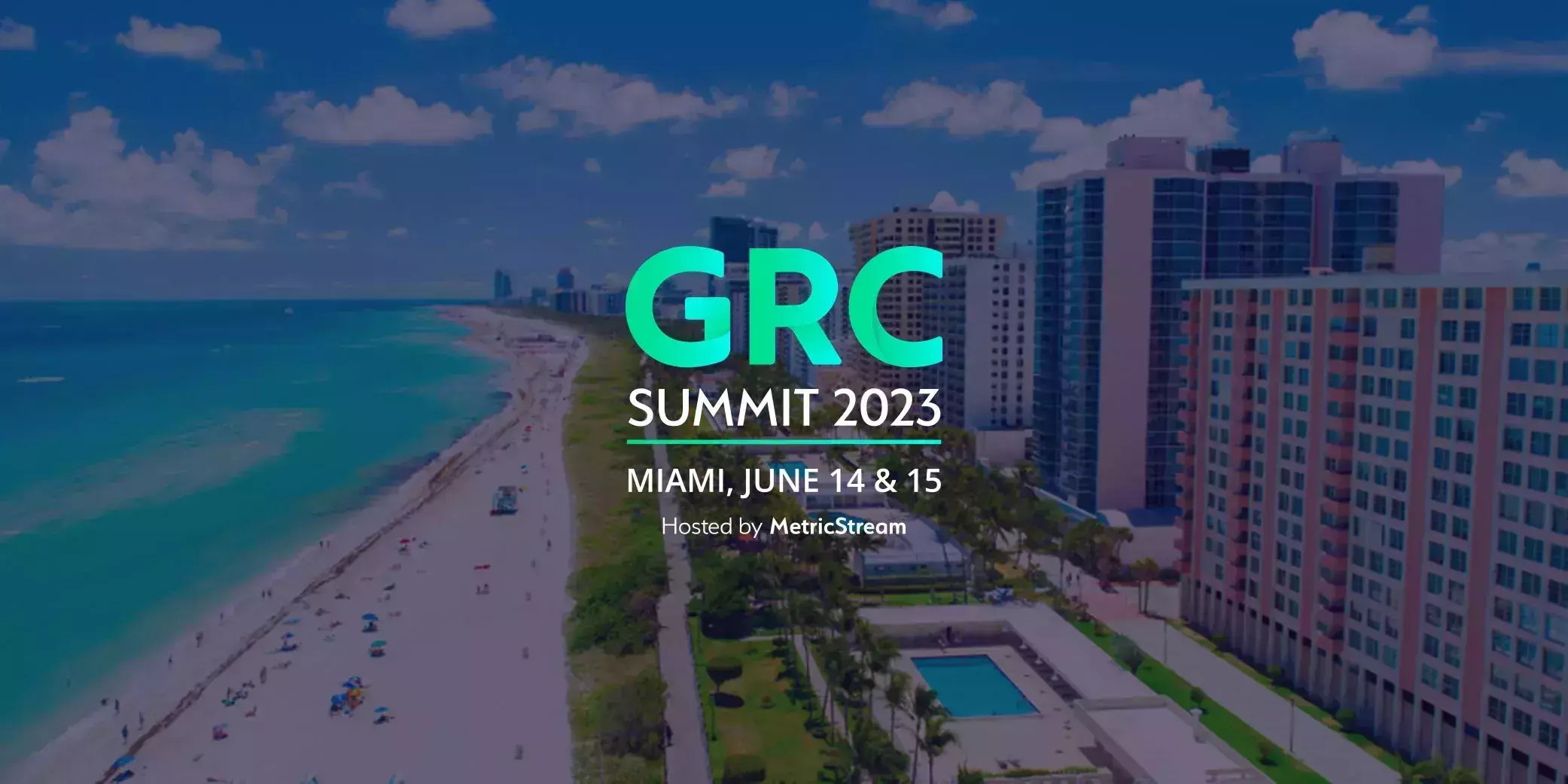 We are well and truly in countdown mode! It's just six weeks now until the 2023 GRC Summit, to be held on June 14th and 15th at the Hyatt Regency, Miami.
MetricStream's flagship event, the GRC Summit, has for the past decade consistently provided opportunities for the GRC community to connect, share insights, exchange best practices, and most importantly, set the stage for what's next in GRC. Whether it's an emerging technology, a new process, or a regulation that's going to impact the way you do business, you'll learn about it here.
Now in our 11th year, we are returning with an in-person event to the US after 3 years. Our theme is Experience the Power of Connection, empowering you to do more as you continue to thrive on risk!
Explore the Agenda.

Meet Some of Our Amazing Speakers
Being a premier thought-leadership event in the GRC space, the GRC Summit has always brought to the stage the best minds in risk, compliance, cyber, audit, and ESG. This year we have more than 60+ experts lined up to deliver keynotes, provide valuable insights and best practices and of course, share their own GRC journeys.
Scroll down to get to know more about the speakers and their areas of expertise.
Harit Talwar, Board Member, Mastercard, previously served on the boards of Morgan Stanley Bank International Ltd. and Morgan Stanley International Ltd. in London. Passionate about philanthropy and addressing inequalities, he serves as the Co-Chairman of the board of the American India Foundation, a member of the Asia Society Global Board of Trustees, and one of the founders of Ashoka University in India. Harit has been named one of American Banker's 10 to Watch, an Outstanding Asian American in Business, and an Outstanding Alumni of Shri Ram College of Commerce at Delhi University. He has been featured in The Wall Street Journal, The New York Times, Fortune, Forbes, CNBC and Yahoo! Finance and spoken at various industry forums and leading business schools.
Robert Foster, Chief Information Officer, National Credit Union Administration, is responsible for leading the IT workforce, establishing the organization's IT strategy and roadmap, and safeguarding, operating, and maintaining its technology resources. Prior to coming to the NCUA, he served as Chief Information Officer with the Department of the Navy. He has also previously served as Deputy Chief Information Officer at the Department of Health and Human Services and at U.S. Immigration and Customs Enforcement.
Eileen Fahey, CFA, Chief Risk Officer, Fitch Group, oversees Fitch Group's risk management function, which includes reviewing, monitoring, and addressing the multitude of risks that can impact the group's performance and reputation. Eileen will be sharing her thoughts and valuable insights on how organizations can thrive in a dynamic, interconnected risk and regulatory landscape.
David Storey, MSc, BA (Hons), FRAeS, Vice President Health, Safety & Environment, dnata, has an extensive experience in airline, ground operations and safety, having worked for 20 years in the Middle East region for large international airlines. In his current role, he is responsible for the development and implementation of dnata's global HSE strategy as part of the global management team.
Gavin Grounds, Sr. Director. Governance, Risk & Compliance, Meta, currently leads Security, Risk, and Compliance at Meta Platforms, Inc., which includes several products and services, including Facebook, Instagram, Messenger, WhatsApp, Meta Quest, Horizon Worlds, and many more. A cyber security leader and visionary, Gavin has held key leadership positions at Verizon and HP Enterprise Services.
Kellie Bickenbach, Head of Operational Risk Management, Silicon Valley Bank, is a highly accomplished executive with over three decades of experience in the financial services sector. Kellie has held senior leadership roles at several renowned institutions, including Fannie Mae, US Bank, Bank of America, and Finastra. She has gained widespread recognition for her expertise in leading transformative strategies that deliver competitive solutions. Kellie's primary focus has been on risk leadership in large depository institutions, global fintech, and systemically important market utility settings.
Christopher Geiger, Vice President of Internal Audit and Enterprise Risk, Lockheed Martin, has been with Lockheed Martin for over 20 years including executive roles in engineering and sustainability. Christopher is also on the Board of Directors of Midflorida Credit Union, a $6B+ assets full-service financial institution, and the IEEE Foundation, a charitable organization dedicated to transforming lives through the power of technology and education. He frequently publishes and speaks on topics at the intersection of risk, sustainability, and resilience.
Shannon Culp, Director Security Governance & Awareness, Archer Daniels Midland Company (ADM) is an experienced leader and Information Security professional in the areas of building Information Security Programs, Governance, Identity and Access Management, Computer Forensics, Risk Management, Compliance, PCI, Application Security, Policies and Standards, Sarbanes Oxley, HIPAA Security, GDPR, and more. She has served as CISO for several large companies in the Healthcare, Financial Services and Manufacturing industry, and has operated in CISO forums since 2001.
Grace Beason, Director of Governance, Risk and Compliance, Guidewire Software, has over 15 years of experience in the area of GRC, Grace has firsthand leadership experience driving the transformation of information risk and compliance management and developing strategies to meet contractual and regulatory privacy obligations and end-to-end life-cycle management of security, risk, and compliance. She currently leads GRC strategy development, execution, and ongoing operations for technology services.
Jonathan Ruf, First Vice President - Head of Cyber and Information Risk, Apple Bank is a leader in supplying strategic Cyber Risk Management Services to global Financial Intuitions (FIs). Jonathan's experience includes multiple innovative GRC product development initiatives for reducing technology expenses as well as enabling Cybersecurity growth for large global FIs. Jonathan has been an intricate Cyber Risk Executive leading four successful mergers for Globally Systemic Banks (G-SIBs). In his current role, Jonathan Heads Cyber and Information Risk Management for Apple Bank, the second-largest state-chartered savings bank in New York. He is an expert in global enterprise Cybersecurity, IT risk management, policy development and management, regulatory as well as legal compliance.
Brian Fricke, Managing SVP, CISO, City National Bank, is a business-centric technology professional, specializing in strategic Enterprise Information Security Policy, Operations, and Technology Risk Management. He acts as the Senior Executive for all Technology and Cyber Risk concerns, overseeing Cyber Operation. He has been establishing innovative Information Security Programs for over 15 years in Military, Government, and Financial Institutions, ensuring adherence to the most restrictive security requirements across all industries.

Keynotes from our Co-CEOs and Executive Chairman
MetricStream leaders Gaurav Kapoor, Co-Founder and Co-CEO, Prasad Sabbineni, Co-CEO, and Gunjan Sinha, Co-Founder, and Executive Chairman, will also be sharing their insights in the keynote addresses and panel discussions.
If you're interested in grabbing a ticket – get in quick! Register now.
Watch this space for updated information on the speakers and other key highlights of the GRC Summit.
---
Comments
Related Articles