Introduction
When we stepped into 2020, regulatory change and scrutiny were already top business concerns. Then came the pandemic. Suddenly, organizations were confronted with a whole new set of compliance risks around employee health and safety, remote work, cybersecurity, and more. Compliance teams, already stretched thin, now found themselves in the unenviable position of managing and monitoring compliance remotely across a highly distributed workforce.To understand the state of compliance, MetricStream surveyed compliance leaders across industries and countries. The objective was two-fold. First, to get a sense of compliance programs before and during the pandemic. And second, to identify what compliance roadmaps might look like in the next normal.
Unsurprisingly, the majority of compliance professionals we surveyed (53%) said that COVID-19 prompted them to change compliance plans and reprioritize compliance activities. Almost a quarter (24%) deployed new tools and systems to improve compliance efficiencies in a remote working environment. A year and a half later, what have compliance teams learned? Where do they need to focus their efforts in the coming months? And how can they strengthen compliance in a COVID-19 world? Based on the MetricStream State of Compliance Survey Report 2021, here are three best practices:
Keep Third-Party Compliance in Focus
A third of the compliance professionals we surveyed said that elevating third-party compliance is a top priority. And for good reason. Third parties, like many companies, have rushed to adopt remote work and keep their businesses running. In the process, they may have put compliance on the backburner. This could potentially increase risks around bribery, corruption, fraud, and cybersecurity.
Therefore, it's important to revisit third-party compliance management controls, as well as procedures for due diligence and compliance monitoring.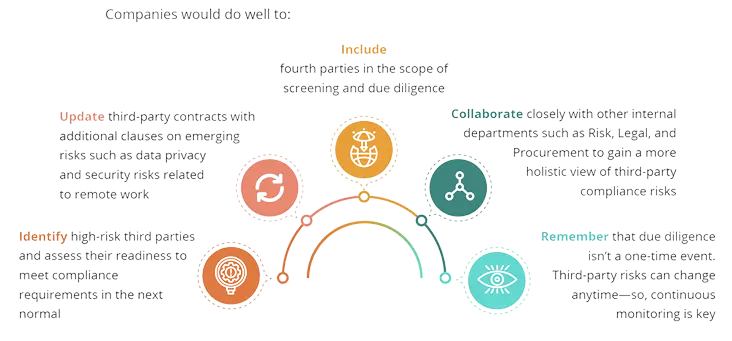 Managing third-party compliance in addition to internal compliance is not an easy task, especially during these disruptive times. Almost half the compliance professionals we surveyed (48%) said that tracking third-party compliance is their top challenge.
Technology can help. For instance, MetricStream Third-Party Risk Management enables companies to not only identify and mitigate third-party risks, but also assess and monitor third-party compliance. The solution automates compliance workflows, while also providing valuable intelligence on third-party relationships. These insights help prevent third-party compliance issues and strengthen customer trust
Engage the Front Line
Frontline employees are often the first to spot potential compliance risks, cases, and incidents. They can proactively alert compliance teams and play a crucial role in monitoring compliance. So, it's no surprise that 57% of our survey respondents engage with the frontline to respond to all types of queries or requests related to policies, regulations, processes, and controls. About 31% engage with the frontline for specific requests that may have a significant impact on the organization.
Given the frontline's role, it's important that they be trained and made well-aware of the compliance implications of their actions and decisions. In fact, 60% of respondents say that one of their top compliance priorities is to increase employee awareness around compliance through more training interventions. Within the banking sector, 38% of respondents say their top priority is to enable frontline staff to flag compliance issues.
The key to getting the frontline more involved in compliance is to make it as simple and engaging as possible. Instead of forcing employees to sit through long and tedious compliance courses, use short and interactive videos wherever possible. Be clear about what employees need to do on the job to comply with a regulation. And reinforce important compliance behaviors through quick quizzes, rewards, and the like.
Also, empower employees with tools that help them report compliance irregularities in an easy and intuitive manner. For example, MetricStream Observation Management enables frontline staff to capture and communicate compliance issues through chatbots, intuitive web forms, and other simple tools. Meanwhile, Compliance Advisory enables the frontline to quickly clarify any doubts or queries they might have on regulations, rules, and policies.
Together, these products help strengthen regulatory and corporate compliance across the enterprise, while minimizing adverse incidents.
Automate Wherever Possible
Let's face it—compliance management is tough. There's so much that needs to be done—whether it's tracking regulatory changes, creating policies, conducting compliance assessments, or monitoring issues. Managing all these processes manually can be quite time-consuming and resource intensive. In fact, 44% of our respondents say that their biggest challenge is to manually conduct compliance assessments and control testing.
The good news is that many compliance activities can be automated. Take regulatory change tracking, for instance. Content providers like Thomson Reuters curate and deliver automatic alerts and regulatory intelligence on changing regulations that impact businesses. And yet, 76% of the organizations we surveyed still manually track regulatory websites to map changes and analyze their business impact.
Similarly, 63% of respondents still use office productivity software or knowledge management tools to manage their compliance program. These tools can be helpful to a certain extent, but they don't always provide the real-time compliance and risk visibility that organizations need. On the other hand, compliance management software does. It helps organizations make faster and smarter decisions with a unified and up-to-date view of compliance.
However, only 19% of respondents use compliance management solutions, while only 18% use compliance software on a GRC platform. The benefit of a GRC platform is that it can integrate compliance management with risk management, audits, and other assurance processes for a more holistic risk view. In fact, 32% of respondents say they're most likely to invest in integrated solutions for policy, risk, compliance, and audit management. Used effectively and to their full potential, these solutions can go a long way towards alleviating the pressure on compliance teams.
View the complete results of the MetricStream compliance management survey here.
How a Global Fortune 500 Bank Improved Compliance Maturity With Our Robust Compliance Software
As a large global financial institution, the bank is subject to a complex and constantly changing web of regulations. Earlier, these requirements were dealt with reactively through multiple, disconnected compliance programs and systems. This siloed approach failed to provide an accurate and real-time picture of enterprise compliance.
However, with MetricStream Compliance Management software, the bank now has a single source of compliance truth for all functions. Through the solution, the bank can:
How MetricStream Can Help
The majority of organizations we surveyed (64%) said their biggest priority is to enhance regulatory and internal compliance assessments. MetricStream Compliance Management can help with this and more. The product enables companies to stay on top of the regulatory obligations that govern their business and implement measures to sustain compliance. It also helps minimize compliance violations with timely insights on compliance readiness at each organizational level.
Meanwhile, MetricStream Regulatory Change Management makes it simple to identify regulatory changes, and assess their impact on business processes, policies, risks, and controls. MetricStream Policy Management streamlines the creation and communication of corporate policies, while providing a centralized policy portal to store and access the latest policies. And MetricStream Regulatory Engagement Management enables a structured process to handle various regulatory activities, including examinations, meetings, and requests for information.
Find out more about how MetricStream can help your organization here.
90% Reduction in the time taken to manage compliance activities
50% Fewer compliance issues
60% Faster response time to regulatory changes
(Source: Customer responses and GRC Journey Business Value Calculator)