Introduction
An escalating climate crisis, recovery from a global pandemic, and even a war - these are turbulent times for the world. Market conditions, business and operational models, cyber and information management, external change, and geopolitical tensions are some of the top risks identified by CEOs surveyed by PwC. And 79 percent of them said that keeping up with the speed of digital transformation and other changes in their environment is a significant challenge. The risk environment that organizations are operating within today is not only heightened but also highly interconnected, with each risk leading to significant implications across the organization. And risks in one region have an immediate ripple effect on others as well.
Amid this disruption, the compliance agenda is not only expanding but evolving faster than ever before. Given the accelerated pace of digital adoption, privacy, data protection, and security are top regulatory concerns. Environment protection laws and ESG are also in the spotlight as the world races to meet net-zero targets laid down by the Glasgow Climate Pact 2021 also referred to as COP26. Governance, fraud prevention, and comprehensive third-party risk management are top regulatory concerns as well. Additionally, there are regional regulations based on local events and trends to consider.
The task of compliance is now more complex than ever before, and organizations must stay abreast of multi-layered regulations that change quickly and impact the entire organization. It is crucial to understand the comprehensive risk landscape and compliance laws for the jurisdictions they operate in.
In this eBook, we will delve deeper into the regulatory frameworks impacting business in UK and Europe and understand the ways in which organizations can track them as they evolve to ensure regulatory compliance.
The Regulatory Environment in Europe and UK
Post Brexit, Europe and the UK are faced with myriad challenges ranging from a lack of skilled staff to budget and resources constraints. The pandemic followed by the war in Ukraine have exacerbated the risk landscape in the region with a rapidly escalating energy crisis, resource crunch, labor and supply market disruptions, and increased cyberattacks. Understandably, there is now greater regulator demand and expectations. The regulatory landscape in the EU and UK is largely focused on 3 aspects:

Digital Regulations in the EU
Since 2015, Europe has been working to create and regulate a single digital market. Despite several initiatives the standards of digital regulation have varied across the region. Some regulations being deliberated include:
Digital Services Act (DSA) and the Digital Markets Act (DMA)- In 2020, the European Commission proposed a dual legislation to create safer digital spaces and foster digital innovation across the EU.
The EU's Regulation on Promoting Fairness and Transparency for Business Users of Online Intermediation Services has been effective since June 2020 and is also applicable in the UK despite Brexit.
The EU is also working on regulations pertaining to artificial intelligence, machine learning, and robotics.
The Copyright in the Digital Single Market Directive removes the protection from liabilities enjoyed by tech companies in cases where their users breach copyright laws.

Digital Regulations in the UK
The UK too is working to secure its growing digital ecosystem.
The Digital Task Force for Big Tech aims to regulate digital markets and big tech companies operating in the UK.
Post Brexit, UK is working on changes to existing competition and digital consumer laws.
UK and Germany have announced their intent to introduce an Online Safety Bill that aims to make relevant companies responsible for their users' safety.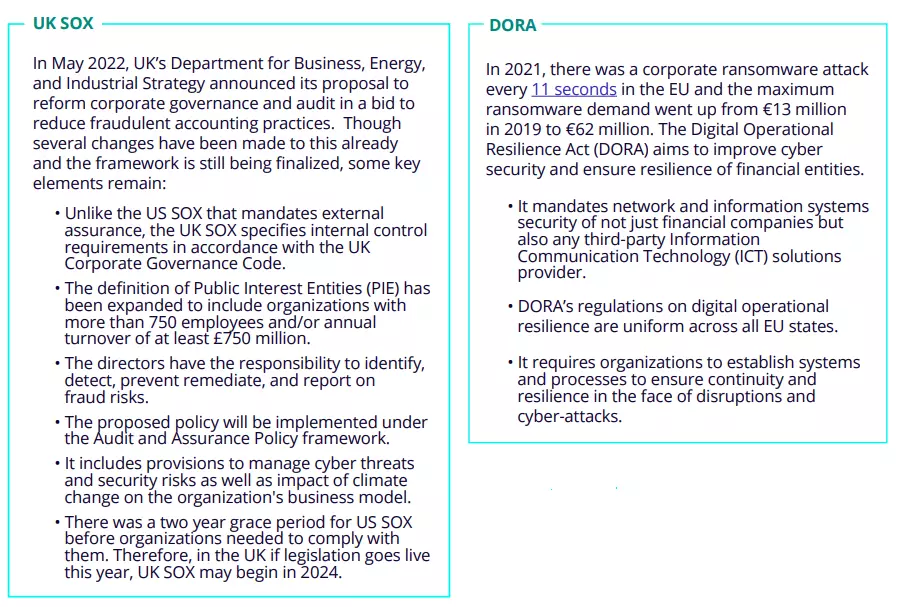 Know How MetricStream Helped Oil and Gas Giant Strengthen Stakeholder Trust with a Holistic Approach to Assurance

How MetricStream Can Help
MetricStream's Compliance Management helps integrate, organize, and streamline all compliance functions. It automates control assessments and testing, streamlines documentation, provides a unified and real-time view of the organization's compliance status, and helps identify potential compliance risks. MetricStream's Compliance Management tool includes:
• Regulatory Intelligence
• Compliance Risk Assessment
• Compliance Environment and Process Design
• Intelligent Issue and Action Management
• Dashboards and Reports
MetricStream's Compliance Management has helped customers:
• Reduce time taken for compliance activities by 90%
• Cut down compliance issues by 50%
• Expand coverage on compliance and control monitoring by 300%
Cyber Compliance
The cyber risk landscape continues to rapidly evolve and organizations must be ready to meet threats occurring anywhere and anytime across the organization. Robust cybersecurity is an essential investment, but they must also develop resilience or the ability to anticipate and address threats and recover quickly to ensure business as usual. Across the UK and the EU, the focus now is on ensuring cyber resilience.
Read our eBook on Five Critical Capabilities for Effective Cyber Risk Management
EU Cyber Resilience
In March 2022, the European Commission proposed new requirements for creating standardized cybersecurity and information security frameworks across all organizations within the EU.
It aims to not just protect organizations from cyberattacks but also have response mechanisms in place to ensure resilience.
UK Cyber Resilience
The National Cyber Strategy 2022 aims to improve business' security posture and resilience.
Organizations providing essential digital services must follow cyber security requirements and improve incident reporting.
Non-compliance will incur hefty fines.
The UK is also working on reforming legislation to create flexible frameworks that allow organizations to keep up with fast-evolving technologies and cyber risks.

How MetricStream Can Help
MetricStream's CyberGRC product provides an IT, Cyber Risk and Compliance framework that automates and enhances cyber governance, risk and compliance practices. It integrates with existing security standards, ensuring that organizations can meet IT audit requirements and build better resilience. With CyberGRC, organizations can:
• Effectively identify and manage IT and cyber risks
• Ensure compliance with cyber regulations
• Streamline management of IT and cyber policies and documents
• Control vendor risks
• Simplify threat and vulnerabilities management
• Quantify cyber risk in business terms
MetricStream CyberGRC has helped organizations:
• Reduce time taken for risk assessments by 66 %
• Improve cost savings by 37%
• Improve tracking and linking policies to regulation to save upto 50% in time
ESG Regulations
In the face of an escalating climate crisis and human inequity, there is increased focus on Environmental, Social, and Governance (ESG) regulations.
From April 2022, TCFD based reporting is mandatory for more than 1300 of UK's largest registered companies and financial institutions.
The EU is focused on preventing greenwashing and ensuring transparency for investors. Key regulations include:
The Non-Financial Reporting Directive (NFRD) which mandates disclosure of nonfinancial and diversity data by large companies.
The Sustainable Finance Disclosure Regulation (SFDR) which aims to improve transparency and facilitate investments in sustainable businesses. It establishes rules for classification and reporting on ESG factors in investments.
EU Taxonomy is a science-based common classification of economic activities that are considered "green". It aims to support investment flows into these activities.
A Quick Guide to TCFD Recommendations

How MetricStream Can Help
MetricStream's ESGRC software helps organizations automate and streamline their ESG compliance practices. They can define and manage standards, frameworks, and disclosure requirements. They can link standards to business entities and automate data collection and segregation. The AI-powered platform comes with a centralized risk repository that can help track and address ESG risks. Key product features include:
• Frameworks and Disclosure
• Environmental & Social Metrics Management
• ESG Self-Assessment • ESG Third-Party Management
• ESG Risk Assessment
• Issue and Remediation
• Content Integration with Third-Party Systems
• Board Level Reporting
With MetricStream's ESGRC solution organizations can execute assessments and reporting 50% faster.
Third-Party Compliance
Increasing number of companies outsource key elements of their business operations to third parties, and the financial stability of these firms can be affected by disruption, supply chain attacks and complete service outages. Therefore, third-party companies will also need to comply to regulation.
In June 2022, the UK Treasury published a policy paper that stated that "critical third parties" working with financial organizations would be required to comply with direct regulations set by the country's financial regulators. This is expected to impact cloud service providers and other technology partners.
Read The Three Dimensions of Risk

How MetricStream Can Help
With MetricStream's Third-Party Risk Management, organizations can protect themselves from existing and potential threats that may arise from third and fourth-party partners. It helps organizations ensure resilience across the enterprise ecosystem, and streamlines processes to identify, monitor, and address third-party risks and compliance. Third-Party Risk Management helps organizations:
• Prevent risk incidents at the third party, perform quick risk assessments and ensure continuity
• Enhance consolidation, rationalization, and visibility across businesses, and reduce risk exposure at third-party organizations
• Use historical data on third-party risk, performance, and reduce time taken to address issues for sourcing and negotiations
• Control exposure and accelerate response to risk incidents with real-time alerts
With MetricStream Third-Party Risk Management organizations can:
• Reduce onboarding time by 80%
• Reduce time and costs required to complete assessments, and identify risks by 50%
Working with Regulators
Regulators today are working against a risk landscape that is changing at an unprecedented pace and in unexpected ways. They are strengthening existing regulations and bringing into practice others to offset threats, and their sanctions are being enforced across a wider playing field. Even smaller, previously unregulated organizations are quickly being brought into the fold and the cost of non-compliance is increasing. It is now more important than ever for organizations to engage with regulators on a regular basis – even when they are not in the process of introducing a rule or examining the organization.
In addition to having an internal team of experts who can engage meaningfully with regulators, it is critical to have an automated centralized technology platform that can streamline and automate all related activities. The solution should be able to simplify the compliance process, manage meetings and consolidate data in a central repository.
Know the Five Best Practices for Successful Compliance Management

How MetricStream Can Help
MetricStream Regulatory Engagement Management software, is designed to help streamline, automate, and simplify the process of regulatory engagement. It standardizes the examination process and manages meetings. It also provides a centralized data repository and ensures examination readiness at all times. Some of its key features include:
• Efficient Regulatory Engagement Planning
• Structured Task and Sub-Task Management
• AI-Powered Regulatory Findings Management
• Collaborative Document Management Enabling a Systematic Approach
• Expansive Visibility into the Regulatory Engagement Process with Intuitive Reports and Dashboards
With Regulatory Engagement Management organizations can:
• Improve response time to regulatory change by 60%
Conclusion
Good Compliance - A Benchmark for Effective Risk Management Processes
The current business landscape in the UK and Europe is complex. Regulations are being framed, implemented, and even changed to keep up with the evolving risk environment. Good compliance is a benchmark for effective risk management processes, and can help protect enterprises from emerging threats, and ensure continuity and resilience in times of disruption. A robust compliance platform like MetricStream can help organizations ensure error-free compliance with multiple evolving regulations and streamline and better manage compliance processes.