8 Reasons Why You Should Attend the GRC Summit
GRC
| 3 Min Read |25 October 22|by Victoria Boreham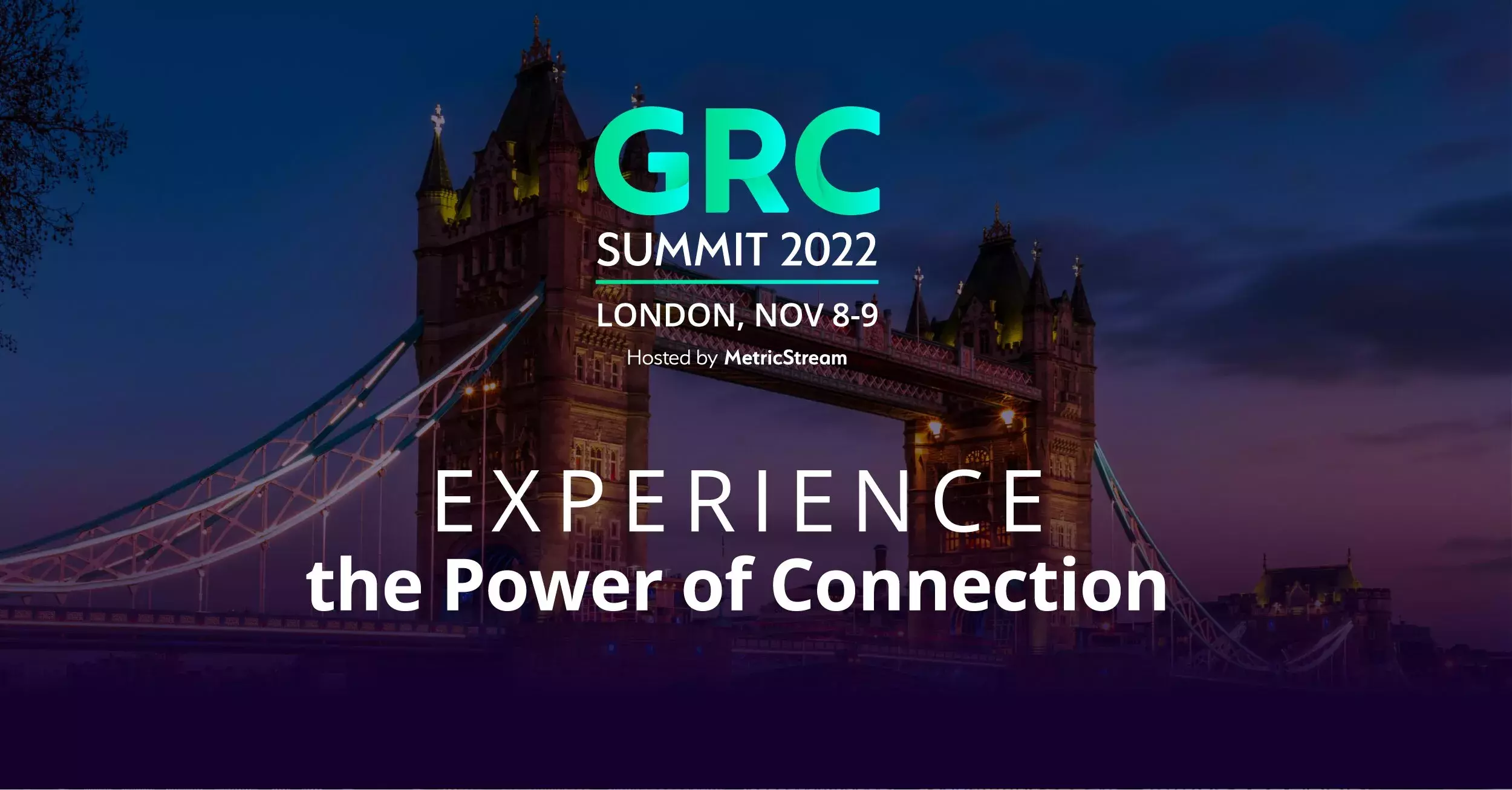 We are well and truly in countdown mode as we approach the end of October! Not long at all now until the GRC Summit 2022 in London.
MetricStream's flagship event, the GRC Summit, has for the past 9 years consistently provided opportunities for the GRC community to connect, share insights, exchange best practices, and most importantly set the stage for what's next in GRC. Our theme this 10th year is Experience the Power of Connection, empowering you to do more as you continue to thrive on risk!
If you haven't got your ticket yet – here are some of the reasons you should attend the GRC Summit!
Networking

Whether it's at happy hours, or during the breakout sessions, the Summit gives you the opportunity to mingle with your peers and industry experts over the two days. It's been rare to have the opportunity to do this in person and now is the time to connect with old friends and make new ones!

Fun fact: With 60+ speakers and 200+ attendees there will be no lack of networking opportunities.

Education

I don't think it's possible to go to an event and not learn anything. No, that's not a challenge! Come and listen to other experts discuss their GRC experiences, learn what not to do and how to make your job easier! You've got nothing to lose.

Fun Fact: There will be Keynote sessions on both days! Make sure you attend.

Inspiration

Be inspired to think differently! There's nothing more gratifying than being in the presence of experts you admire as they provide insights that inspire more than just the day job. Hear from industry leaders who have come from a variety of backgrounds with a common interest in GRC and thriving on risk.

Fun Fact: Get future-ready now! Watch out for the innovation sessions on risk, resilience, and ESG.

Recognition

The GRC Journey awards offer a great opportunity to celebrate wins with your team and wider network. Each year, the awards celebrate and honor business partners, individuals, and customer organizations that have made significant strides on their GRC journeys toward strengthening business performance.

Fun Fact: Awards will be presented in 5 categories this year!

Exchange Views on Shared Challenges

Imagine being in a room with people who understand your exact situation or have been in a similar situation and can offer insights on how to solve them. Powerful right? Exchanging knowledge and best practices can help others avoid common mistakes and support their business goals. We all have regulations we need to comply with – but the process of how different organizations handle these can vary. Take time to learn from these shared challenges!

Fun Fact: Attend the Customer Case Study sessions to learn best practices.

Invest in Your Own Growth

Now while I don't believe you need to be physically present to show personal growth, networking, and putting yourself out of your comfort zone, learning something new all goes towards strengthening your career and sharpening your skills.

Fun Fact: With 50+ sessions, the Summit is a great place to learn new skills to build your career.

Energy of Like-Minded Individuals

There's a reason we're talking about the 'Power of Connection'. During COVID-19 this was non-existent, but as the world changes again we're energized and ready to go with a stellar line-up of speakers and attendees all excited to be in London in person again!

Fun Fact: With C-level panels and expert talks, the energy is unparalleled!

Have Fun!

The GRC Summit is a conference like no other – providing you with the opportunities to learn, network, and mingle with experts and your peers! But you know what – the Happy Hour and Networking Breaks also offer you the ability to get to know other attendees and enjoy the few days we have together!

Fun Fact: From networking breakfasts to an awards dinner, you are sure to have plenty of fun-filled activities.
If you're interested in grabbing a ticket – get in quick! You can register and find out more information here.
Check out the Agenda and Register Now!
---
Comments
Related Articles