GRC Summit 2023, Miami: Meet the Speakers-Part 2
GRC
| 6 Min Read |18 May 23|by Aanya Sharan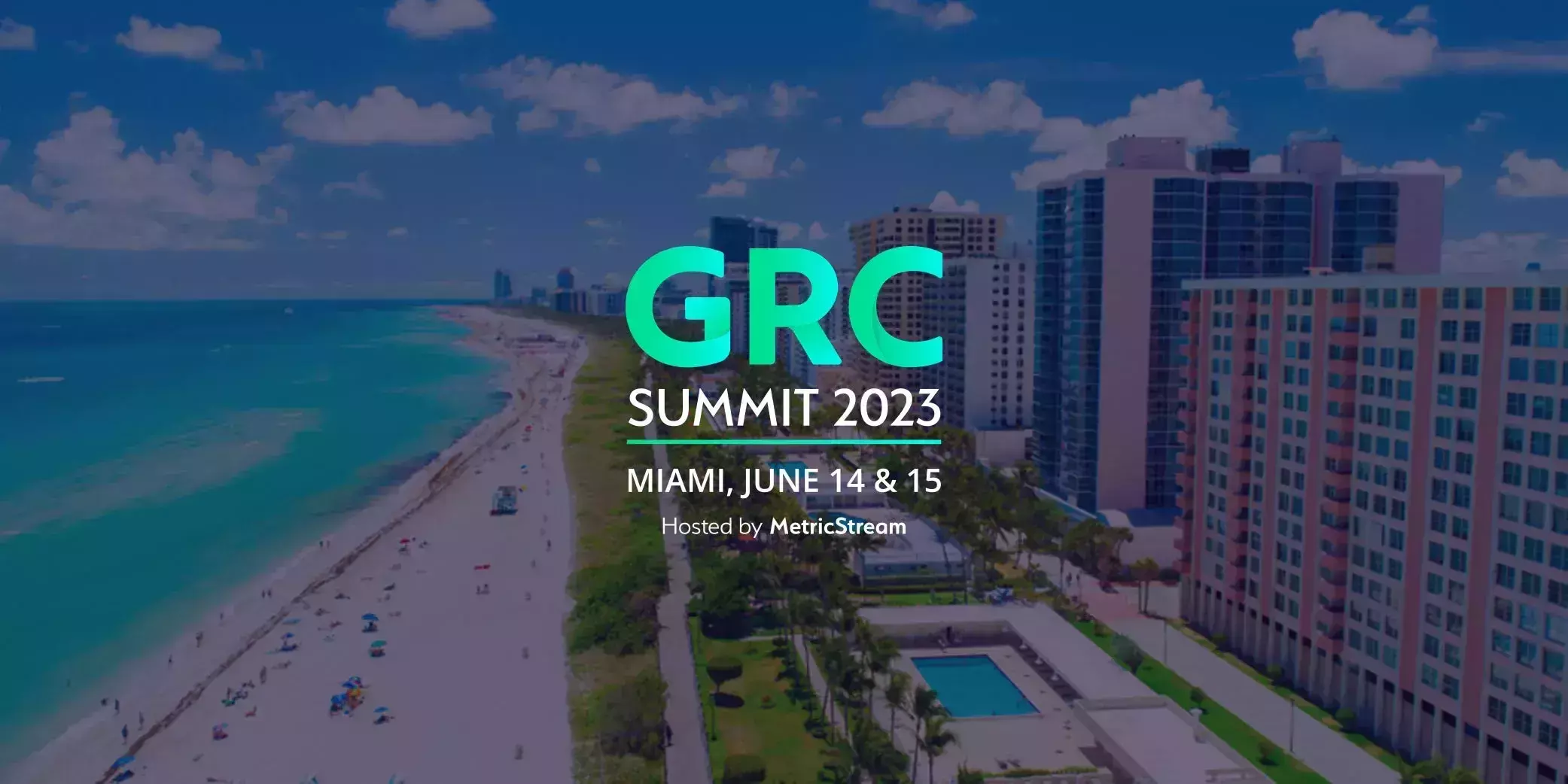 The countdown is getting closer every day! The GRC Summit 2023, to be held on June 14th and 15th at the Hyatt Regency, Miami, is just four weeks away, and we couldn't be more excited to bring together the GRC community once again to connect and exchange ideas.
MetricStream's flagship event has been at the forefront of the GRC space for over a decade, and this year's summit promises to be no different. This event serves as the premier global platform where you can stay informed about emerging technologies, new processes, and important regulations that will shape your business.
Our theme for this year's event is Experience the Power of Connection, and we are thrilled to have more than 60+ experts lined up to deliver keynotes, provide valuable insights and best practices, and share their GRC journeys.
Get to Know More About our Speakers
Our previous blog highlighted some of the amazing speakers who will be speaking at the Summit. In part 2 of the series, we will be introducing you to a few more of our amazing speakers. So, buckle up and scroll down to learn more about the thought leaders and GRC experts who will be presenting on risk, compliance, cyber, audit, and ESG.
Emily Wall, VP – Global Ethics & Compliance, GRC Operations & Technology, Live Nation Entertainment, started her 24-year career with LNE on the Ticketmaster side, working in various roles and locations. Her current role includes Regulatory & Legal Compliance and Governance, Risk, Compliance Operations and Technology across LNE and its subsidiaries globally. She manages multiple teams across the US & abroad. Live Nation Entertainment (NYSE: LYV) is the world's leading live entertainment company comprised of global market leaders: Ticketmaster, Live Nation Concerts, and Live Nation Media & Sponsorship.
Carlos Pereira, Head of Global Governance and Policy, Meta, brings an unprecedented understanding and knowledge of Governance, Risk Management, Oversight Management, Enterprise Risk Management, Operational Risk, Vendor Risk, and IT Risk. He has over 25 years of industry and risk consulting experience working with Fortune 100 companies. Carlos continues to lead by example in the development of the governance and risk management industries through practitioner excellence. He has several risk management certifications, an MBA degree and is multilingual.
Guillermo Finck, Sr. Vice President - Corporate Audit Services, Fiserv is currently responsible for the Cyber and Tech audit portfolio in Fiserv. Globally, he joined the Corporate Audit Services group in July 2020 to lead the Audit Program for Business Operations, Finance and Shared Services. Previously he has held several leadership roles, including the Head of the Revenue Assurance, Billing, and Reconciliation group at First Data, the Control Officer for Shared Services at the General Counsel's Office and the Strategy Group, the Managing Director of Compliance at JP Morgan Chase Asset and the Head of Controls for Borrowers Assistance overseeing all controls for loan modifications within the Mortgage Bank among others.
Hemma Lomax, VP, Associate General Counsel, Compliance, Zendesk, leads the Global Integrity and Compliance function. Prior to Zendesk she served as a senior corporate counsel in the Integrity & Compliance team at Snap, Inc. and as a Director in the Global Ethics and Compliance Management team at the Walt Disney Company. Hemma has also served for just over a decade prosecuting financial fraud and corruption with the United States Securities and Exchange Commission (SEC). Hemma is also a British-trained barrister (trial attorney) and has previously worked as Parliamentary Counsel for the UK government and as an advisor at the United Nations for the government of Guyana. Hemma has a Ph.D. in human rights and the laws of war.
Ramsey Kazem, Regional Compliance Officer - North America, Andritz, is Certified Compliance and Ethics Professional and an accomplished attorney. Ramsey present role has a broad range of responsibilities, including preparing risk assessments, implementing program improvements, investigating claims of misconduct, and managing third-party risk. His expertise includes designing, assessing, and implementing compliance programs using a risk-based approach. Prior to his work in compliance, Ramsey was a practicing attorney in Atlanta, Georgia. His legal practice focused on construction law, government contracts, and commercial litigation. During this time, he gained extensive experience assisting businesses with risk management, claims avoidance, and dispute resolution.
Arindam Majumdar, Deputy Chief Risk Officer, Bank OZK, has been instrumental in establishing the Enterprise Risk function at Bank OZK, a $29 BN Commercial Bank headquartered in Little Rock, AR. His current responsibilities include managing the Bank's Operational, Market, Liquidity, Model and Data Risk and Risk Appetite functions at the Bank. Prior to Bank OZK, Mr. Majumdar was also instrumental in establishing the Enterprise Risk function at Discover Financial Services. Mr. Majumdar has 20+ years in banking experience, having worked in India, Japan and the US. He has previously also worked on Wall Street for JP Morgan's derivatives trading group.
Jerry Storey, Principal, Regulatory Compliance & Business Strategy, FedEx Logistics, Inc. is responsible for developing programs to foster & measure compliance with the laws and regulations governing the company's activities worldwide. He also represents FedEx Logistics interests before multiple governmental agencies and participates in select trade associations. These include Air Forwarders Association, Express Association of America, and the National Industrial Transportation League. Jerry has worked for multiple major freight forwarders including Expeditors Int'l, Danzas, and DHL Global Forwarding. He has also worked for several of the top 100 importers into the USA such as Woolworth/Foot Locker and Fonterra LTD.
Sanjiv Sharma, Vice President and Chief Audit Executive (CAE), Wolfspeed Inc., takes care of Enterprise Risk Management, Internal Audit, and SOX Compliance. Sanjiv is a Certified Public Accountant (CPA), Certified Internal Auditor (CIA), and Certified Information Systems Auditor (CISA). Prior to joining Wolfspeed, Sanjiv worked with NXP Semiconductor, Freescale, and Motorola in various leadership roles in Finance, Internal Audit, SOX Compliance, and Pricing in the US, Malaysia, China, and India. He comes with wide knowledge and experience in review of the design and implementation of Environment, Social, and Governance (ESG) framework, Third-party Risk Management, and Cybersecurity frameworks and leveraging Enterprise Risk Management (ERM) for optimization.
Amber Gravius, Director, Office of Business Innovation, National Credit Union Administration, is the NCUA's Director of the Office of Business Innovation and Chief Data Officer. In this role, she is responsible for working with stakeholders to deliver improved business processes with secure, innovative, and reliable technology solutions and data to support the NCUA mission. She has also served as Acting Business Innovation Director and as a Supervisory Special Assistant for Business Innovation, representing stakeholders in the development of NCUA's new Modern Examination and Risk Identification Tool or MERIT. She joined NCUA in 1999 as a credit union examiner and served as a Supervision Analyst, Risk Management Officer, Loss Risk Analysis Officer, and Supervisory Examiner before joining the Office of Business Innovation.
Rodney Campbell, Senior Vice President – Head of Third-Party Risk Management, Valley National Bank, is a recognized industry leader in Third-Party Risk Management (TPRM), Enterprise Risk Management (ERM), Global Strategy & Business Operations. He is a keen business champion dedicated to empowering organizations and business leaders with industry insights and best practices to ensure both regulatory compliance and operational success. Experienced in developing global programs, processes, and cross-functional teams from the ground up and leading projects spanning Asia-Pacific, Latin America, United Kingdom, and North America regions, Rodney creates a high-impact, collaborative environment that eliminates silos and cross borders.
Paul Shotton, CEO, Tachyon Aerospace, holds a Ph.D. in Physics along with more than 30 years of practice in financial market risk analytics and executive leadership. His current roles include CEO of Tachyon Aerospace, an aerospace technology company, and chairman and CEO of White Diamond Risk Advisory, which advises CEOs, boards, and startup companies in the finance and technology sectors. Paul developed his knowledge of markets and honed his insights in high-level trading and risk management positions at financial institutions in major metropolitan hubs, first in fixed-income trading positions at Goldman Sachs and Deutsche Bank in London, and subsequently, in New York, as global head of market risk management at Lehman Brothers and deputy head of group risk control and methodology at UBS.

Hear from Top Analysts and from our Co-CEOs and Executive Chairman
Alla Valente, Senior Analyst, Forrester, and Michael Rasmussen, GRC Analyst & Pundit, GRC 20/20 Research, will be participating in sessions.
MetricStream leaders Gaurav Kapoor, Co-Founder and Co-CEO, Prasad Sabbineni, Co-CEO, and Gunjan Sinha, Co-Founder, and Executive Chairman, will also be sharing their insights in the keynote addresses and panel discussions.

Yet Another Reason to Register!
The Compliance Certification Board (CCB)® has approved the GRC Summit allowing you to earn up to 15.6 live Compliance Certification Board (CCB) Continuing Education Units (CEUs). Learn more.
Get in quickly and grab your ticket! Register now.
Watch this space for updated information on the speakers and other key highlights of the GRC Summit.
---
Comments
Related Articles