Unlock the Full Potential: Your Guide to Maximizing the GRC Summit 2023
GRC
| 5 Min Read |01 June 23|by Aanya Sharan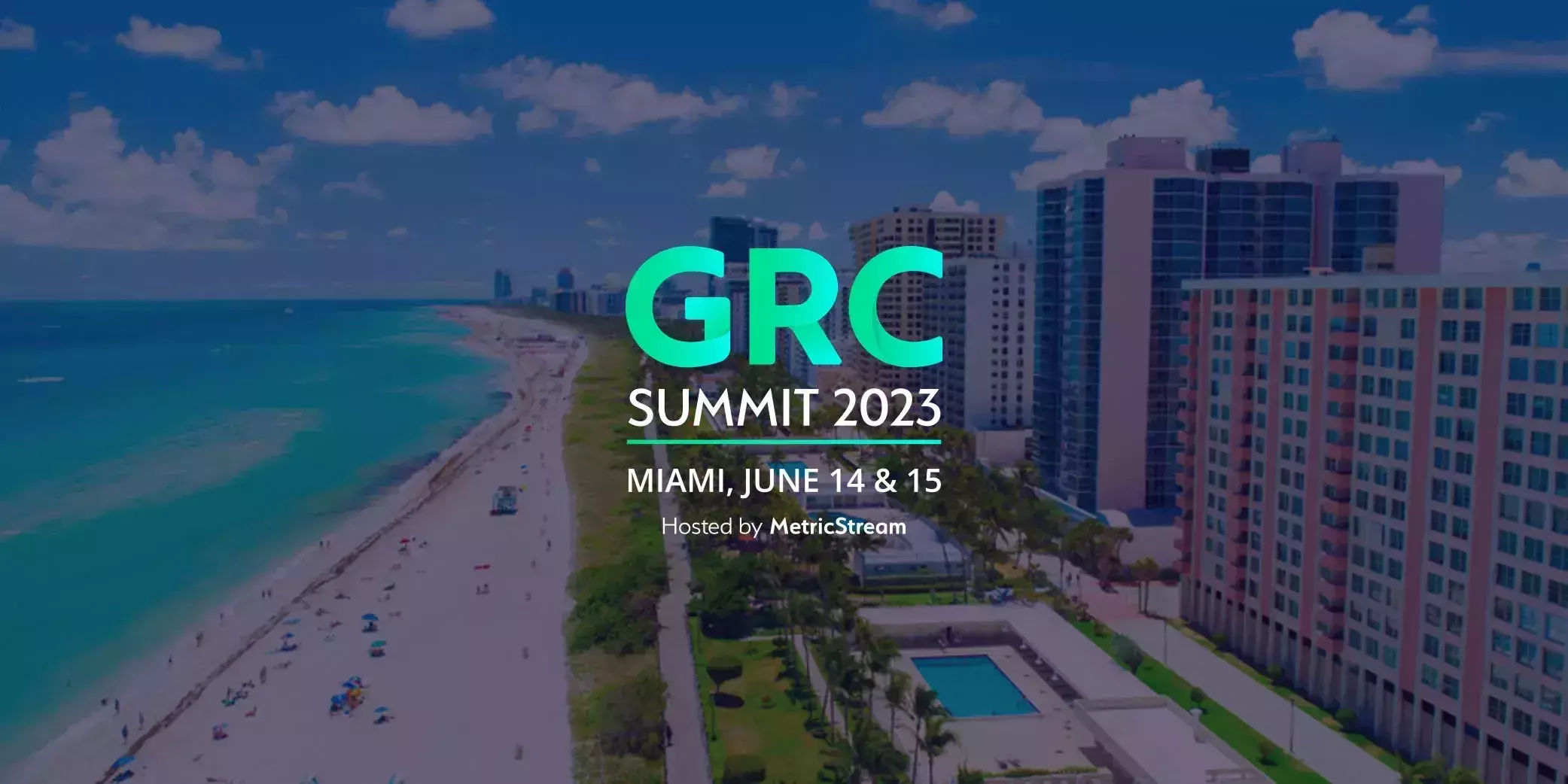 The GRC Summit 2023 is all set for June 14th and 15th at the Hyatt Regency in Miami. Building on the resounding success of our extremely successful in-person 2022 London Summit, we are thrilled to meet in person in the US after two years of the summit being held virtually,
For over a decade, the GRC Summit has been a beacon for the GRC community, enabling the fostering of connections, sharing of insights, and exchanging of best practices. It has continuously set the stage for what's next in the world of GRC. Under the compelling theme of Experience the Power of Connection, this year's Summit promises to be our best yet. Prepare to join an esteemed global community of risk, compliance, audit, cyber, and ESG professionals for an unparalleled experience.

Here's How to Amplify Your GRC Summit Experience
As we enter the exciting final week, we want to ensure that you have a truly exceptional experience with tips on how to make the most of your time. Here is the comprehensive Agenda for the Summit, along with a lineup of our esteemed Speakers. Additionally, we have highlighted some of the top must-attend sessions that you wouldn't want to miss out on.
Keynotes from our Co-CEOs and Co-Founder
The keynote speeches have always been a standout feature of the GRC Summit, and this year is no exception. The opening and closing keynotes on Days 1 and 2 will see MetricStream leaders Gaurav Kapoor, Co-Founder and Co-CEO, Prasad Sabbineni, Co-CEO, and Gunjan Sinha, Co-Founder, and Executive Chairman, sharing their insights along with other industry leaders.
These are sessions you don't want to miss! We have several C-level panels across the two days. Here are a few that focus on addressing GRC challenges in the modern interconnected risk landscape.
Three Lines Model - Trends & Strategies to Drive Efficiency & Growth with Martin Froelick Senior Vice President - Risk Manager, First Citizens Bank, Michael Cover, Director, Blue Cross Blue Shield of Michigan, and Michelle Melendez, Vice President, Aon.
Modernizing Governance, Risk, Compliance, Cyber, and Audit to Enable Resilience with Brian Fricke, Managing SVP, CISO, City National Bank, Marcelo Cruz, Managing Partner, Yacamy Advisors, and Eileen Fahey, Chief Risk Officer, Fitch Group.
Building Agile Programs for Enterprise, Operational, and Cyber Resilience in Today's World with Manesh Shah, Vice President, Enterprise Risk Management, CBRE, and Cynthia Klimaszewski, Head of Technology Risk, Silicon Valley Bank, a division of First Citizens.
Effectively Managing Operational Risks Through Control Rationalization for Improved Decision-Making, with Kellie Bickenbach, Head of Operational Risk Management, Silicon Valley Bank, Patricia Catharino, SVP, Head of Risk Management & Internal Controls, Itaύ U.S. and Caribbean, CCO, Nassau Branch and Varun Agarwal, Director - Enterprise Risk, Western Alliance Bank.
How AI, Automation, and Emerging Technologies are Impacting Risks and Opportunities with Brian Fricke, Managing SVP, CISO, City National Bank of Florida and Alex Gacheche, Global Head of Information Security, Technology Infrastructure & Emerging Technology Audit, Meta.
Reimagine Your Compliance Program with a Risk-Based Approach with Ramsey Kazem with Regional Compliance Officer - North America, Andritz, Hemma Lomax, VP, Compliance, Zendesk, and Maxim Soltanov Head of ESG Compliance, Norilsk Nickel USA.
The Future of Internal Audit: Harnessing the Power of Continuous Automation and Analytics, with Christopher Geiger, Vice President of Internal Audit and Enterprise Risk, Lockheed Martin, Guillermo Finck, Sr. Vice President - Corporate Audit Services , Fiserv Ileana Canlas, CEO, COO – Canlas and Associates, YLIE LLC.
Managing the 4 Cs of Compliance: Corporate, Culture, Conduct, and Communication, with Emily Wall, VP, Global Ethics & Compliance, Live Nation Entertainment, Carlos Pereira, Head of Governance & Policy, Meta, and Jerry Storey, Principal, Regulatory Compliance & Business Strategy, FedEx Logistics.

Customer Case Studies
These real-life stories, which serve as powerful demonstrations of how organizations have successfully navigated the complex landscape of GRC challenges, offer a wealth of knowledge and inspiration to drive your own GRC initiatives forward. Don't miss out on:
National Credit Union Administration Case Study: Designing Your GRC Program to Manage Interconnected Risks, Regulatory Changes, and Audit Requirements presented by Amber Gravius, Director, Office of Business Innovation, and Robert Foster, Chief Information Officer, from National Credit Union Administration.
Guidewire Case Study: How to Build and Scale a Business Relevant Risk and Compliance Capability, presented by Grace Beason, Director Of Governance, Risk and Compliance, Guidewire Software.
Apple Bank Case Study, presented by Jonathan Ruf, First Vice President - Head of Cyber and Information Risk, Apple Bank.
Blue Cross Blue Shield of Michigan Case Study, presented by Nicholas Cannon, Manager of Technology and Operations, and Jason James, Senior Business Systems Analyst from Blue Cross Blue Shield of Michigan.
Autodesk Case Study, presented by Clyde Tsai, Security GRC Lead, Autodesk.
American Fidelity Assurance Case Study, presented by Tice Morgan, Sr. Manager, Governance and Compliance, American Fidelity Assurance.

Product Sessions
The Summit offers the opportunity to gain in-depth knowledge of our products. Our dedicated sessions will provide comprehensive insights, empowering you to fully understand the capabilities and benefits of our offerings. Make sure to attend:
The Future of Connected GRC, presented by Prasad Sabbineni, Co-CEO, Raghuram Srinivas, SVP, Product Management, MS Innovations, and Joy Bhowmick, Head of Research and Development, from MetricStream.
GRC Optimizer, presented by Raghuram Srinivas, SVP, Product Management, MS Innovations, MetricStream
Power What's Next in Enterprise & Operational Risk Management, presented by Anand Hanchinamani, Senior Director Product Management, MetricStream.
Power What's Next in IT & Cyber Risk, Compliance Management, presented by Anil Kumar, Senior Director, Product Manager - IT and Cyber Security, MetricStream.
Low Code No Code, Kiran Kumar Nakhate, Senior Principal Product & Platform Development Manager, MetricStream

Deep-Dive Workshops
Mark your calendars for June 13th, 2023, as we have a power-packed lineup of three intensive pre-conference workshops led by industry-leading experts in the GRC space. This is an event you will want to attend!
Enterprise GRC by Design Workshop: Blueprint for an Effective, Efficient & Agile Enterprise GRC Management Program conducted by Michael Rasmussen, GRC Analyst & Pundit · GRC 20/20 Research, LLC.
GRC at an Inflection Point: Practical Strategies and Approaches to Modern Risk and Compliance, conducted by Chris Mandel, RIMS-CRMP, President and Managing Consultant, Excellence in Risk Management, LLC.
What's on Your Roadmap for a "Next Generation" Third Party Risk and Cyber Risk Management Program? Conducted by Linda Tuck Chapman, C3PRMP, CEO, Third Party Risk Institute Ltd.
See You in Miami!
The list above is just a part of what's on our Agenda. Join us and deep dive into all things GRC! Get to know more about our esteemed speakers. Read: Meet our Speakers- Part 1 and Part 2. Not yet registered? Register now.
---
Comments
Related Articles